John Deere has now released its 19-1 software update for its Generation 4 4600 CommandCenter and all 4640 Universal Displays. This latest software update includes a high level of automation activation that allows the Machine Sync automation functionality to work on all Gen 4 platforms for tractors and combines.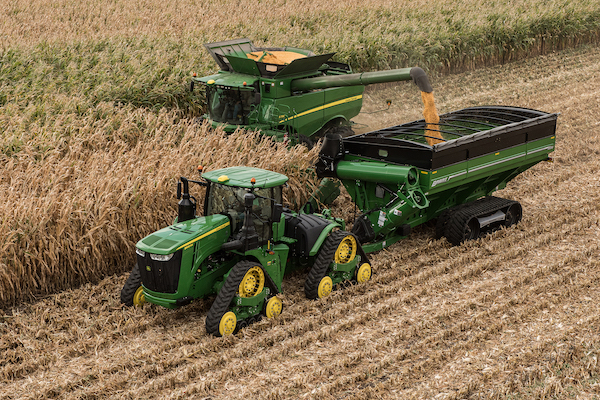 John Mishler, marketing manager for precision ag technologies, notes that this John Deere software update will provide benefits that are immediately obvious to operators.
"It also enables Gen 4 Display compatibility with more John Deere equipment, including 8000- and 9000-Series Forage Harvesters, documentation of weather and field conditions, expands AutoTrac™ functionality and automation on more equipment, and provides additional levels of security than before," Mishler says.
Gen 4 displays that have the 19-1 software update now show area remaining and estimated time to completion for field operations. Additionally, it doubles the number of legend colors on the display. This allows operators to keep a closer eye on yield, prescriptions, and as-applied maps in greater detail when viewed on the display or through the John Deere Operations Center.
Weather and field conditions can now be documented directly from the cab, and wind direction and speed, weather, and soil and field conditions can all be recorded as they change throughout the day. Operators can also use JDLink Connect to view this information by any web-connected device through the John Deere Operations Center and the MyOperations mobile app.
For security purposes, this John Deere software update provides operators with the option to secure their displays and receivers by using a 4-digit PIN.
John Deere has also announced that it is expanding its Machine Sync feature, which synchronizes tractor and grain cart speed and position with the combine for unloading during harvest. Operators can also use In-Field Data Sharing to wireless share items such as coverage maps between machines.
"Machine Sync greatly simplifies harvest by automating the combine unloading process, allowing the operator to focus on harvesting the crop or other machine functions," Mishler said. "Its use has proven to speed up harvest operations and reduce grain loss and stress on both the combine and grain cart operators during this busy time, especially when harvesting at night or when visibility is compromised."
For additional information, check out the video below!
More details on the Gen 4 19-1 software release and new Machine Sync update can be found on JohnDeere.com or by speaking to your local dealer.
If you enjoyed this post or want to read others, feel free to connect with us on Facebook, Pinterest, or Twitter!
You might also like: