When you're seeding, you want to make sure that you get everything just right. This is why John Deere has worked to design seeding equipment that matches the specific needs of its customers, day in and day out. The John Deere GS11 Series Overseeder is one example of a machine that has been built with precision in mind, as well as efficiency.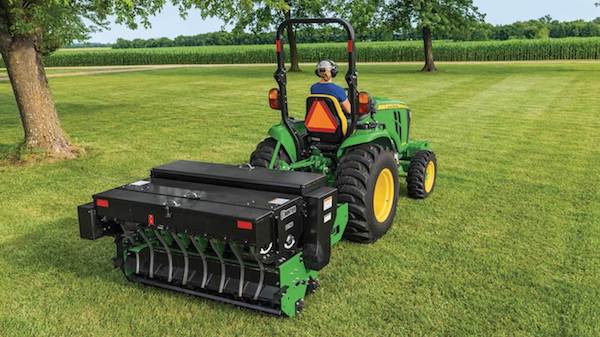 Let's take a look at some of the features of the John Deere GS11 Series Overseeder that work to help you out in the field.
Front Spiked Rollers
The John Deere GS11 Series Overseeder has front spiked rollers, meaning that when the front rollers are straight, the large front pins will penetrate the soil in a straight pushing action. Little disturbance is caused to the turf.
Front Disc
The front disc option on the overseeder can be utilized to prepare a seedbed without the need for a separate disc or tillage tool used ahead of time. This saves time and ultimately boosts efficiency out in the field.
Scraper Bar
Working on clay or wet conditions is no problem with the John Deere GS11 Series Overseeder as long as the optional scraper bar is in use.
Three Seed Box Options
This overseeder comes with three seed boxes that can be used for cool season, warm season and legumes. This allows customers to plant everything from soybeans to wildflowers and radishes.
Rear Cultipacker
The rear cultipacker of the John Deere GS11 Series Overseeder compacts and levels the turf to ensure successful germination the first time around — no more going back and seeding for maximum efficiency.
Rear Drive Roller
The rear drive roller firms and presses soil that is kicked up by the front tillage tool. This creates a uniform seedbed with loose soil that is necessary for ensuring proper seed germination.
Calibration Tray System
The calibration tray system can be used by operators to adjust the seed cups for the desired seeding rate. It can also be used with the overseeder in the stationary position or pulled over a short distance to the seedbed.
If you have any questions about the John Deere GS11 Series Overseeder or other John Deere equipment, you can contact your local John Deere dealer.
If you enjoyed this post or want to read others, feel free to connect with us on Facebook, Pinterest, or Twitter!
You might also like: