When looking to nurture thick and healthy grass, don't underestimate the power of overseeding! The best time to do this is in fall due to warm soil temperatures, cool nights, and a strong possibility of rain at any given point.  By overseeding your lawn before the end of the season, the grass seed will have time to germinate and become established before winter.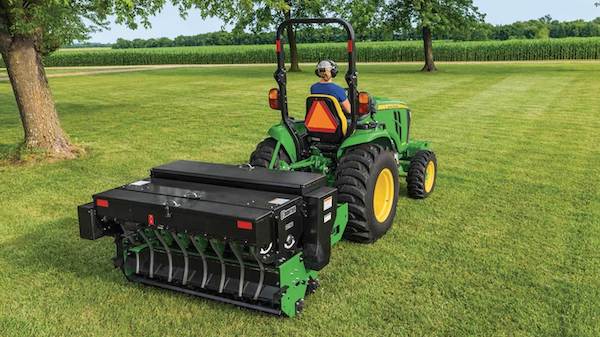 Explore best practices for overseeding a large lawn using a range John Deere equipment and attachments by watching the video below.
In this video, we see the operator employing a John Deere Frontier GS1160 Ground-Driven Overseeder and a 3039R Compact Utility Tractor for planting seed across a 2500-square foot lawn. While there are various ways to go about overseeding, the GS1160 Overseeder gives operators the choice of angle adjustable spike front rollers or front disks for soil preparation; when working on a lawn, it is best to use front rollers in order to avoid pulling up the turf. This implement acts as an aerator while overseeding, allowing moisture, nutrients, and oxygen to enter the soil. Additionally, operators can plant up to three different types of seed thanks to the inclusion of three seed boxes that can either work individually or all together.
When it comes time to connect the overseeder to your tractor, it can be as easy as focusing on the top hook and locking in the locking levers. As an added bonus, this overseeder helps operators make the most out of their money by simplifying the application process, from calibration to planting. By looking at the calibration chart provided, operators can decide how much seed to plant per acre and set the flow control lever to the proper position. Once this is set, calculations can be validated by using the seed calibration tray to capture the proper volume of grass seed for weighing purposes.
While preparing your lawn for winter, it is important to take the necessary steps to promote a healthy lawn through practices such as overseeding.
If you enjoyed this post or want to read others, feel free to connect with us on Facebook, Twitter or Pinterest!
You might also like: