John Deere offers several riding lawn tractors that are designed to provide a premium cut each time. Take the John Deere X300 and X500, for example, which can help tackle any number of landscaping chores that might await you. While these machines have some similarities in their ability to make a lawn dazzle, they do have some differences that set them apart, as well.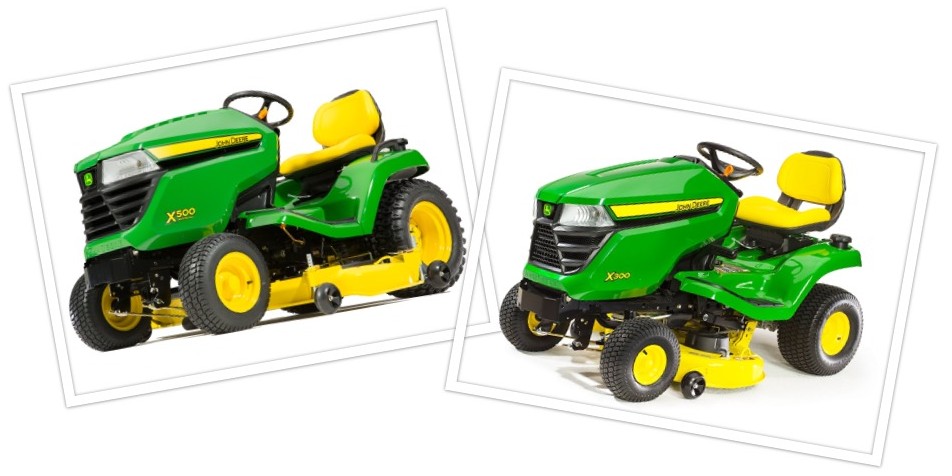 To assist those looking to learn more about the John Deere X300 and X500 riding lawn tractors and how they differ from one another, we've put together an equipment comparison that walks through some of the critical features. Enjoy!
The Engines
Both tractor models are powered by John Deere iTorque power systems, a blend of engine features, and an exclusive hood design that offers an impressive amount of towing capacity, even cooling, and durability. The X300 Tractor is propelled by an 18.5 hp (13.8kW) V-twin air-cooled engine, while the X500's V-twin air-cooled engine features 24 hp (1
7.9 kW) to add a little extra pop to the operator's arsenal. Additionally, the flywheel alternator onboard both models provides enough capacity to recharge the battery and power any electrical equipment that may be in use, such as a sprayer or lighting options.
The Frames
Both the X300 and X500 are supported by frames made from heavy-duty (11-gauge, 0.12-in. thick) formed steel; these are reinforced and welded in the spots that call for even more strength. The rear hitch plates on both models can carry up to four 42-lb (19-kg) Quik-Tatch weights, which can be used to counterbalance a heavy rear or front attachment. Adding weights to the tractors can provide greater stability, especially when operating on hills.
The Steering
The heavy-duty sector and pinion steering system with quality bearings found aboard the X300 and X500 Tractors is designed to provide operators with precise control throughout the life of their machine. Operators can grab hold of the large, 14-in. (36-cm) diameter steering wheel for greater leverage, however, the turning radiuses on the two models do differ. The X300 hosts a turning radius of 16-in., while the X500 features a 22-in. Despite these slight differences, each machine can be very easily maneuvered, improving overall mowing efficiency.
The Operator Stations
The color-coded dash controls surrounding the steering wheel allow for easy identification. Full-length foot mats and 15-in. open-back seats allow operators to ride in comfort for many hours on end. The open-back seat design (with suspension) allows air to flow in and out to keep the operator as cool as possible during those warm summer days. The tractors' fenders are equipped with a cup holder and tool tray to store essential devices or containers or all sizes. Need to plug in some electrical equipment? No problem. A 12-V outlet is standard on the X300 and X500 models.
The Mower Decks
The Edge Xtra Decks on both the X300 and X500 use a three-spindle technology to raise performance. Four-point mounting systems, wider anti-scalp wheels, 0.25-in. cut-height increments, and an onboard deck-leveling system paired with the 3-mm deck stamping are designed to handle a large amount of material and provide excellent cut quality and uniform discharge (even in tough mowing conditions).
As landscaping experts understand, a mower deck must be level side-to-side and properly adjusted to offer the best cutting performance. On both the X300 and X500 riding lawn tractors, a removable deck-leveling gauge and a hex-key tool are provided to make adjustment easy (stored below the tractor seat). The Exact Adjust leveling ports – standard on all X300 and X500 models – are on each side of the operator platform above the mower-level adjusting bolts. With the tool, their location provides easy access, eliminating the need to reach under the fender deck, simplifying the overall process.
X300 and X500 Dimensions
The X300 measures to be 43 in. tall by 72 in. long, with a wheelbase of 49.4 in, and the total weight is approximately 616 lbs. (with a 48-in. mower). The dimensions of the X500 are a bit larger, coming in with a 45-in. height, 75-in. length, and 51.2-in. wheelbase. This model weighs in at 760 lbs. with a 48-in. mower attached. The heavier X500 model provides ample stability for mowing on hillsides working with ground-engaging equipment like tillers.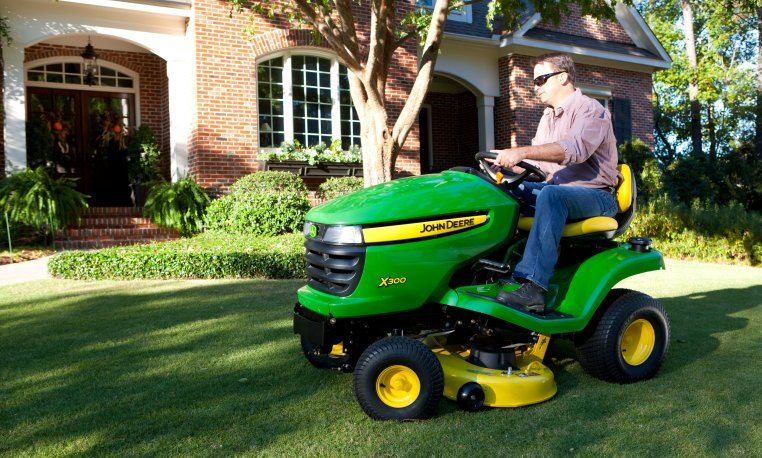 We hope this John Deere comparison helped identify what makes the John Deere X300 and X500 similar, while still distinct, pieces of residential lawn equipment.
If you have any questions about any John Deere riding lawn tractors, you can contact your local John Deere dealer.
If you enjoyed this post or want to read others, feel free to connect with us on Facebook, Pinterest, Twitter, or Instagram!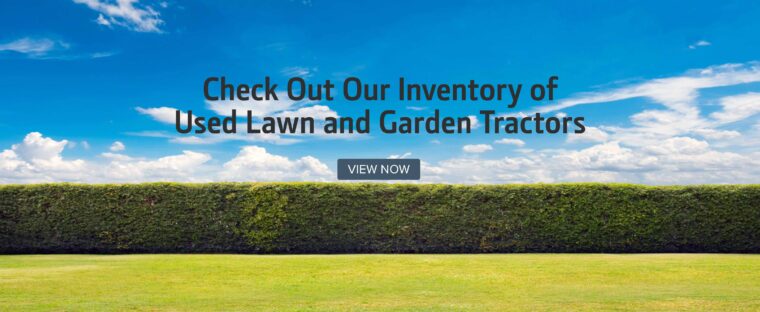 You might also like: