John Deere has produced a large number of tractors and riding mowers over the years. While many models may seem similar at a surface level, the truth is, no two models are exactly the same. Those considering a model from the Select Series™ X300 family might be wondering what the difference is between the X304 and the X324. We will attempt to clear the air in this post.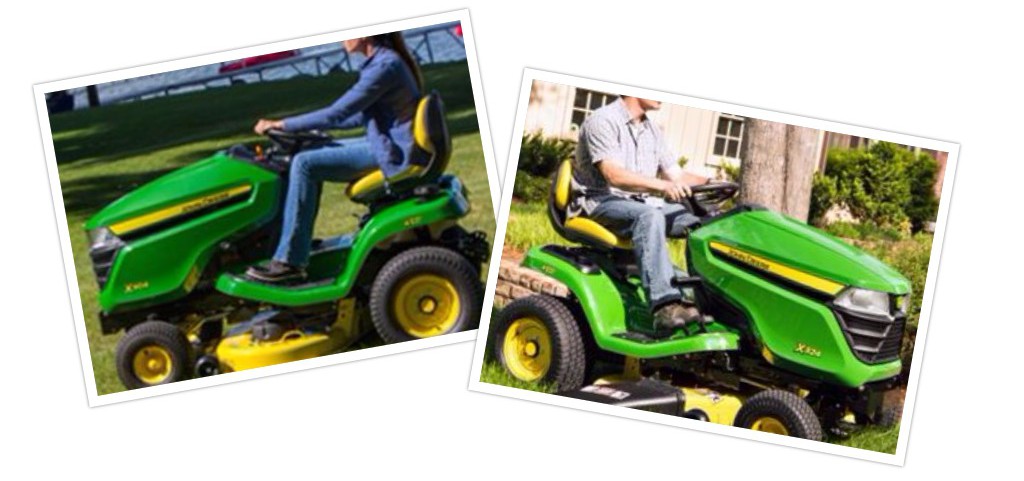 Let's take a closer look at some of the similarities and key differences when comparing a John Deere X304 vs. X324.
Styling
Both the X304 and X324 models feature modern styling with smooth and rounded contours throughout. Air-intake louvers are located on the sides of the hood rather than the top, which leads to a cooler engine and lower sound levels. The hood material resists weathering, protects against rust and dents and has excellent impact strength.
Engine
The John Deere X304 is powered by a 18.5-hp V-twin engine with 603 cc displacement and a John Deere iTorque™ power system. The V-twin design provides the tractor with smooth and quiet power, as well as easy starts. The X324 is also powered by a John Deere iTorque power system, but its engine boasts 22 horsepower and 726 cc displacement.
Steering
Both tractor models offer a four-wheel steering system that provides excellent maneuverability and trimming capabilities. When compared to two-wheel steering tractor models, these tractors offer a tighter turning radius, less interference from the mower and tractor wheels, and a smaller outside turning circle.
Frame
X300 Tractors are all built on a welded heavy-duty frame. The 11-gauge steel material is reinforced at many critical areas for greater strength. The rear hitch plate of each model can hold two 42-lb (19-kg) Quik-Tatch weights.
Exact Adjust
The Exact Adjust feature is standard on X300 Tractors and leveling ports are located on both sides of the operator platform. With Exact Adjust, operators no longer need to reach under the fender deck when adjusting the mower level. This system allows operators to level the mower deck side to side, set the amount of desired rake, and to calibrate the cutting height.
Mower Decks
The X304 model comes standard with a 42-in. (107-cm) Edge Xtra deck, while the X324 hosts a 48-in. (122-cm) version. The X324's deck also comes standard with a lift-assist spring.
Final Thoughts
Deciding which tractor model is right for you can be a challenge. We hope this post helped identify the shared features and key differences between the John Deere X304 and X324 Tractors. For more information on these models or other tractors, consult your local John Deere dealer.
If you enjoyed this post or want to read others, feel free to connect with us on Facebook, Twitter or Google+!
You might also like: