Every D100 Series Tractor is made with the quality and care Deere customers expect right from the beginning. With key features like the Edge Cutting System, operators can choose between mulching, bagging and side discharging. Experience more precise mowing with a stamped deck that lifts grass completely for an even cut, every time.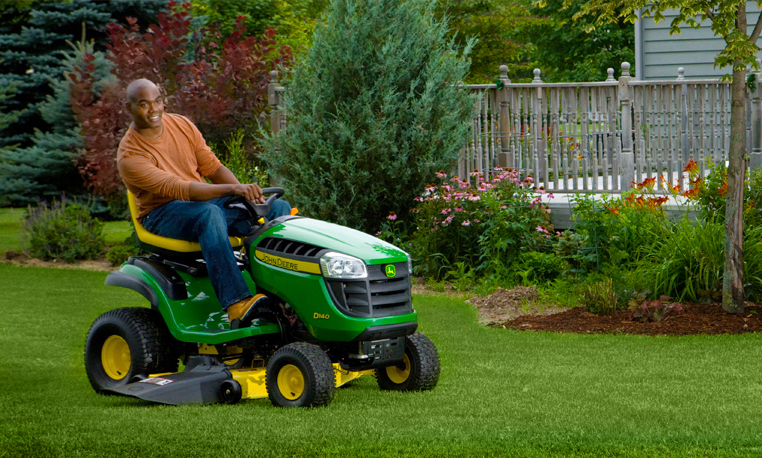 But, there are certain steps owners and operators should take to maintain the life of their tractors. In this video gallery, we'll walk you through some essential lawn tractor maintenance tasks to preserve your D100 Series Tractor. Enjoy!
To help your D100 Series Lawn Tractor last a long time, it's important to perform regularly scheduled maintenance. A good place to start is changing the oil and oil filter. It's pretty simple with an oil filter wrench, an oil draining pan, a funnel, shop towels, new oil, a new oil filter, safety glasses and gloves.
Air filters get dirty slowly. And, if you ignore the build up, you could cause permanent damage to your D100 Series Lawn Tractor. What are the basic steps to avoid this? Watch this video to find out how to easily change your air filter with just a brush, a bucket of warm soapy water and a towel.
Every engine needs fresh fuel. A fuel filter catches dirt before it can cause engine problems. A dirty fuel filter can cause your tractor to lose power, but we'll show you how to properly change it. What will you need? Grab pliers, a drain pan, shop towels, a new fuel filter, safety glasses and gloves to resist chemicals. Here's some step-by-step instructions to change a fuel filter in a D100 Series Lawn Tractor.
A dirty or faulty spark plug could make your mower hard to start or cause the engine to run unevenly. All of this trouble is pretty easy to avoid though, especially with this guide. This video will show you how to change a spark plug in a D100 Series Lawn Tractor with a spark plug wrench, and a spark plug gap tool.
If you enjoyed this post or want to read others, feel free to connect with us on Facebook, Twitter or Google+!
You might also like: