The John Deere 5100E is designed to put the "utility" back into utility tractor. With an engine that reaches up to 100 horsepower, the tractor is designed to tackle all of the tough jobs you have around the field. Whether you're handling tillage work or transporting heavy materials, the John Deere 5100E could be the versatile machine you need.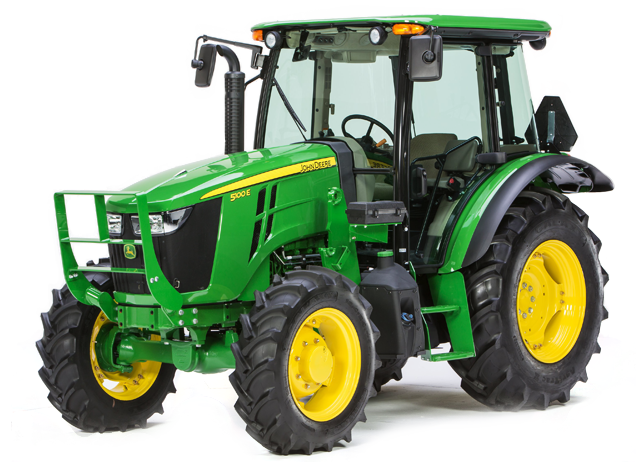 Let's take a look at some of the highlights of this utility tractor.
Hydrostatic Power Steering
With hydrostatic power steering, this tractor is a breeze to maneuver, even on rugged terrain. The steering wheel can also be telescoped out for more comfortable operation. The wet-disk brakes are hydraulically actuated and self-adjusting, and the brake pedals themselves can be locked together for rear wheel stoppage.
Final Tier 4 Engine
The John Deere 5100E has a Final Tier 4 compliant engine with maximum fluid efficiency. This means that it is specifically designed to reduce emissions and work as effectively as possible when the machine is in use. It was also created to aggressively respond to changes in power needs, delivering the right amount of torque every time.
Hydraulic Flow Network
This utility tractor has a hydraulic flow network that works as an open-center system, designed to provide precise hydraulic power wherever needed. It also has stackable selective control valves, which can be added or removed individually when necessary.
24F/12R PowrReverser™ Transmission
The 24F/12R PowrReverser Transmission of the John Deere 5100E comes with dual speed 540/540 economy power take-off, making it easy to change direction on a whim. An electrohydraulic fingertip lever control allows operators to quickly alter their direction, and there is clutch-less hydraulic shifting between forward and reverse.
Operator Station
The operator station has a more intuitive control layout for maximum comfort. The standard mechanical suspension seat can be swiveled, and it has more cushioning for less fatigue. Color-coded bands on the SCV levers also correspond with the colors on the rear SCVs for simple operation.
Mechanical Front Wheel Drive
This tractor has a mechanical front wheel drive axle, which means that it has more traction than the average machine. In turn, it can handle slippery terrain, and it has more drawbar pull.
3-Point Hitch
The John Deere 5100E has a Category 2 three-point hitch, which allows operators to use a wide range of add-ons with the tractor. The hitch itself is mechanically controlled, and it features a depth stop and a rate of drop adjustment. This ensures consistency each time the hitch is lowered.
For more information about the John Deere 5100E or other utility tractor models, contact your local John Deere dealer.
If you enjoyed this post or want to read others, feel free to connect with us on Facebook, Twitter or Google+!
You might also like: