The John Deere 5045E is the ultimate tractor for those who want durability and reliability while tackling several acres of land. The machine has a turbocharged diesel engine for ample power, as well as a smooth transition for an enjoyable ride.
Let's take a look at some of the other key features of the John Deere 5045E.
Final Tier 4 PowerTech™ Engine
This engine is designed to meet Environmental Protection Agency standards for emissions, meaning operators have one less thing to worry about while on the job. It also provides up to 48 horsepower and includes three cylinders for maximum efficiency.
Open-Center Hydraulics System
The John Deere 5045E features an open-center hydraulics system with fast cycle times, meaning no time is lost while material is being moved. A tandem-gear pump supplies power to the system, essentially acting as two pumps working together to provide a high-flow rate.
Versatile Hydraulics
The John Deere 5045E can be equipped with up to four economical spool-type selective control valves (SCVs). Single rear, dual rear and mid-mount SCVs are all options for this tractor.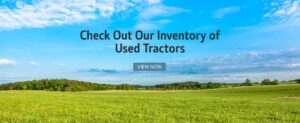 PowrReverser™
The PowrReverser transmission comes standard on the John Deere 5045E. The hydraulic wet forward and reverse clutches were designed with maximized durability in mind. Two platform-mounted levers make it easy for operators to maintain control in the cab.
Adjustable 2WD Axle
The 2WD front axle of the John Deere 5045E is adjustable, meaning it can adapt to any job or terrain. The front axle also provides 10 degrees of axle oscillation, which allows it to follow uneven terrain consistently for a smoother ride.
Accessible Service Points
All of the service points on the John Deere 5045E are easy to reach. The one-piece hood tilts upward for easy access to the air cleaner, radiator and coolant recovery tank. The coolant tank also has a see-through design, which means operators do not have to remove the radiator cap to check the coolant level.
Differential Lock
The differential lock of the John Deere 5045E means that operators can go into muddy conditions with better traction. The lock allows power to be applied equally to both rear wheels in the event of a slip.
Easy Hitch Adjustments
Hitch adjustments on the John Deere 5045E can be easily made using a rockshaft control lever. Operators can also adjust the speed at which an implement is lowered by simply altering the rockshaft at rate of drop.
Independent Power Take-Off
Electrohydraulic PTO engagement is standard with the PowrReverser transmission. An easy-to-push nob engages and disengages the PTO independently from the transmission traction clutch.
If you enjoyed this post or want to read others, feel free to connect with us on Facebook, Twitter or Google+!
You might also like: