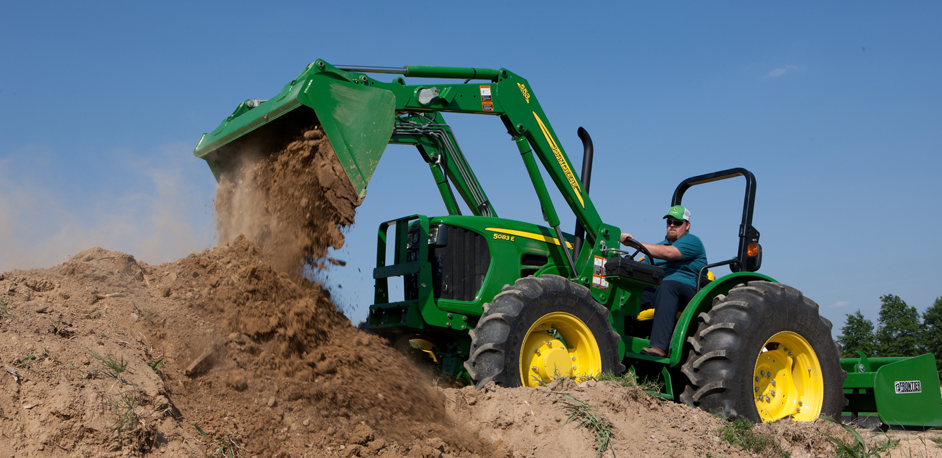 John Deere has made substantial improvements to its 5 Series Utility Tractor for the upcoming 2013 fleet, giving the machines more available options than ever, including varying horsepower, cab types and transmissions.
Deere brought together four new 45-to-75 horsepower 5E models with last year's 5ELimited Tractors, creating even more options for utility tractors that are priced accordingly to attract a wide range of customers. Now, the 5E family has been extended to include the 5045E, 5055E, 5065E, 5075E, 5083E, 5093E and 5101E Tractors. For each model, the last three digits indicate the tractor's horsepower.
Other options include new cabs for  5055E, 5065E and 5075E models, enhanced operator stations for the 5083, 5093 and 5101 models and a 12F/12R PowrReverser Transmission for models with horsepower ranging between 55 and 101.
According to Matt Blaylock, product marketing manager for the John Deere 5 Series Tractors, the new tractors are ideal for a wide range of operations, whether on rural properties, livestock ranches and commercial applications. No matter what the conditions, the 5E Series offers more comfort, performance and versatility than other similar machines.
"We've added many features, such as the cab, independent 540/540E PTO and PowrReverser Transmissions, to these models to improve operator comfort and productivity all year long," Baylock says. "Customers will find our 5E UtilityTractors to be heavier, more durable, easier to maintain, and more comfortable and economical to operate compared to other utility tractors on the market."
The new models can be tailored to unique needs, and offer seven different levels of horsepower, two-wheel drive and mechanical front-wheel drive and number of other features.
"The easy-to-shift PowrReverser Transmission, available on the 55 horsepower and higher models, has 12 forward and 12 reverse gears that make loader work, mowing, and many other chores much easier," Blaylock says. "Plus, the electro-hydraulic economy 540 PTO is standard on all PowrReverser-equipped machines to save fuel and reduce engine noise and vibration for most powered implements."
The 5E Series is a part of Deere's utility tractor family that includes several other models. The company's 5M Series was outfitted with more muscle to take on tough terrain, and features a cab outfitted with a host of technological advancements including bluetooth connectivity and auxiliary audio input.
You might also like: