The John Deere 5E Series of utility tractors are built to work regardless of the weather or conditions, making them some of the most versatile pieces of equipment Deere has to offer. From heavy-duty lifting and loader work, to rotary cutting and snow removal, property owners and livestock producers can truly conquer any task with help from the John Deere 5055E.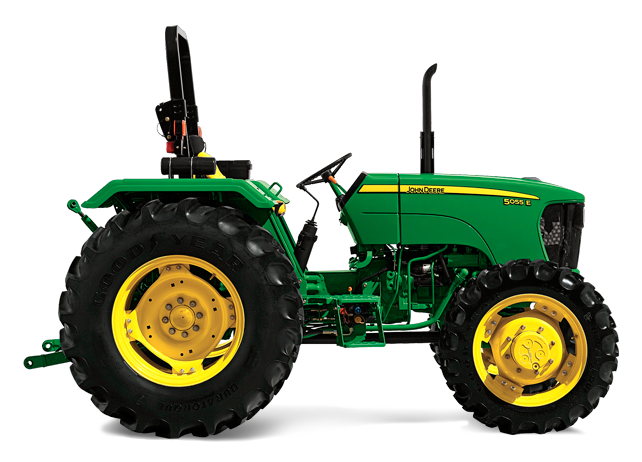 Let's take a closer look at some of the features of the John Deere 5055E that allow it to nearly change the definition of versatility in its entirety.
MFWD: The 5055E comes standard with a durable mechanical front wheel drive axle that increases traction even in the toughest conditions. The limited-slip, heavy-duty front axle provides increased drawbar pull and traction in slippery conditions, making sure enough torque is being transferred to the ground for demanding jobs. Additional versatility is provided by the wheel treads which possess a 55-degree turn angle and a turning radius just over 9 feet.
Straddle Mount Design: This uniquely designed operator station positions the driver of the tractor farther forward and slightly lower than most other tractors in this class, leaving the operator with an improved ride and visibility. Suspended clutch and brake pedals and platform-mounted shift levers make for a clean design and ease of use.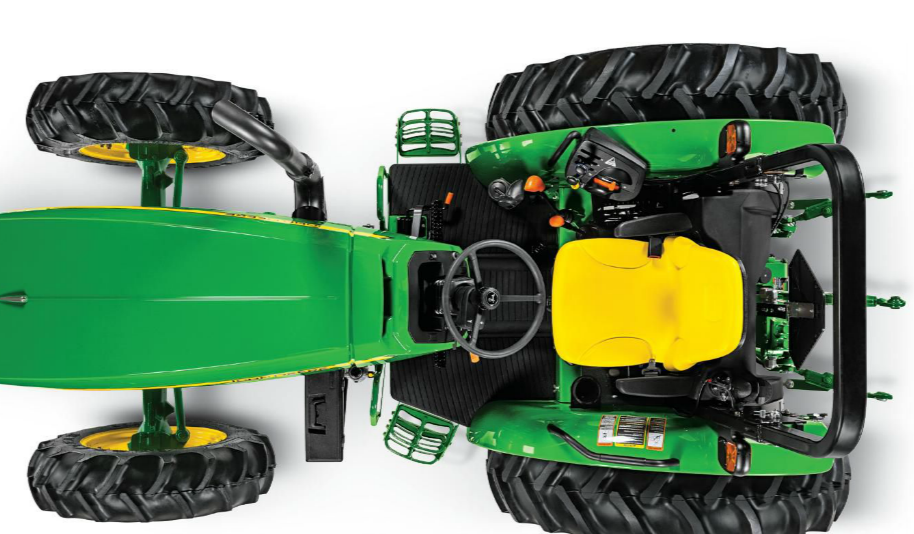 Three-Point Hitch: This versatile hitch is adaptable for rear implement work, as the center link can be positioned in one of three holes to accurately set the implement position and draft sensing. The hitch has ample lift capacity (2810 lbs at 24 in. behind the hitch balls) allowing the operator to perform heavy-duty jobs.
9F/3R SyncShuttle: The John Deere 5055E comes with SyncShuttle transmission, designed to match the excellent power and torque characteristics of John Deere PowerTech engines. The pressure-lubricated top shaft allows the operator to achieve performance from one season to the next with increased durability.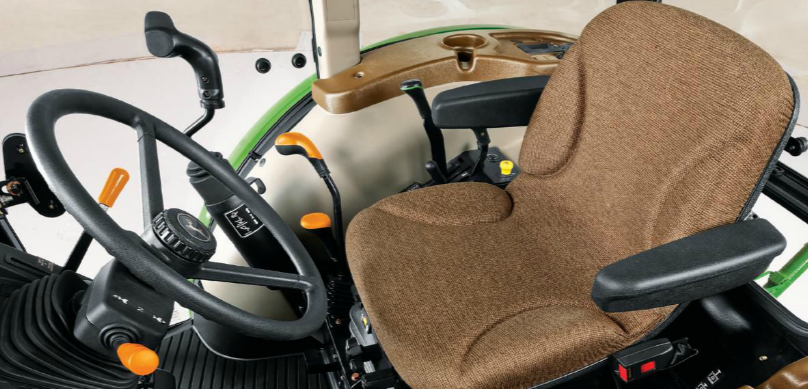 The system has nine forward and three reverse speeds, which are achieved through the two platform-mounted levers for shift operation. The lever at the operator's right hand selects one of three forward gears and one reverse gear, and also the integrated park position. The lever on the left side selects collar-shift A, B, and C ranges.
The John Deere 5055E is just one model in the 5E Utility Tractor Series that provides operators with maximum versatility to get jobs done throughout all four seasons in any weather conditions. If you enjoyed this post, or want to take a look at some others, feel free to connect with us on Facebook or Google+! 
You might also like: