The John Deere 5E Series of tractors is designed to take on the toughest jobs you have, with an ample amount of horsepower and multiple transmission options. As you look to make the most of your John Deere 5055E, you'll find that there are several attachments that can make your tractor even more versatile.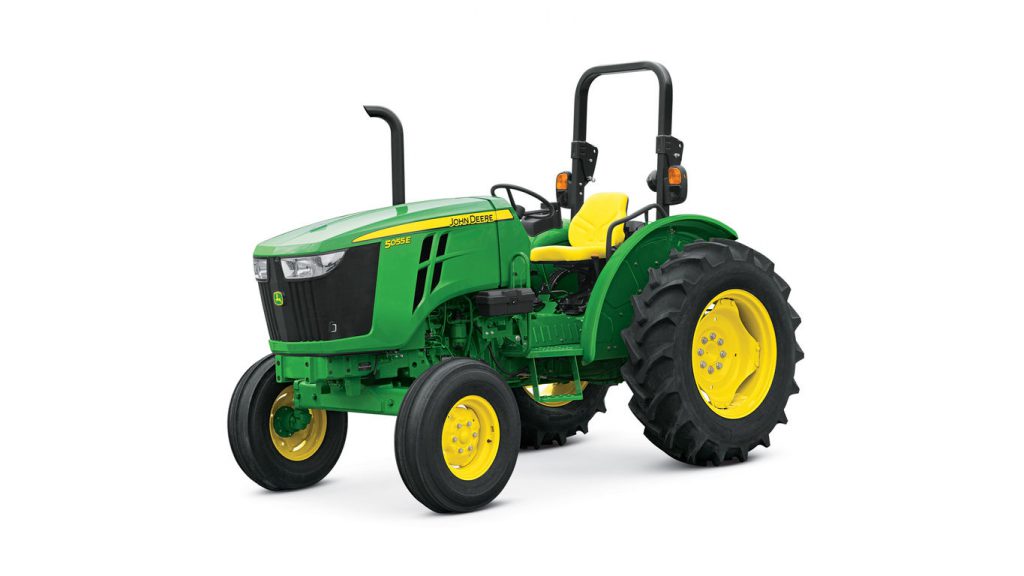 Let's take a look at some of the John Deere 5055E attachments that can turn your machine into the most productive piece of equipment you own.
Engine Coolant Kit
The Engine Coolant Heater Kit for the 5055E is a screw-in type of 120-V element that warms critical parts of the engine in cold weather. This ensures that you can easily start the machine, regardless of the outdoor temperature, and it provides better lubrication at startup. In turn, this results in less wear on the engine over time.
Horizontal Side Exhaust
With the horizontal exhaust kit, you'll be able to work in low-clearance areas without any issue. The design is also compatible with Final Tier 4 emissions.
Quik-Coupler
This i-Match quick-hitch is one of the John Deere 5055E attachments you'll want if you're interested in outfitting your machine with integral implements. It works with components such as box blades, rear blades, rotary tillers, and rotary cutters. The hitch is made of tubular and box-welded steel for the utmost strength, and its bushings and hooks are heat-treated to prevent cracking.
Lighting Kits
There are two lighting kits that work with the John Deere 5055E. The Auxiliary Rear Work Light Kit comes with a 37.5-watt halogen floodlight that is adjustable to illuminate areas behind the tractor. The Beacon Light Kit comes with a rotating, high-intensity light inside of an amber-colored safety lens. It meets requirements for government and commercial applications when necessary.
Front Utility Box
Essential items can be easily towed in the Front Utility Box, which has two removable shelves and an innovative front door and lid design. Everything from grease guns to hitch pins can be stored in this box. It is built from welded, heavy-gauge sheet steel for the utmost durability.
PowrReverser Modulation Control Kit
With this kit, operators can change the transition speed of the PowrReverser transmission with a single dial, located close to the steering column. Drivers can also adjust the aggressiveness of the forward-to-reverse transition.
Final Thoughts
The next time you take your John Deere 5055E out to tackle a task, think about the attachments that could be added to enhance productivity even further. If you have any questions about the John Deere 5055E or other tractors, contact your local John Deere dealer.
If you enjoyed this post or want to read others, feel free to connect with us on Facebook, Twitter or Google+!
You might also like: