The John Deere 5045E is one of the most powerful tractors in the 5E series, but did you know that there are a number of add-ons for this machine? With John Deere 5045E attachments, you can enhance the versatility of your tractor to take on every challenge on the job.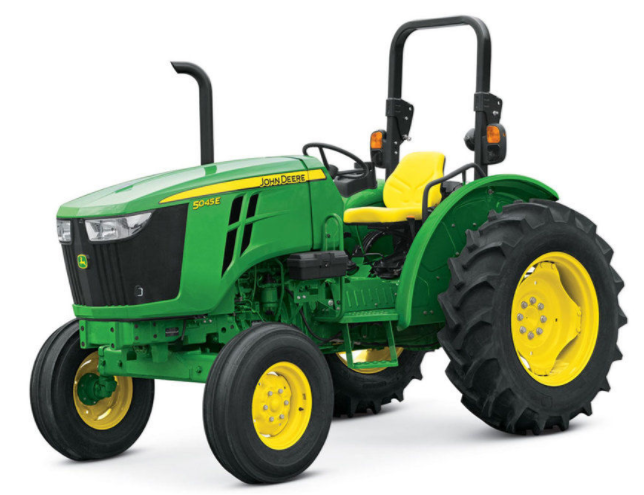 Let's take a look at some of the attachments you can consider for your tractor.
Rear Axles
The 5045E is designed to accommodate a 1.2-inch, 1.6-inch and 4.4-inch rear axle extension. With an extension, operators can achieve wider axle tread settings as necessary.
Engine Attachments
A screw-in type of 120-volt element can be used to heat coolant and warm engine parts in cold weather. As a result, operators can avoid slow start-ups and reduce engine wear. A horizontal exhaust kit can also be used in low-clearance situations, and it is compatible with Final Tier 4 emissions.
Hitches
Draft and center link conversion bushings (Cat. II to Cat. I) can be used on this tractor. This allows for the use of more John Deere 5045E attachments.
Drawbars
An offset drawbar can be utilized on this tractor with large- or small-diameter tires to raise or lower the drawbar height. Operators can also invest in a drawbar clevis kit (straight or offset drawbar) to allow for quick, safe hookups to various John Deere 5045E attachments.
Hydraulics
A mid-mount dual selective control valve (SCV) with joystick control can be implemented on the John Deere 5045E for optimal control. A second rear SCV with detented float and lever control can be utilized as well.
Rear Work Light
One of the John Deere 5045E attachments operators may want to consider is the auxiliary rear work light kit, particularly if they work after hours. It comes with a 37.5-watt halogen flood light that is adjustable for specific needs. It illuminates the rear of the tractor, and the bulb can be quickly replaced as needed.
Front Utility Box
This front utility box has two removable shelves and a more convenient front door and lid design. Everything from grease guns to tow chains can be safely stored away in this box for easy transport.
Weights
Front and rear 95-pound weights can be used on the John Deere 5045E for more stability as needed on the job.
If you have any questions about John Deere 5045E attachments, contact your local John Deere dealer.
If you enjoyed this post or want to read others, feel free to connect with us on Facebook, or Twitter!
You might also like: