The use of modern farming equipment has helped farmers increase the productivity of their operations and improve their yields. This is also true for people who want to maintain their yard, and John Deere has worked to create farm equipment that helps everyday Americans get the most from their land.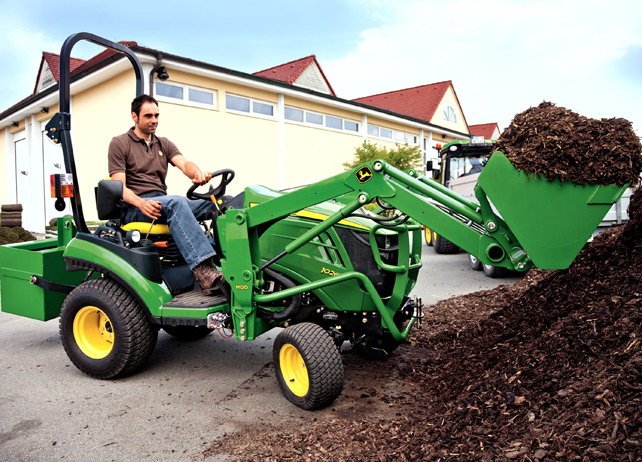 The John Deere 1026R sub-compact utility tractor is the latest version of the company's smaller line of models, as the new offering allows users to mow with precision while also giving them enough power for even the toughest jobs.
Made in the U.S., at the company's Augusta, Georgia factory, the 1026R is an example of the finest in American engineering. The sub-compact utility tractor has a gross horsepower of 25.2 and a three-cylinder engine. It also comes standard with hydrostatic transmission and 4-wheel drive.
Customers will benefit from the extended productivity hours that the tractor provides for, as the standard side fender lights will allow owners to work in low light conditions. They will also benefit from a wider wheelbase and increased width, which gives the tractor great stability for even the most uneven terrains.
The 1026R tractor provides users with a high level of comfort, versatility, productivity, and reliability, and operational efficiency is likely to improve because of the machine.
Though the John Deere 1026R may be smaller than other tractors in the same category, its engine provides more power due to the engineering advances made by the heavy equipment company. It has the best-in-class power and performance and it can adapt to almost any situation that may arise for the user.
While John Deere could have stopped there, the company chose to give the 1026R the same standard features that customers would normally only think would come with larger tractors. But the true beauty of the latest model from the iconic firm is its ability to navigate around an area with unmatched ease.
"It's got a tight turning circle – you can fairly whip it round. It's quick, nippy between forward and reverse and it gives a smooth ride – not much bouncing, even at high speed," one reviewer told Horticulture Week. "It's like a large lawn mower but the loader and other attachments could be useful for small holdings and work on estates, parks and in conservation areas."
You might also like: