What Is the John Deere 1 Series and What Are the Types?
Anyone who's ever mowed a large lawn, moved a pile of mulch, cleared snow from a long driveway, or built a fence can appreciate the versatility and outsized power of the John Deere 1 series. The 1023E, 1025R, and 1026R compact utility tractor models in this series act as all-in-one landscaping, snow-moving, and heavy-lifting tools, among many other uses, and could be called an essential part of every homeowner, landscaper, or farmer's "toolkit." Below, we'll explore the three models of the John Deere 1 series and dive into the many features, attachments, and uses available for each one.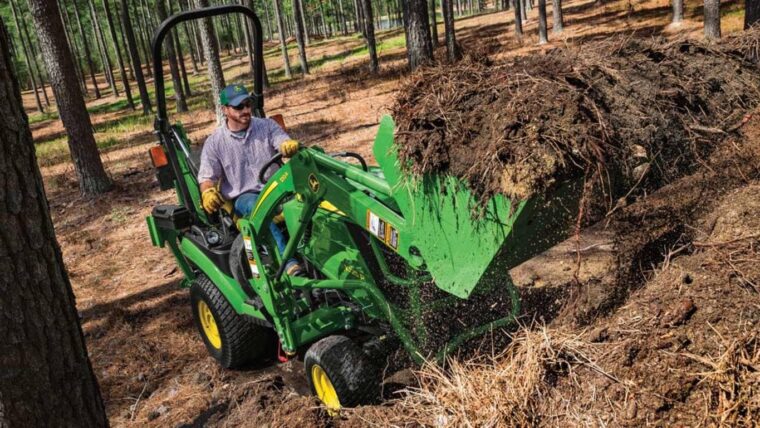 The John Deere 1023E
While the John Deere 1023E is technically a sub-compact tractor, its capabilities make it more of a "Swiss army knife" of tools and capabilities. With the power, versatility, and attachments to be a landscaper, mower, gardening vehicle, lawn seeder, fence-builder, snow-mover, and more, the John Deere 1023E could be said to be the one essential tool in every farmer and homeowner's "toolbox". This one-of-a-kind vehicle can be used throughout all four seasons and on almost any terrain, from steep hillsides to loose gravel and from muddy garden plots to snowy driveways. The myriad capabilities and easy maneuvering of the 1023E have made it an extremely popular utility tractor. Below, we're taking a look at some of the key features that have made it much-beloved by professionals and laymen alike.
Key Features of the 1023E
1. Diesel Engine
The powerful three-cylinder Yanmar TNM series diesel engine in the John Deere 1023E provides the muscle it needs to take on even the toughest tasks. With up to 22 hp available while also meeting Tier 4 environmental protection agency (EPA) environmental requirements for exhaust and emission levels, this engine gives you all the power you need without the added pollution. Enjoy a smooth, quiet ride on the John Deere 1023E as you get things done around your home or farm, thanks to an isolated engine style that reduces vibration and noise.
2. Implement Compounding
Implement compounding is an invaluable feature of both the John Deere 1023E and 1025R. This innovative approach to implement attachment allows more than one implement (for example, a loader, mid-mower, and one of a number of 3-point hitches) to be attached and used simultaneously, saving time and effort for the operator in implement changeover.
This handy feature makes it easier than ever to tackle a large number of diverse tasks one after the other without stopping to change implements or taking time to return to the shed or garage to pick up new tools. This versatility is just one of many reasons why professionals and homeowners alike love the John Deere 1023E.
3. Effortless Implement Changeover
Even with the 1023E's implement compounding feature, implements do need to be changed over eventually. When a new implement or two is needed, two convenient hitches, one on the front and one on the back, make it easy to attach the right tools and get back to work fast. The easy-to-use Quick-Tatch front hitch makes it a breeze to attach front implements like blades, snow blowers, brooms, and more, as they all share a common hitch to make the process fast and simple for operators.
The 1023E's AutoConnect™ feature also eliminates the hassle of attaching mid-mount mower decks, backhoes, loaders, and more. In less than 5 minutes, AutoConnect™ allows operators to attach mid-mount implements like these with no tools whatsoever, making changeovers faster and easier than ever.
For rear implement changeover in just minutes, the iMatch™ Quick-Hitch feature provides three fixed hitching points, allowing the operator to simply back in and pick up iMatch™-compatible implements.
4. Twin-Touch Foot Controls
Take back your time and increase your productivity with the 1023E's Twin-Touch foot controls. With this feature, the operator can choose the speed and direction of the tractor with the simple touch of a foot, freeing up both hands for other steering and control tasks. Large foot pedals make operation even easier and more comfortable, while the elimination of a clutch makes stopping and turning on a dime as easy as a toe-tap.
5. 4WD and Power Steering
Not all your tasks can be done on flat, smooth surfaces or wide-open areas: sometimes you've got to get into (and out of!) a tight corner or up and down steep hills. With four-wheel drive and power steering being standard features on the 1023E, you never have to worry about getting stuck in a narrow space or getting sunk in thick snow or mud. The 57-inch wheelbase and narrow width of this subcompact utility tractor provide exceptional power and maneuverability for every surface and space, so you can tackle all your toughest terrains with confidence.
6. Open Operator's Station
With a convenient front-horizontal exhaust and a sloping hood design similar to other popular John Deere utility tractors, the 1023E provides excellent visibility for a variety of tasks around the yard or in the field.
Getting into and out of the 1023E is also easy, thanks to the easy-to-grab handrails on each fender. The large, prominent handrails allow for easily hopping on and off the tractor, making tackling every essential task even easier.
The John Deere 1025R
Next up in our lineup of John Deere 1 Series options is the 1025R Sub-Compact Utility Tractor. With up to 25 hp, AutoConnect™ decks, iMatch™ compatibility, and a huge range of hundreds of available implements and attachments, the John Deere 1025R is easily one of the most versatile and capable sub-compact tractors on the market. With one of these powerful tractors on your side, you can tackle almost any task around the yard or barn with ease and efficiency.
What Makes the JD 1025R Sub-Compact Tractor So Versatile?
The John Deere 1025R sub-compact tractor provides a powerful combination of features and capabilities that make it a key part of your "toolbox," no matter how large or small your property is. The five features below are some of the most popular aspects of the 1025R and can make any to-do list a breeze.
1. Quick and Easy Implement Changeover
Every tractor owner knows how annoying attaching and detaching tractor implements can be. Thankfully, the John Deere 1025R's available iMatch™ Quick-Hitch makes that concern a thing of the past. This proprietary system makes implement changeover a breeze, allowing you to switch from one task to another in just moments and maximize your productivity.
Front implement changeover is also quick and easy with the John Deere 1025R. The front Quik-Tatch™ hitch gives operators the ability to quickly switch between blades, brooms, and other front implements in a flash, giving you back precious time to use on getting things done.
For mid-mount attachments like mower decks and backhoes, the 1025R's AutoConnect™ system lets you easily switch between implements in 5 minutes or less – all without needing any additional tools!
Completing the set of easy-to-use implement changeover features on the John Deere 1025R is the iMatch™ Quick-Hitch for rear attachments. This simple system utilizes three fixed points, allowing the operator to easily back up to and attach any compatible rear element. The iMatch™ AutoHitch system even lets you hook up attachments like rotary cutters and tillers from the comfort of the tractor seat for maximum ease and productivity.
2. 4WD & Power Steering for Maximum Maneuverability
The John Deere 1025R comes standard with 4WD and power steering. This powerful combination equips operators to handle any terrain, from steep hillsides to unstable snow to narrow and hard-to-navigate spaces. Work in tight areas and on uneven surfaces most tractors can't handle thanks to the combination of the 1025R's narrow width and handy power steering and 4WD features.
Even when mowing around hurdles or when using unwieldy front attachments, the power steering on the 1025R allows the operator to maneuver with less effort than other tractors. The high horsepower on this powerful little tractor allows it to handle almost anything you, or nature itself, can throw at it, making it one of the most versatile sub-compact tractors on the market.
3. Powerful Tier 4-Compliant Diesel Engine
With a Tier-4 Compliant Yanmar® TNV diesel engine under the hood, the John Deere 1025R is both powerful and environmentally friendly while providing 24.2 hp and 3200 rpm-rated speed. An isolated engine mount provides a quiet, comfortable ride with minimal vibration, and strong hydraulics make it possible to operate a large range of implements, like the D120 and H120 Loaders, AutoConnect™ implements, the 260 Backhoe, and the iMatch™ AutoHitch.
4. Open Operator's Station for Comfort and Convenience
The 1025R features a sloping hood design for better visibility and a large step-through operator station for more comfortable and convenient operation in the field. In addition, controls located next to the fenders, as well as other upgraded features for even greater operator comfort and safety, make this model both easier to use and more efficient than ever before.
5. Twin-Touch Foot Controls and Hydrostatic Transmission
The hydrostatic transmission (HST) on the 1025R functions as both clutch and transmission, making clutching unnecessary for quick direction changes on rough terrain and making maneuvering easier than ever. Coupled with the included twin-touch foot controls, this gives the operator unmatched agility on rough terrain, increasing productivity for tasks like loading cargo or mowing.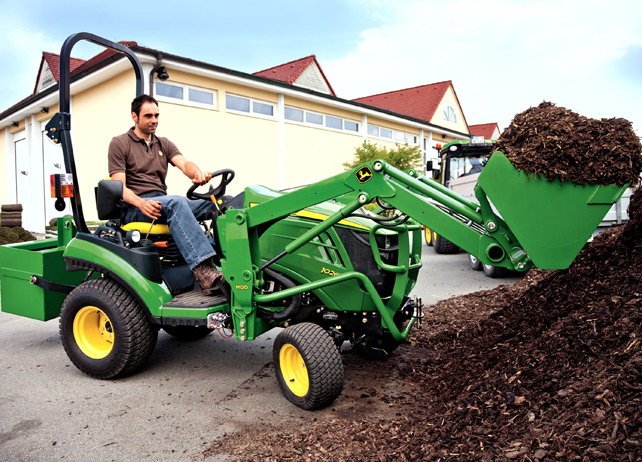 The John Deere 1026R
Whether you're a lifelong farmer or a weekend do-it-yourselfer, you want to get the most out of the land you've got, and the John Deere 1026R makes that easier than ever. Now, you can increase productivity, improve yield and perfect your lawn with one versatile piece of farm equipment.
Don't be fooled by the small size of the John Deere 1026R sub-compact utility tractor – it features the latest in agricultural equipment technology to allow you to mow with precision, tow with power, and maneuver with ease, no matter how large or small your property might be. As the latest version in Deere's smaller line of tractor models, this new offering provides maximum versatility and stamina for even the toughest tasks.
Proudly made in the USA, at Deere's auspicious Augusta, Georgia location, the 1026R stands out as a shining example of American engineering. Featuring a gross hp of 25.2 and a 3-wheel cylinder engine, this model also comes standard with a hydrostatic transmission and 4WD, making it both endlessly versatile and noticeably innovative.
Key Benefits of the 1026R
1. Productivity
The John Deere 1026R works as hard as you do, with standard side light fenders that make working in low light safer and easier, increasing efficiency and extending productive hours.
In addition, a wider wheelbase and increased width, as compared to prior models, give the 1026R greater stability for uneven and hard-to-navigate terrain.
2. Comfort
Thanks to a myriad of features that help to increase operator safety and comfort, the 1026R allows operators to work longer days when needed to fit tight planting and harvesting timelines, or to take advantage of seasonal opportunities as they occur.
3. Power and Torque
Despite its compact size, the John Deere 1026R cannot be underestimated in its power and versatility. Thanks to Deere's many equipment engineering breakthroughs, owners of a 1026R can enjoy best-in-class performance to power through even the toughest tasks, in all kinds of weather and in every season.
4. Navigation
While advanced navigation features are usually the purview of much larger tractors, John Deere chose to give the 1026R the best of all worlds by including unmatched navigation and maneuverability standard in every tractor, making it incomparably versatile for almost every farm and home application.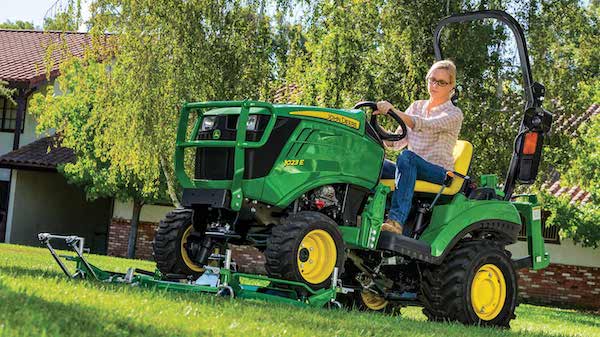 Popular John Deere 1 Series Attachments
The many attachments available for the John Deere 1 Series, particularly the 1023E and the 1025R, provide even greater versatility, safety, and operator comfort for your utility tractor. These available attachments allow you to lift, seed, mow, move or carry almost anything on your property, saving you both time and effort:
1023E Attachments
AutoConnect™ Mid-Mount Mowers
Get the perfect height for your mow every time with an AutoConnect™ mid-mount mower. Adjust mowing height on the fly for optimal precision and pristine performance for every property.
Backhoe
Make a heavy-duty backhoe bucket your best friend with the 1023E – move rocks, stumps, and old fence posts with ease, or make quick work of mulching or filling garden areas with topsoil.
Box Blades
An adjustable scarifier and extra-strong frame make the 1203E's box blade attachments the perfect choice for leveling garden plots, smoothing gravel, and putting the finishing touches on your landscaping project.
Disk Harrow
Take on almost any soil condition and tackle any planting or gardening task in no time with the John Deere 1023E's disk harrow attachment.
Landscape Rake
Clear away fallen leaves or storm-blown fallen branches, and make quick work of other clean-up and yard grooming chores with the 1023E's landscape rake.
Loaders
No matter how big or small the task, a loader attachment gives operators the speed, acceleration, and torque they need to master any conditions in their field or yard.
Manure Spreaders
Featuring a variable-speed hydraulic push-gate for easy unloading, the manure spreader attachment gives you the flexibility to fertilize in no time, even on uneven terrain.
Material Collection System
A high-performance power flow on the 1023E's material collection system processes materials quickly and easily, giving you more time back in your busy day.
Overseeder
Double your productivity and take care of two tasks in one with the John Deere 1023E's overseeder attachment, which aerates and seeds at the same time.
Broadcast Spreader
Distribute seed, lime, and fertilizer in areas up to 49 feet wide with the 1023E's broadcast spreader and make sure your whole planting area gets the nourishment it needs.
Posthole Digger by ROTOMEC
Leave your toughest posthole jobs to the John Deere 1023E's posthole digger from ROTOMEC USA. This durable attachment comes with heavy-walled piping for maximum strength, even in clay-mix soils.
Power Rake
With carbide teeth and a roll-back barrier for customizable pulverizing power, the power rake attachment for the John Deere 1023E can go through lumpy planting plots like a fine-tooth comb for optimal performance and results.
Rear Blades
Level soil and gravel, clear roadsides, remove snow, and more with the John Deere 1023E's strong and versatile rear blades.
Rear Grooming Mower
Get a picture-perfect cut on every lawn, sporting field or golf course with the 1023E's rear grooming mower attachment.
Rotary Brooms
With the 1023E's rotary broom attachment, operators can clear away debris and sweep walking paths and roadways with ease.
Rotary Cutter
Clip grass, clear brush, and tame the jungle around your yard with the John Deere 1023E's rotary cutter attachment. With a wide variety of sizes and hitch types available, you're sure to find one that fits your yard or farm exactly.
Rotary Tillers
The 1023E's rotary tillers use less horsepower while driving maximum results, thanks to their helical design, giving operators the freedom to accomplish more with less fuel spent.
Front and Rear Snow Blowers
Never be stranded behind a snowy driveway or roadway again with the 1023E's snowblower attachments. Attach one to either the front or rear of the John Deere 1023E to clear snow in a flash and show winter who's boss on your block.
Sprayer
Spread liquid fertilizer in the field and take advantage of the 1023E's simple controls with an easy-to-use sprayer attachment.
Tedder
Aerate hay in a flash and speed up hay production with the John Deere 1023E's tedder attachment
Woodchipper
Break down that excess wood quickly and easily, whether in a home, farm, or park setting, with the 1023E's woodchipper attachment.
Front Blade
For small snow removal chores on walkways and sidewalks, look no further than the 1023E's front blade attachment.
Front Broom
Sweep up small areas and tight corners easily with the highly-maneuverable front broom for the John Deere 1023E.
1025R Attachments
Hitches
With iMatch™ Quick Hitch bushings and iMatch™ Quick Hitch Category 1 hitches both available for the John Deere 1025R, operators will never be without a quick and easy way to attach and tow multiple types of attachments at once, making short work of even the longest to-do list.
Weights
Give yourself the extra leverage a weight provides for loading or digging tasks with one of the weights available for the John Deere 1025R. Choose from a 50-lb. cast iron wheel weight, a 50-lb rear plastic wheel weight, and a 72-lb. cast iron starter wheel weight for all your toughest loading and removal tasks.
Hood Guards
Give yourself and your 1025R extra protection with a standard or deluxe hood guard. Both types wrap fully around the hood to create complete protection in any weather conditions.
Wheels and Tires
Both turf and industrial tires are available for the John Deere 1025R, giving you numerous options for almost any terrain or task. Turf tires ensure the tractor's weight is spread evenly on soft or spongy terrain, while the more heavy-duty industrial tread provides more grip and traction with reducing turf damage.
Hydraulics
Three types of hydraulics kits are available for the John Deere 1025R sub-compact tractor: the power-beyond kit, the rear-hydraulic kit, and the third selective-control-valve (SCV). The power-beyond kit includes rear-mounted hydraulic couplers, while the rear-hydraulic kit routes the duel mid-SCVs to the rear of the tractor. The third selective-control-valve kit works especially well for those who don't want a handle in the way of their seating area, as its couplers are mounted in the rear of the tractor and feature a single set of outlets.
Light Kits
Five different types of light kits are available for the John Deere 1025R to allow maximum flexibility for any task: the auxiliary rear work light kit, the forward-lighting kit, the LED work light kit, the warning-light brush guards, and the working-light brush guard kit. Whether you're working before sun-up, after sundown, or in dark interior spaces at any time, these light kits are sure to create optimum lighting for you no matter what the job.
Weather Protection
Both an ABS plastic canopy and a weather protection umbrella are available for the John Deere 1025R, providing both you and your tractor with unmatched protection from Mother Nature's whims.
Engine
Start up faster and get back to work sooner in cold weather with the 1025R's engine block heater adapter. If it's hot weather getting you down instead, there's also an engine coolant kit available for those scorching summer days.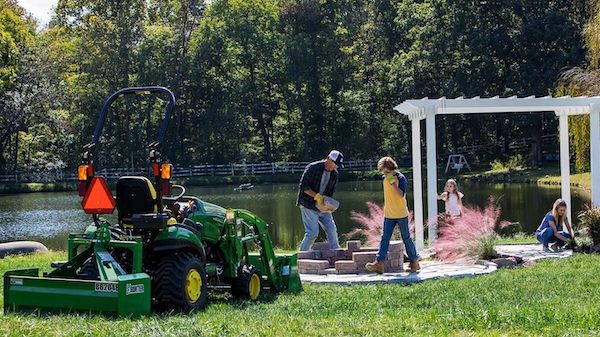 Uses for Your John Deere 1 Series Compact Utility Tractor
The sky's the limit when it comes to all the ways you can use your utility tractor on your property! Here are a few you might not be familiar with – or might not know existed at all.
Remove old stumps and rocks with ease
Use the John Deere 1 series and the optional bucket and weight attachments to give you extra leverage and optimal power while removing pesky stumps and unsightly boulders from your property.
Transporting landscaping materials
Whether you've got a pile of pavers or a trio of tall trees to move to their new home on your property, the John Deere 1 Series can help you lift, load, haul, plant, and place every element with ease, even on hard-to-reach areas like hillsides.
Till up and fertilize a big garden
Get your garden growing faster with tilling, planting, and fertilizing attachments, coupled with the maneuverability and versatility of the John Deere 1 Series.
Plow or snow-blow a long driveway with ease
Whether you've got a long driveway or a maze of walkways buried under snowdrifts, the John Deere 1 Series can help you dig out. Use the front or rear snowblowers and other snow removal attachments for quick and easy mastery of Mother Nature's elements.
Turn brush piles into mulch
Make unsightly fallen branches and old, dead wood into mulch to insulate your plants and keep them cozy during the cold months. Use the optional woodchipper attachments for the John Deere 1 Series to make short work of your brush pile.
Mow your home and business properties
Residential, industrial, commercial, and agricultural properties alike will benefit from the mower and grooming mower attachments for the John Deere 1 Series. Keep all your grassy areas looking pristine and cut down on your workload at the same time with the wide range of versatile attachments available for your sub-compact utility tractor.
Dig post holes with ease
Forget hurting your arms and injuring your back digging post holes manually – let your John Deere 1 Series subcompact tractor do it instead! With the optional post-hole digger from ROTOMEC USA, building and repairing fences in even the hardest and most unyielding soils will become a breeze, saving you time, effort and injury.
Level out a building plot, garden, or driveway
Use one of the convenient blade attachments for the John Deere 1 Series to easily level your building plot, garden or driveway and provide a smooth surface for the next step in your process.
Sweep up a paved driveway, event space, or parking lot
Sweep away grass clippings, fallen leaves, building debris, and anything else that might soil your paved residential or commercial space with the convenient broom attachments available for the John Deere 1 Series.
Mow hard-to-reach areas
With best-in-class power, maneuverability and stability, you can mow even tight corners and narrow corridors with ease on a John Deere 1 Series sub-compact tractor.
Final Thoughts
All John Deere 1 Series compact utility tractors are designed to be your "work buddy" for all the hard tasks you undertake on your farm or property. Whether you have a full-blown farm or ranch to tend to, or just like a nicely-manicured lawn and a large garden, you'll find a plethora of uses for your John Deere 1 Series tractor. In every season, and for every task, there's sure to be an attachment, tool, or feature available that will make your life easier and your property better tended.
To learn more about how to get your own John Deere 1 Series compact utility tractor, check out your local John Deere dealer today.
You might also like: