There are numerous benefits of the John Deere 1 Family Tractor that will surely help in being more productive on the field. Let's take a look at six videos that will demonstrate the many advantages of this tractor.
(Note: For complete video footage, follow links and play videos from the "Video Gallery" portion of the 1 Family page)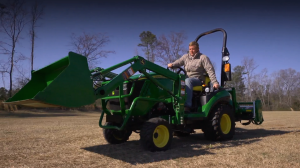 Only with the John Deere 1 Family Tractor can you attach Deere's exclusive AutoConnect mower deck conveniently without ever leaving your seat. When you are finished mowing, the deck can be quickly and easily disconnected just by undoing one latch. Deere's AutoConnect deck for the 1 Family Tractor works quickly and easily, making its common sense innovation a smart investment.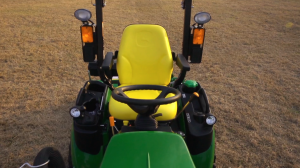 You will get the highest level of comfort and convenience with the John Deere 1 Family Tractor. Features like the step-through platform and fender-mounted handrails make your entrance and exit convenient, while the deluxe suspension seat ensures a comfortable ride. Spend less time trying to find your comfort zone and more time focusing on production with these easily adjustable features. The Twin-Touch hydrostatic transmission makes operating the John Deere 1 Family Tractor easy. Even at full throttle when changing direction, there is no need for clutching. A 12-volt outlet is conveniently integrated into the right hand console near a built into storage box for handy charging ability and dedicated storage. The 1 Family Tractor wheelbase has long and wide dimensions providing excellent stability and a smooth ride. When it comes to comfort and convenience.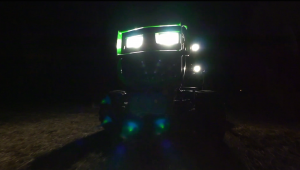 The John Deere 1 Family Tractor deluxe lighting packages allow you to get work done after hours. It's never too early to start or too late to finish when your tractor has the ability to improve visibility, and illuminate the operating stations and controls. Whether it is before sunset or after sundown, work will be easier and more productive with the 1 Family Tractor lighting packages. Let yourself be the one to determine when your workday ends.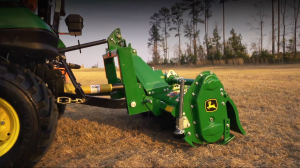 Positioning a rear-mounted implement to a consistent working depth every time can be very difficult. However, the John Deere 1 Family Tractor Hitch Position Control lets you place the implement in the same working position every time and every pass. After arranging your exact working position, the system will remember that setting, and provide you with consistent results.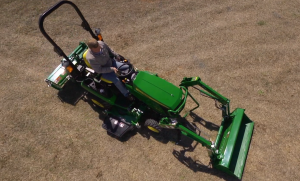 Nothing could be quicker or easier than putting the Quik-Park loader on a John Deere 1 Family Tractor. The 1 Family's Quik-Park loader saves time and effort in attaching and detaching the loader to the tractor. This loader is both the swiftest and simplest to switch out, and will help in making life less stressful and more productive.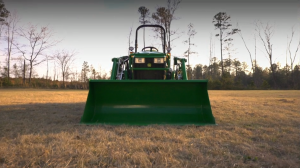 Many useful features are available for the John Deere 1 Family Tractor to provide expediency. The Quik-Park loader's attachment and detachment process takes less than three minutes, saving valuable time and energy that can be better spent on the field. The heavy-duty Yanmar diesel engine delivers reliable and efficient power for working around the clock. Lifting becomes almost an effortless task with the heavy-duty hydrostatic transmission, high performance hydraulics and productive motor lift height of over 71 inches. Hopefully this video gallery has been helpful in exposing the many benefits of the John Deere 1 Family Tractor. These useful features will assist in making field work easier and more productive. If you enjoyed this post or want to read others, feel free to connect with us on Facebook or Google+!
You might also like: