John Deere S-Series combines are designed to be both efficient and productive, bundling power and grain quality into one powerful piece of equipment. More power means less time in the fields and increased grain quality will result in more profitable yields when it comes time to sell.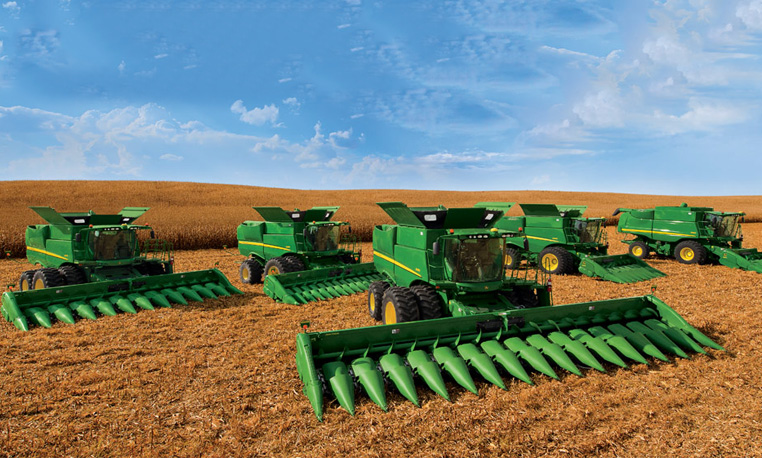 To better understand what makes these pieces of equipment so dynamic, we've put together a John Deere S-Series combine video gallery that includes walk-around optimization videos that dealers and customers can view that give detailed information about product features. Enjoy!
This video showcases the complete line of model year 2015 John Deere combines which ranges from the S650 to the S690 and some of  their features. The 2015 combines are designed to increase performance, uptime, and reduce cost of operation for customers. There are a number of features and options new to 2015 including the 645FD draper, feederhouse updates, "Platform Tilt," "Active Concave Isolation," and additional unloading auger options. Watch the full video to learn more about each of these new products and features.
The optional 36-inch John Deere tracks increase flotation, reduce soil compaction, and extend the harvest window in changing ground conditions. The tracks are available on the S670, S680, and S690 combines with ProDrive transmission. Watch this video to better understand five key points that make John Deere tracks unique and a valuable option for combine operators looking to get even more from their equipment.
The threshing and separating system is at the heart of all John Deere combines. The feed accelerator, TriStream feed section, rotor options, and concave options are all featured in this video. This complex system is made easier to understand as a John Deere specialist explains the ins and outs in this walk-around tutorial video.
The S-Series combines are equipped with a high-performance grain handling system to efficiently move clean grain from the cleaning system into the grain tank. The system can handle the high volume of grain that can be produced by today's larger front-end equipment and increasing crop yields. This video showcases the John Deere S-Series combine grain tank and unloading auger options that are each designed to meet customer needs.
The feeding systems of the S-Series combines are designed to move the crop material from the front-end equipment smoothly and efficiently to the threshing and separating section of the combine. Learn all the details about the John Deere feederhouse system aboard the 2015 S-Series combines by watching this video.
Hopefully, this video gallery provided a nice understanding of the features and inner working of John Deere's S-Series combines. If you enjoyed this post or want to read others, feel free to connect with us on Facebook or Google+!
You might also like: