While there were a number of headline-worthy introductions made at John Deere's 2015 lineup rollout, commercial hay farming was at the center of it all, with offerings ranging from new balers, to disc mowers, and tedders. These new products eliminate the need for operators to choose between quality and quantity, with a number of new options that place the spotlight on large-scale production without risking superior hay condition.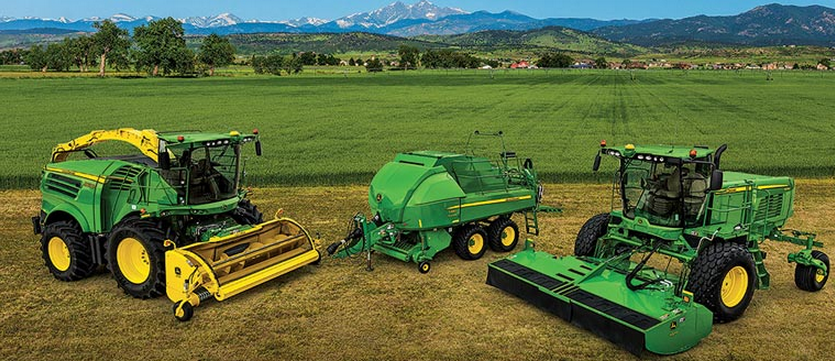 To better understand how John Deere's new hay equipment can simplify the operation, let's take a closer look at some of the products that have been recently introduced.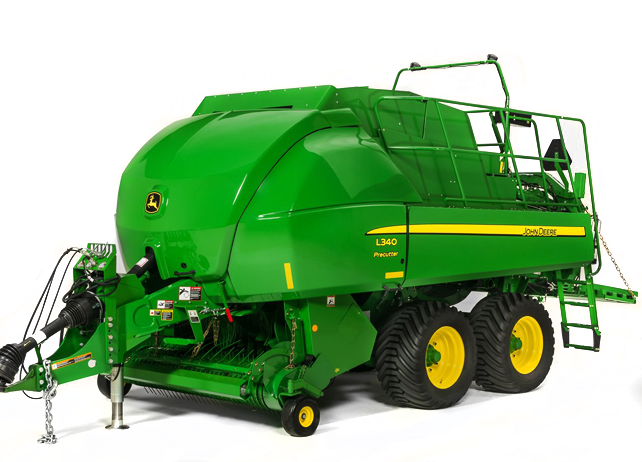 Deere has been working for years to create a large square baler that meets even the toughest demands from customers. The L330 and L340 are designed to do just that, offering two working widths (83-inch on the L330 and 90-inch on the L340) and a heavy-duty drivetrain. The L330 produces a 3×3 bale while the L340 creates 3×4 foot bales. A heavy-duty single-fork system compresses the crop tightly before sending it to the bale case, increasing the density and resulting in a well-shaped bale despite conditions. Other features include durable double-tie knotters, a hydraulic roller chute, and an optional precutter.
New Solutions for Handling Large Square Bales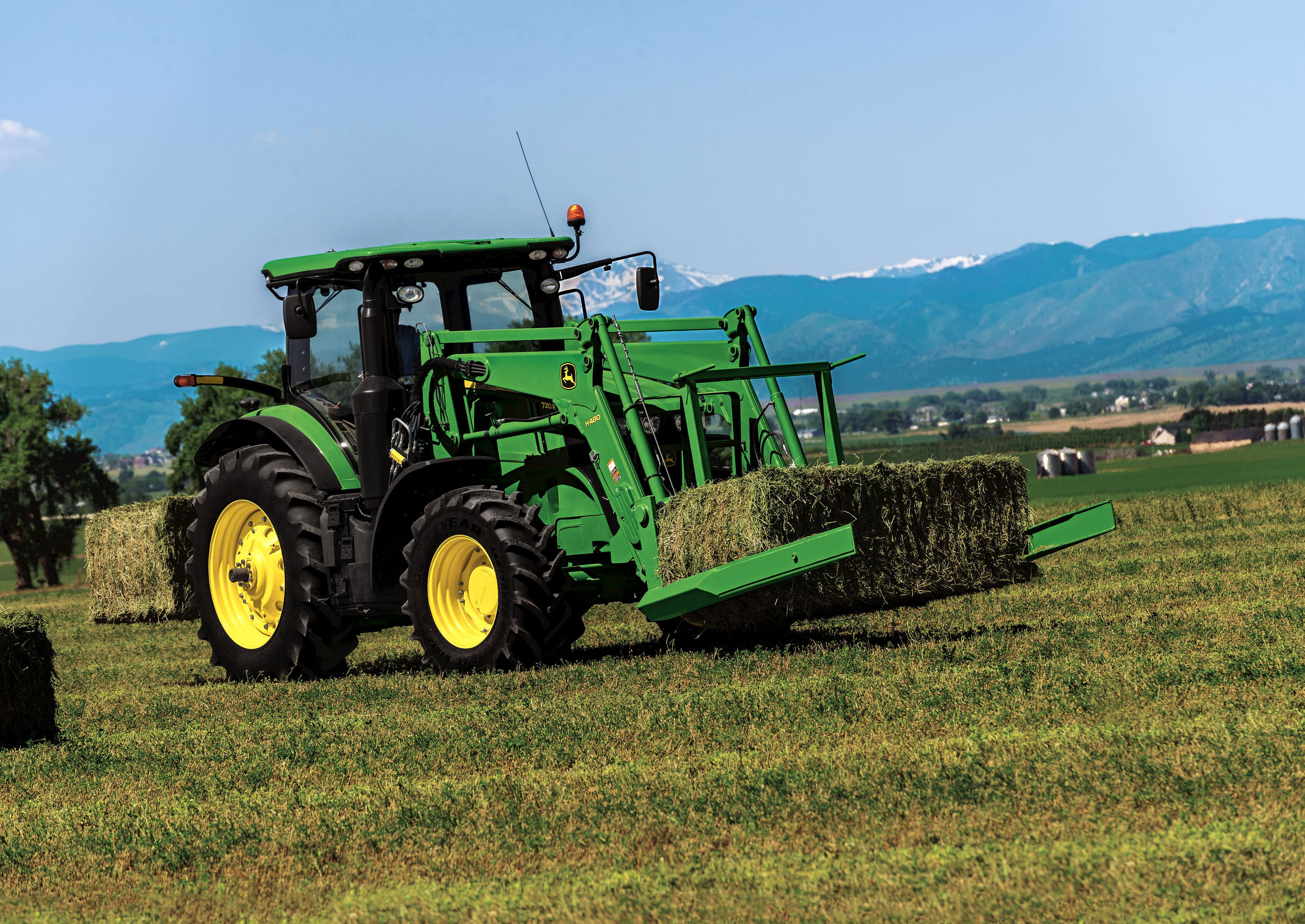 Deere announced three effective, affordable solutions for simplifying the handling of large square bales. The Large Square Bale Accumulator groups up to four bales in one area during baling to minimize the collection effort throughout the field. The AB18K Large Square Bale Spear can move up to three large square bales in a single trip and the AB17K Large Square Bale Squeeze is especially useful for bales wrapped in plastic, avoiding punctures during transport. The bale squeeze opens to 110 inches, giving it the ability to hold two large bales at once.
8000 Series Self-Propelled Forage Harvesters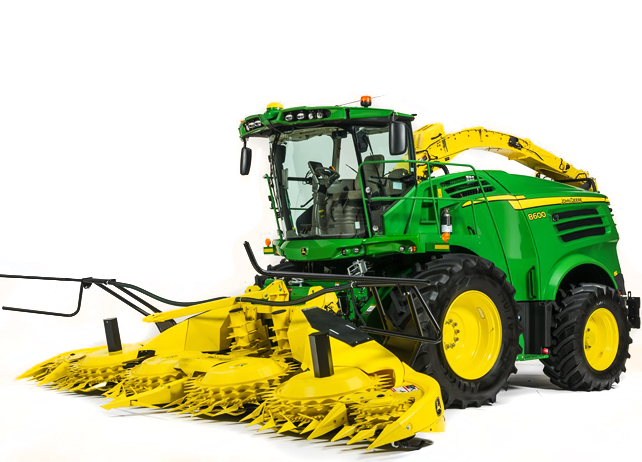 When it comes time to harvest, producers want to get the highest quality forage out of the field as they can, while minimizing time and cost. Building on the 7000 Series self-propelled forage harvesters, the new 8000 series combines crop analysis and documentation with an innovative machine design. DuraDrum cutterheads, KernelStar technology and AutoLOC (automatic length of cut) all do their part in enhancing the process. In addition to machine performance, operator comfort has also been improved with increased visibility from the cab, longer service cycles, minimized daily maintenance, and easier to access service points.
W260 Windrower and 500R Platform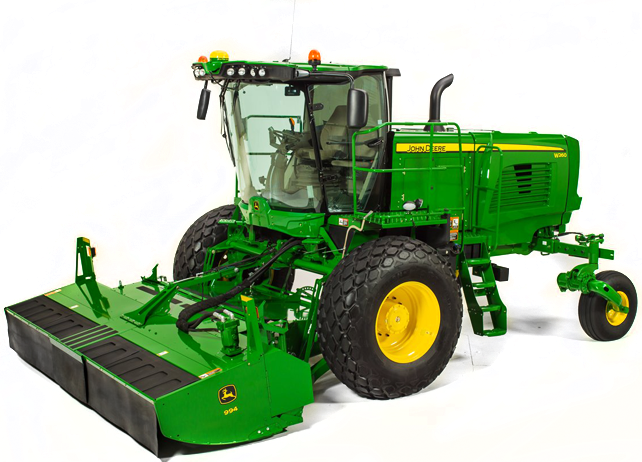 The new W260 windrower and 500R platform partner up to improve cut quality and provide a consistent windrow formation to minimize dry-down time. A John Dere Final Tier IV, 260-horsepower 6.8L engine reduces fuel consumption and offers benefits in the field, such as added power for windrow merger application, lower engine speeds, and less slowing of ground speed in uneven terrain.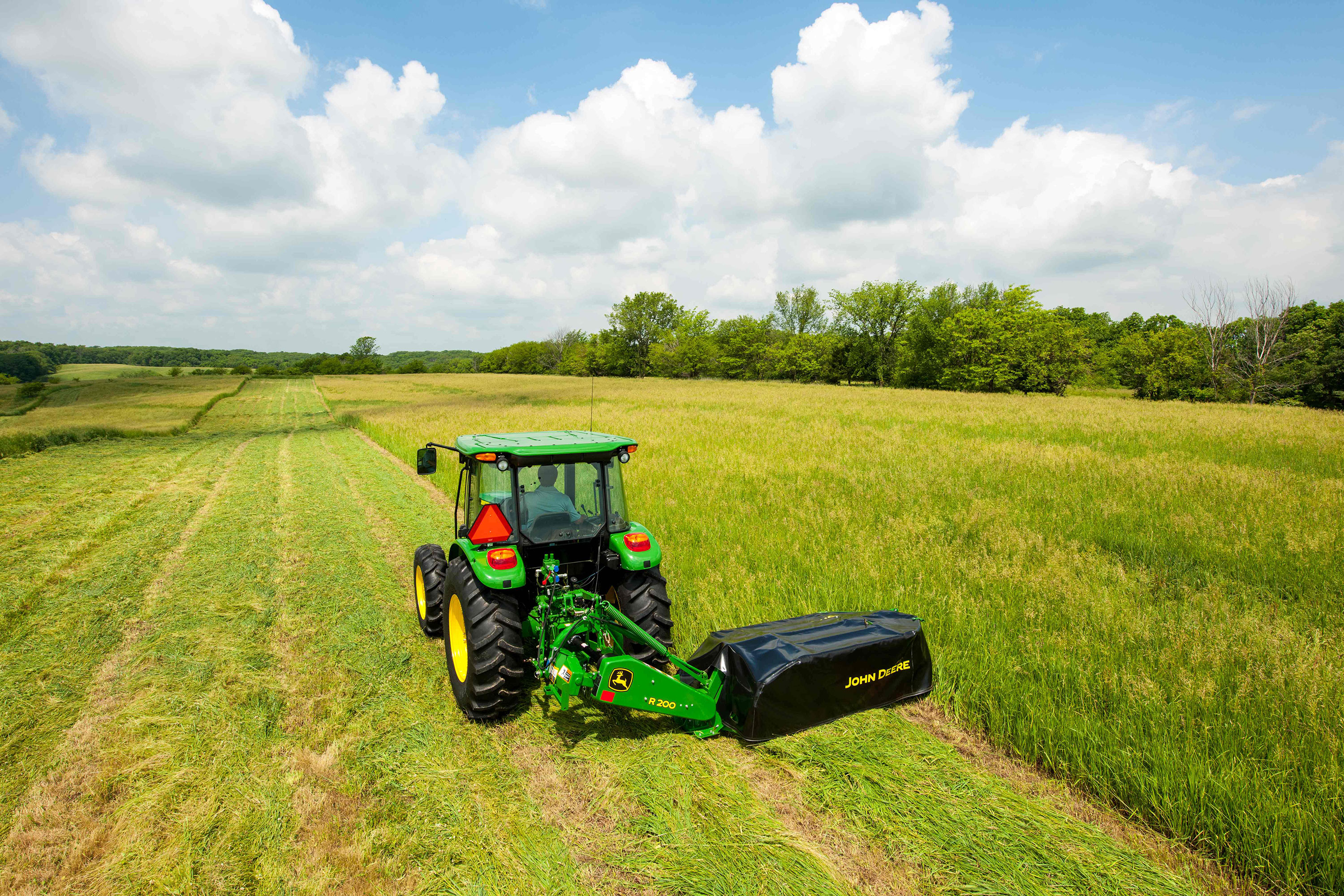 These new disc mowers give commercial hay or independent livestock producers the ability to mow hay quickly and efficiently. The five new models feature stronger components and other enhancement to increase productivity and extend the life of the machine.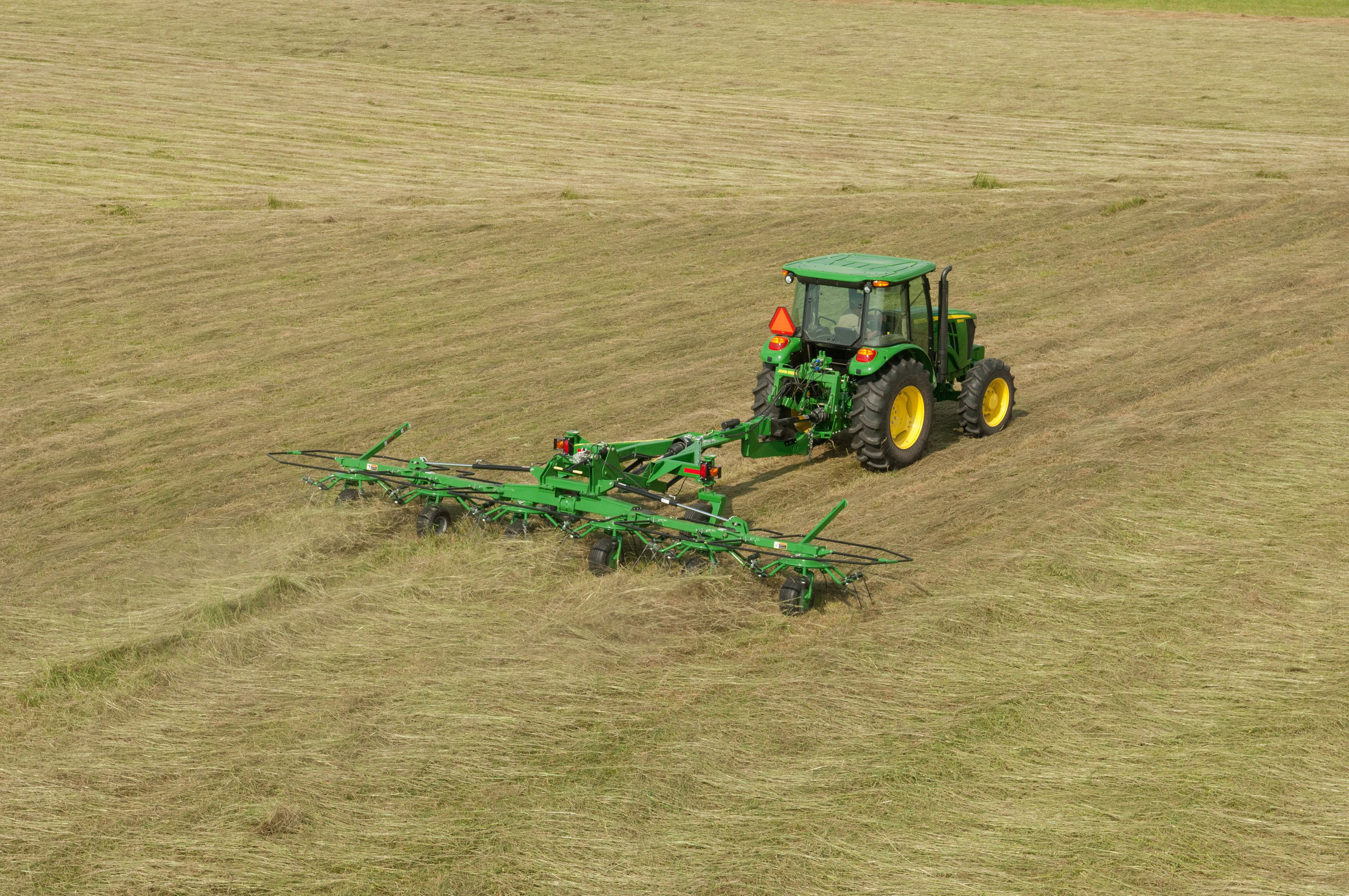 Frontier's DM50 Series disc mowers and TD34 Series tedders are designed to increase uptime for operators in the field. With quick hitch capabilities and in-cab transport controls, these new pieces of equipment promise to streamline the process. In addition to quick hitch, the disc mowers include a park stand and latch convenience system, shear hub assembly serviceability, and an easy-to-operate transport lock system. The new tedders include in-cab controls to adjust tine pitch height, allowing for simple adjustment in varying terrain and conditions.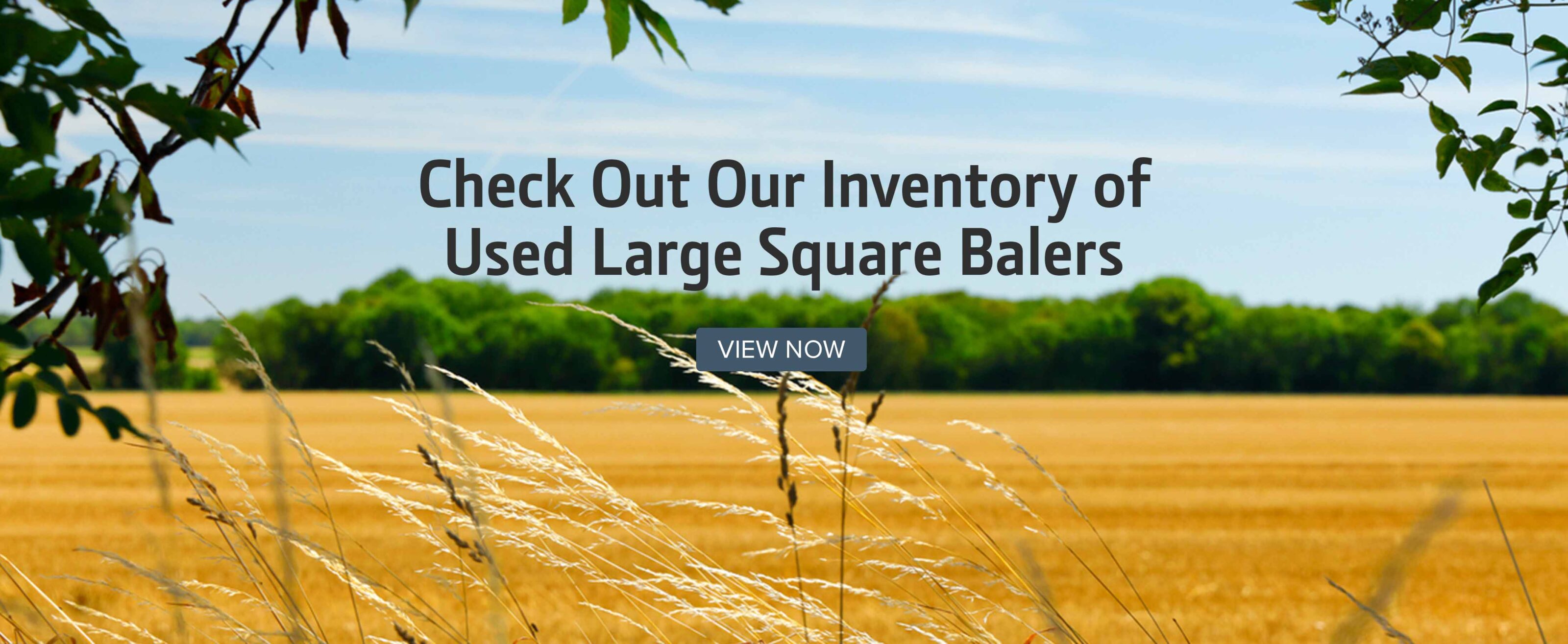 Final Thoughts
Each of these pieces of new hay equipment contribute to John Deere's effort in improving the hay process for customers. No longer will customers have to choose between quality and quantity.
If you enjoyed this post or want to read others, feel free to connect with us on Facebook or Google+!
You might also like: