While we may still be celebrating the fall season, some areas of the country are preparing for the cold and harsh winter weather. To make the season more enjoyable this year, we have put together a list of John Deere winter apparel for fans to keep warm and stay stylish.
This list includes everything a John Deere fan needs to stay warm in the winter, including sweatshirts, hats, scarves, and even blankets! Let's take a look.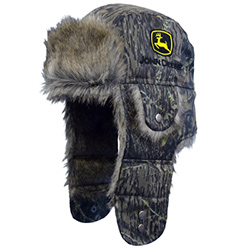 Men's Camouflage Winter Trapper Hat
Feel free to "play" outside and enjoy the winter because this men's camouflage winter trapper hat will certainly keep your head warm. It's cozy fur lining allows someone to stay outside for hours on end, without worrying about any discomfort. Let everyone know where your heart is with the John Deere logo embroidered on the side.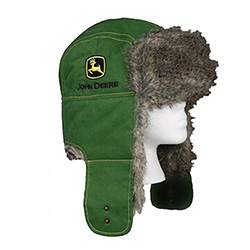 Men's Fur Lined Winter Trapper Hat
Fight off the harsh winter with this winter trapper hat! Even on the coldest of days, this fur lining will keep you comfortable and excited to be outside. You'll be sure to stick out in the snow with this John Deere green hat!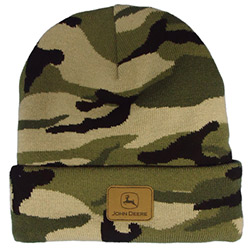 This knit beanie is a must-have on our John Deere winter apparel list, as it is stylish and extremely warm. Featuring a suede John Deere logo patch and camouflage print, there's no better way to fight off the cold.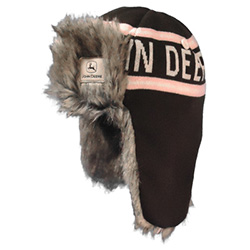 This brown, pink and cream women's trapper is suitable for rigorous outdoor activities, like hockey or just hanging around with friends. No matter what is on the agenda for that day, you will look wonderful and stay toasty warm too!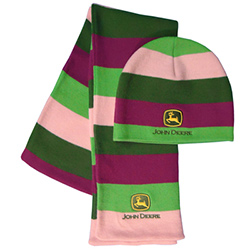 Women's Multi-Stripe Scarf and Hat Set
Why sacrifice comfort for style, or vice versa, when you can stay warm and fashionable with this John Deere winter set. A multi-stripe scarf and hat set will set you apart from the rest this winter.
With "Property of John Deere" on the front, this pull over fleece sweatshirt is a great way to display your dedication to the brand while keeping warm during the cold seasons. You won't have to miss out on any outdoor activities because this heavy weight fleece sweatshirt will keep you snug.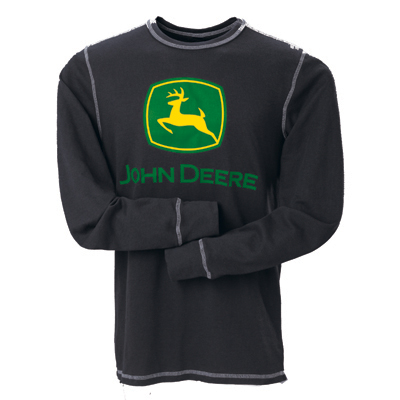 Black Thermal Long Sleeved Shirt
This is definitely another must-have on our John Deere winter apparel list! It's perfect for those cool evening or to layer underneath a sweatshirt during the winter season. It incorporates stylish grey contrast stitching that boldly outlines the timeless trademark logo in green and yellow on the chest.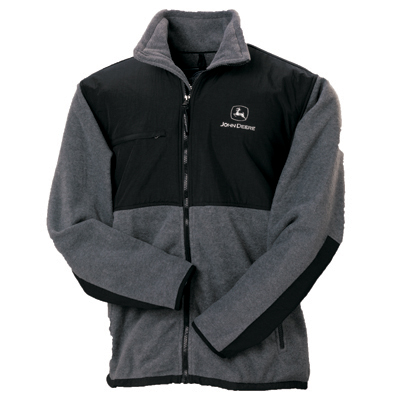 We all have that "go-to" jacket, and this is likely to replace your current one! This John Deere jacket is fully prepared to fight off the cold weather or your old favorite jacket, if necessary. It also has the John Deere logo printed on the front.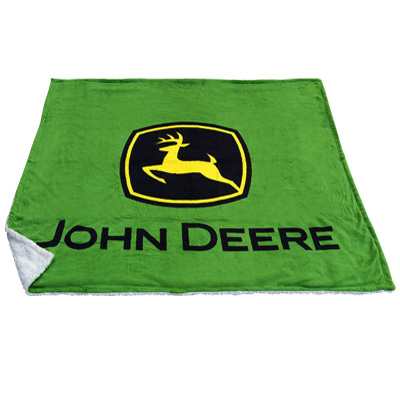 This Sherpa green blanket with the John Deere logo is perfect to add to your John Deere winter apparel collection. 100% guaranteed to take the chill off, it's a great blanket to cozy up on the couch with.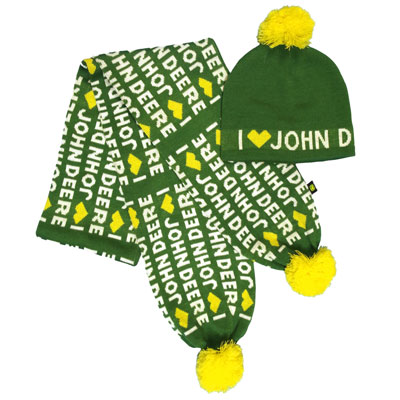 What's winter without an "I love John Deere" poms hat and scarf set? If you're sick of hiding your obsession with the brand, this is the perfect way to make it clear. Both the hat and scarf have yellow poms attached and the stocking cap has a pom right on top. You'll probably be a bit excited for cold days because you'll have an excuse to wear this set!
While fans anxiously wait to climb back on their John Deere planters in the spring, these winter accessories will help pass the time. These are just a few of our favorite winter items, but, of course, there are many other cool options to consider keeping you warm.
Hopefully this list of John Deere winter apparel has helped you prepare for the cold weather! If you enjoyed this post and would like to see more like it, feel free to connect with us on Facebook or Google+! 
You might also like: