The winter weather has never been known to keep John Deere customers and fans indoors. Thanks to a number of different John Deere winter hats, those that live to be outside can do so in comfort.
Whether you're looking to buy a hat for yourself or as a gift for the upcoming holiday season, we have you covered. Here are some options:
Charcoal Cuffed Beanie With Patch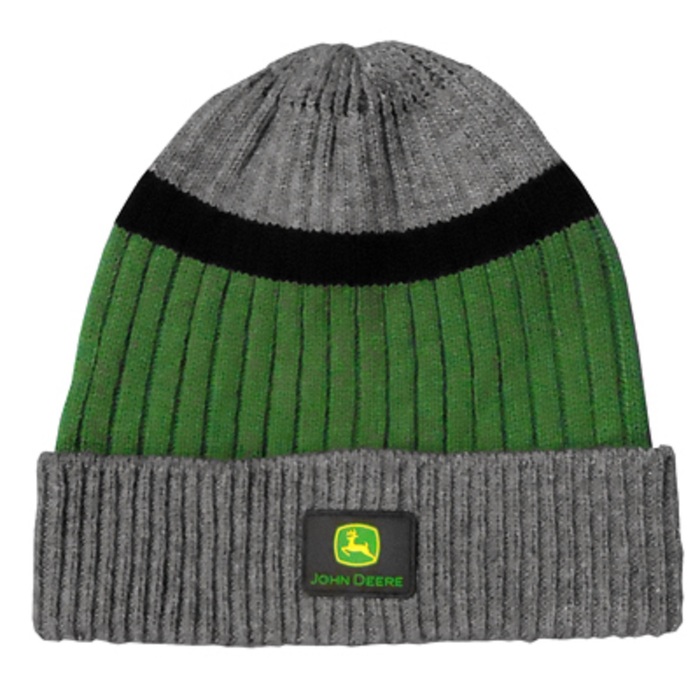 John Deere fans can keep warm with this thick material hat that features a rubber logo patch on the front.
Ladies Multi-Stripe Cuffed Beanie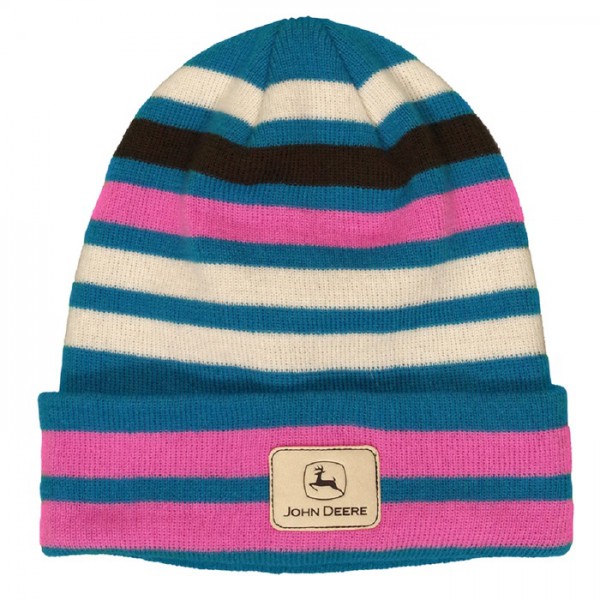 This hat is designed to give women a colorful way to keep warm and show their love for John Deere.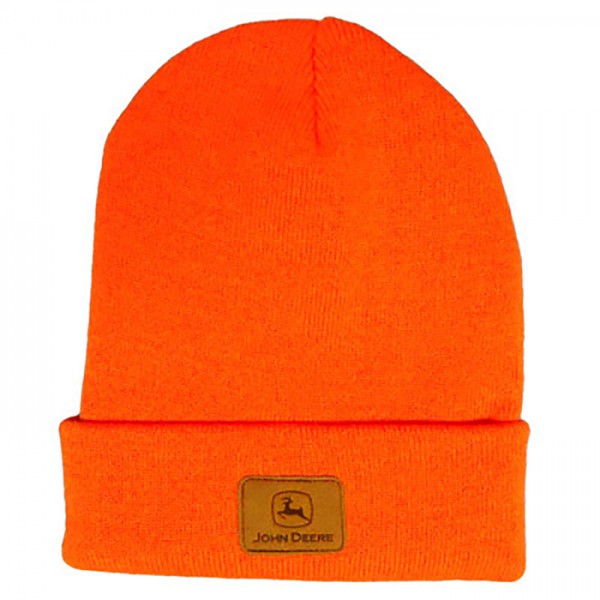 For those that need to be seen while keeping warm, this is an ideal winter hat option. The beanie is made from 100% acrylic and includes a sueded Deere logo.
John Deere Women's Pink Beanie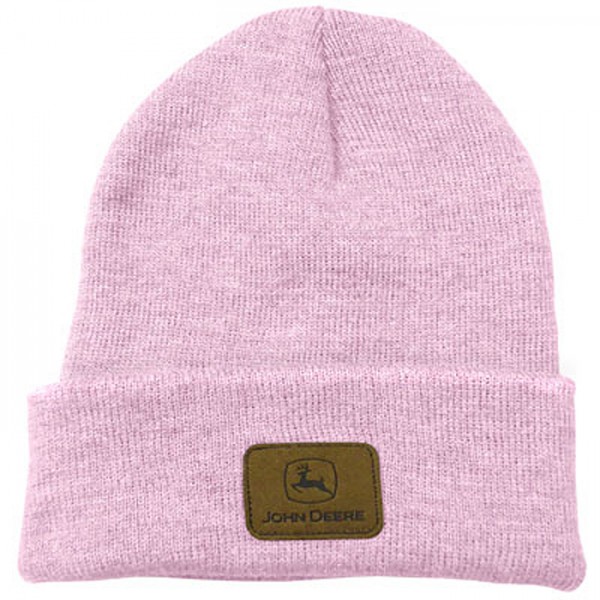 The John Deere logo on this hat is durable and dependable, even in the coldest conditions. This knit beanie allows women to wear pink and support Deere.
John Deere Men's Camouflage Winter Trapper Hat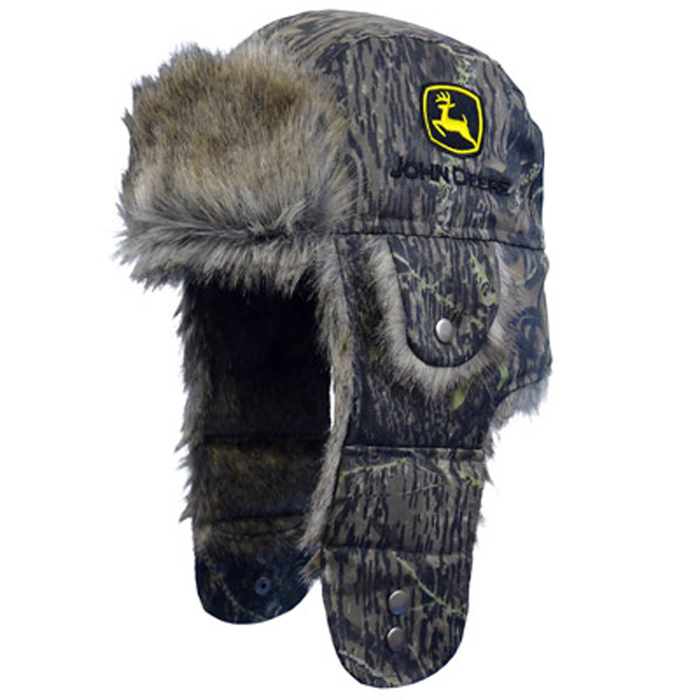 This bark-patterned camo winter trapper hat allows John Deere fans to go outside and enjoy the winter thanks to its cozy and warm fur lining.
John Deere Women's Brown and Pink Plaid Trapper Hat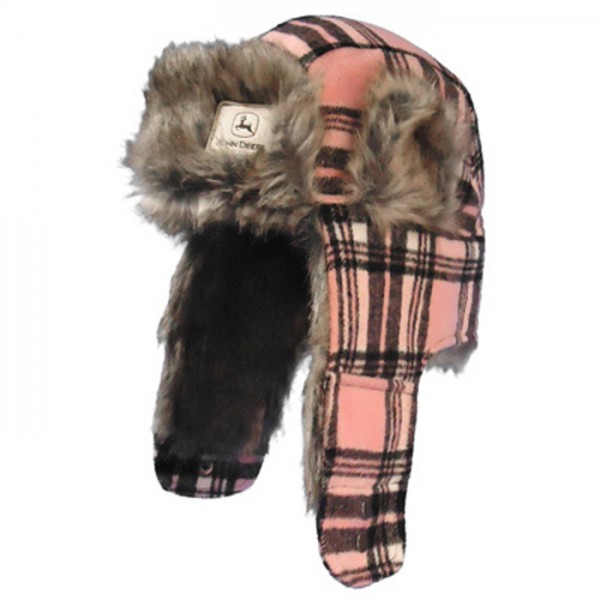 Women have a trapper hat option too! This plaid hat will keep women nice and toasty, even during the peak conditions of the winter.
Men's Brown Beanie With Sueded John Deere Logo Patch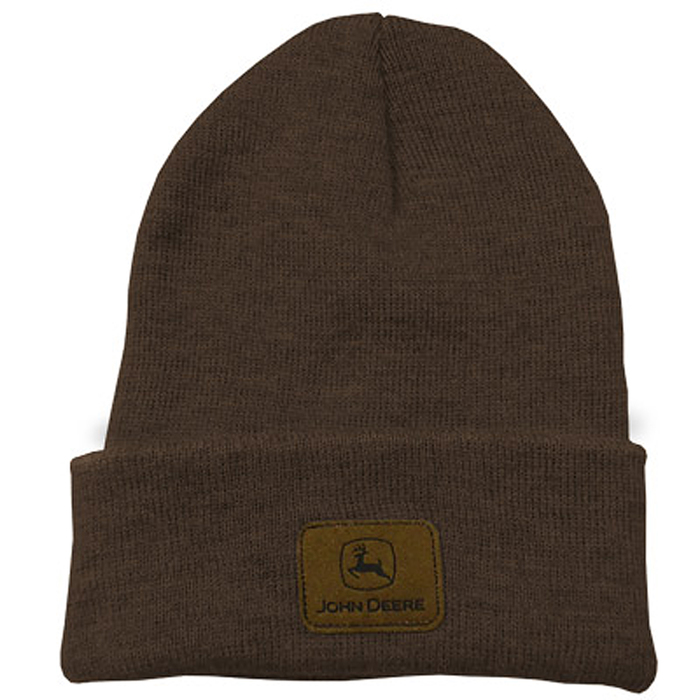 Men that prefer a natural-colored hat should think about this beanie option, which also features a durable John Deere logo patch.
Ladies Charcoal Beanie With Pom Pom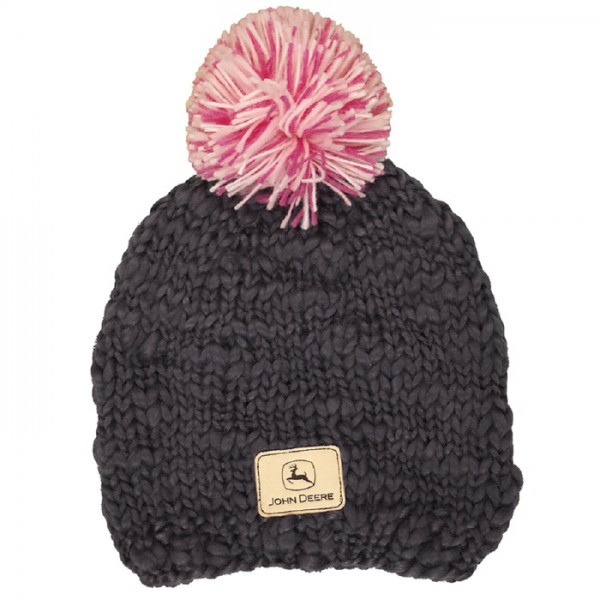 The pink pom pom on the top of this women's beanie makes it a stylish, warm, and fun option!
Oxford Gray Beanie With Patch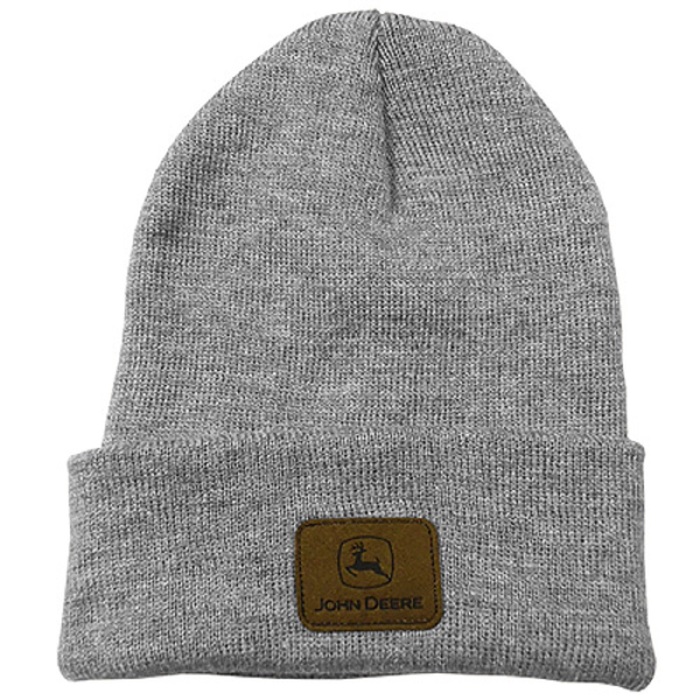 This Oxford gray beanie is perfect for John Deere fans that want to top it off in style. It features a sueded logo patch and it's made from 100% acrylic.
 Women's Hat & Scarf Set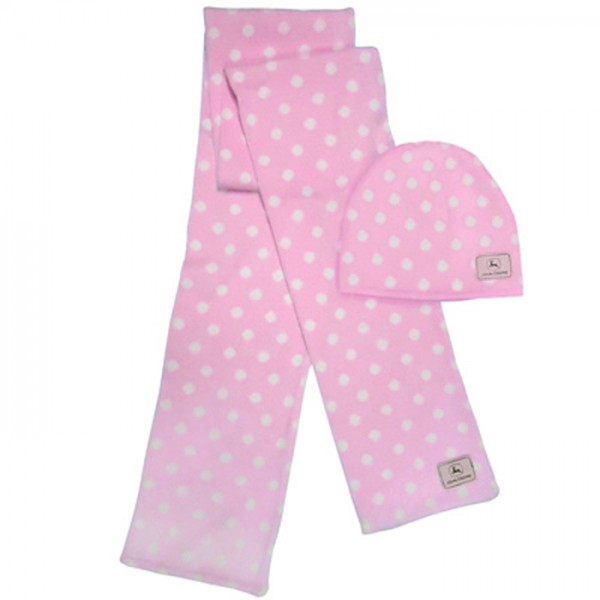 Looking for a hat and scarf that match? You're in luck thanks to this John Deere hat and scarf combo. The set includes white polka-dots on both the hat and the scarf.
Yellow and Brown Striped Beanie With Construction Logo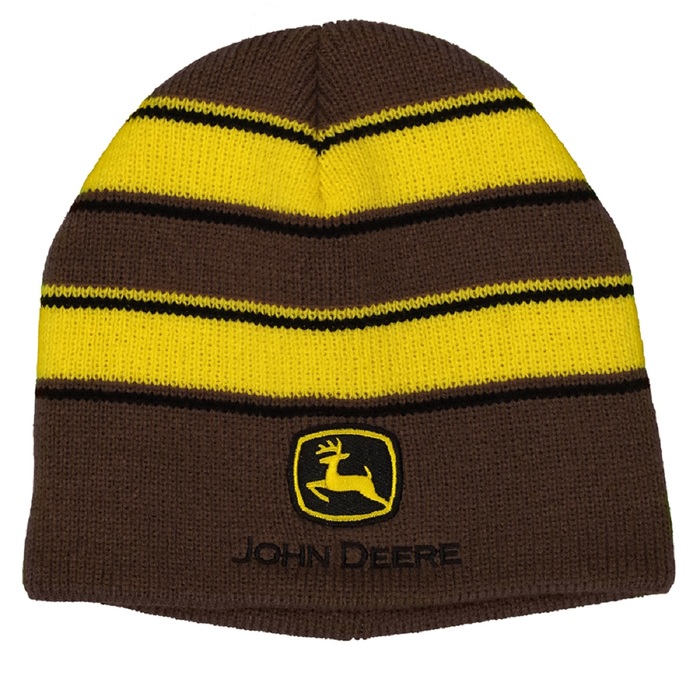 We can't forget about John Deere construction following! Fans of yellow equipment can show their support while staying warm with this multi-colored beanie.
John Deere Knit Beanie with Pink Cuff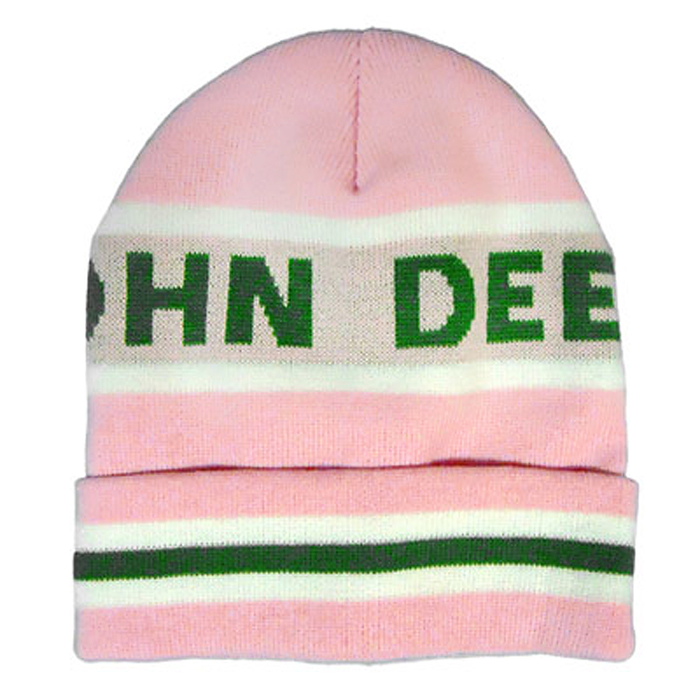 This pink hat with green and white stripes features "John Deere" text on the crown. This is a great option for fans of all ages to show their support for Deere.
Black Beanie With Logo Patch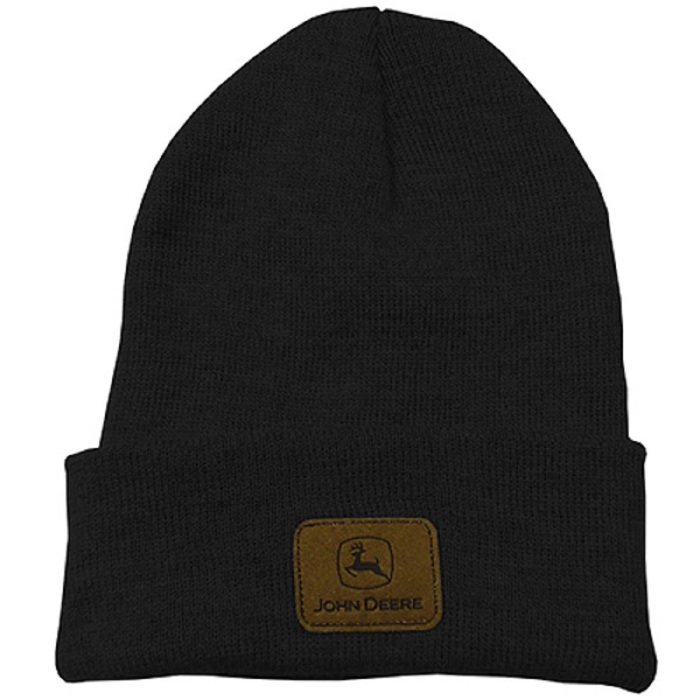 This all black beanie is a great gift for John Deere fans that spend most of the year outside. The warmth will be kept in thanks to the material that's 100% acrylic.
Pink Toddler Antler Beanie
This two-tone pink cap is a great choice for toddlers that want to grow up to be just like their parents. It's made from polyester fleece material and includes plush antlers and ears. It comes in brown, too!
Plaid Trapper Vintage Logo Hat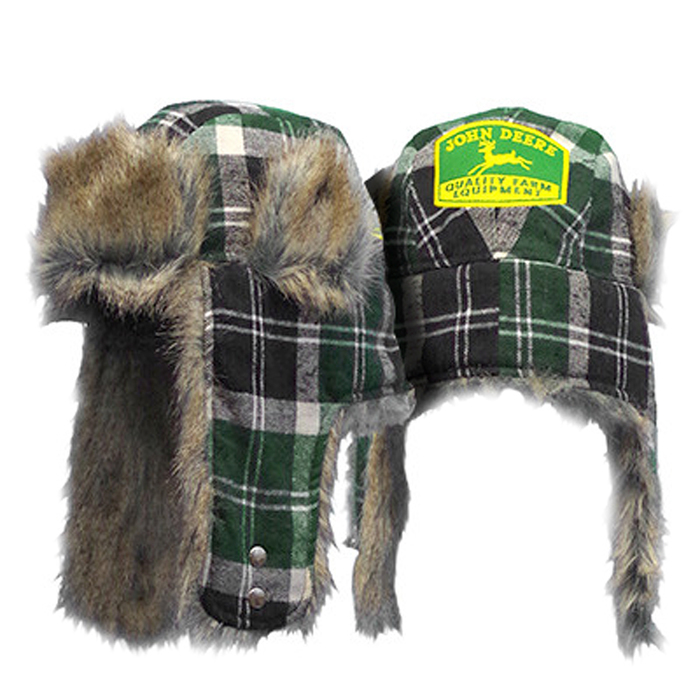 Last, but certainly not least, this men's plaid trapper hat will keep ears warm when the weather turns frigid. Its large logo patch will show where the owner's loyalty rests!
If you enjoyed this post or want to read others, feel free to connect with us on Facebook, Twitter or Google+!
You might also like: