What is the value of timely field operations? With John Deere Machine Sync's new and expanded solutions, producers are able to optimize equipment performance during these critical windows. While planting used to be about one operator with one machine, it's now about multiple machines with multiple operators. For this reason, machine-to-machine communication is critical to optimizing planting performance.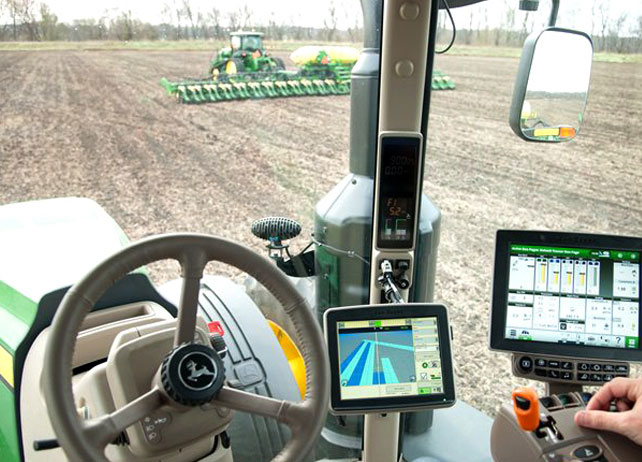 The functionality of the Machine Sync application moves beyond just harvesting automation and logistics. The new features include coverage map sharing and guidance line sharing, making it easy for multiple machines to operate in the same field while giving each other immediate access to important data that will help improve efficiency.
These new enhancements will be especially beneficial during seeding and spraying operations, as well as during nutrient application and harvesting. In this post, we'll explain how Machine Sync can improve both your planting and harvesting operations in the seasons to come.
From Past to Present: The Revolutionary Machine Sync
When Machine Sync first hit the market, it revolutionized harvest automation and harvest logistics with combine and tractor grain cart communication. Now, the technology has been taken to the next level with capability to share coverage maps and guidance lines. This means that Machine Sync is no longer just a harvest solution.
The new and improved Machine Sync works seamlessly with John Deere AutoTrac and John Deere Section Control across multiple machines working in the same field. Sharing coverage maps while planting or seeding allows any John Deere machine enabled for John Deere Section Control to trigger sections on and off based on another machine's coverage.
Because machines can better communicate with each other as they work, it will result in improved productivity, efficiency and accuracy. Here's how Machine Sync can be used to improve both your planting and harvesting operations.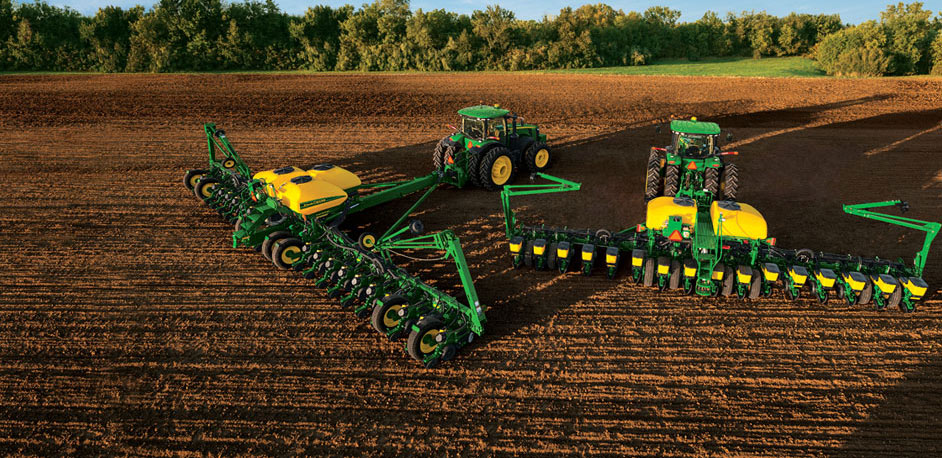 Improving Your Planting Operations with Machine Sync
During your planting operation, Machine Sync allows you to add additional planters. When dealing with multiple machines on an irregular shaped field or a field with terraces and waterways, coverage map sharing is crucial. Without coverage map sharing, it would be nearly impossible to operate efficiently and John Deere Section Control is critical in these types of situations. With each machine having the ability to know where the other is, they will know when to shut off in order to control costs and increase efficiency.
Guidance line sharing allows multiple machines the ability to plant with the perfection of a single planter, while realizing the productivity and efficiency gains that comes with running multiple machines simultaneously. It is extremely beneficial because operators no longer have to punch in guidance line coordinates. Whether one machine sends it or a machine pulls it from the other one, you can be anywhere in the field and share the guidance lines back and forth with each other.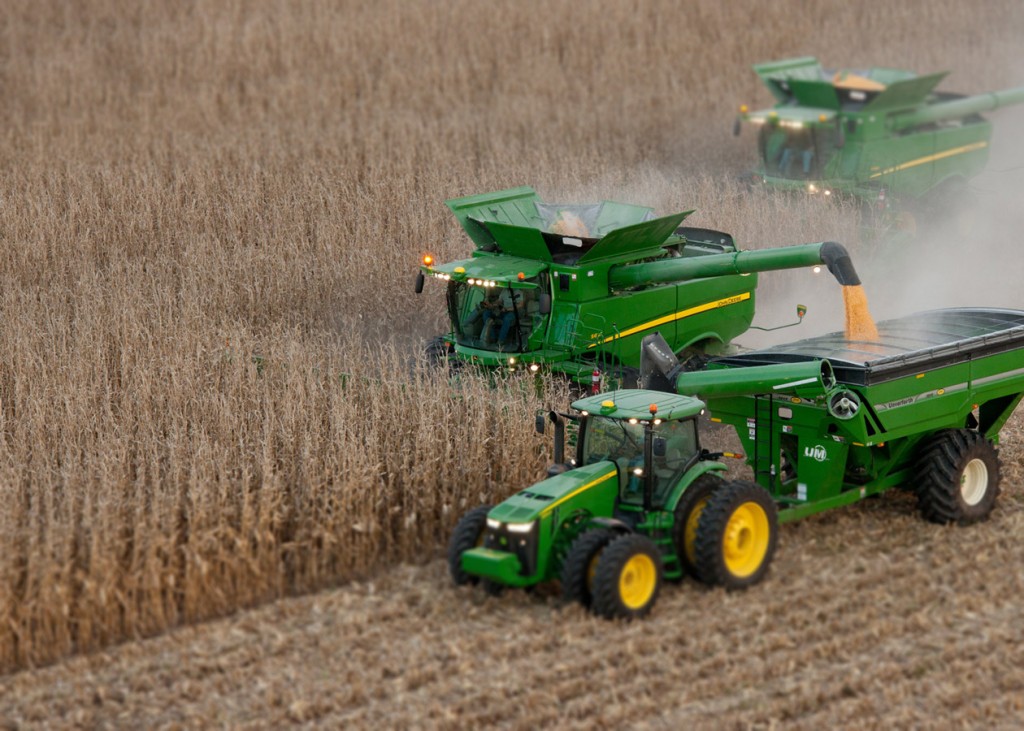 Improving Your Harvesting Operations with Machine Sync
When harvesting with multiple combines or cotton harvesters, the enhanced Machine Sync provides more accurate calculation of yield and acre total. Coverage map sharing, using conjunction with overlap control, gives Machine Sync visibility to where another harvester has already been. Providing valuable and accurate data related to the combines, coverage map sharing is essential to improving harvesting operations. The acreage information is correct, the passes data is correct, the header width using overlap control is correct, all because Machine Sync knows where the other machine has been. This equates better data and, overall, better yields.
Machine Sync has been an effective tool in connecting the combine and the grain cart together. By adding coverage map sharing and guidance line sharing to it, it takes efficiency to the next level for operators that use multiple machines in the same field, at the same time. With these new enhancements, Machine Sync is sure to increase the performance and efficiency of field operations across the entire production cycle.
Hopefully this post has helped you realize the many benefits of John Deere's Machine Sync technology and how it can improve your planting and harvesting operations. If you enjoyed this post or want to read others, feel free to connect with us on Facebook, Twitter or Google+!
You might also like: