Construction workers who are looking for machinery that can make multitasking easier out on the job site may want to consider adding John Deere Crawler Loaders to their fleet. This equipment is designed to make everything from loading trucks to backfilling easier and more efficient.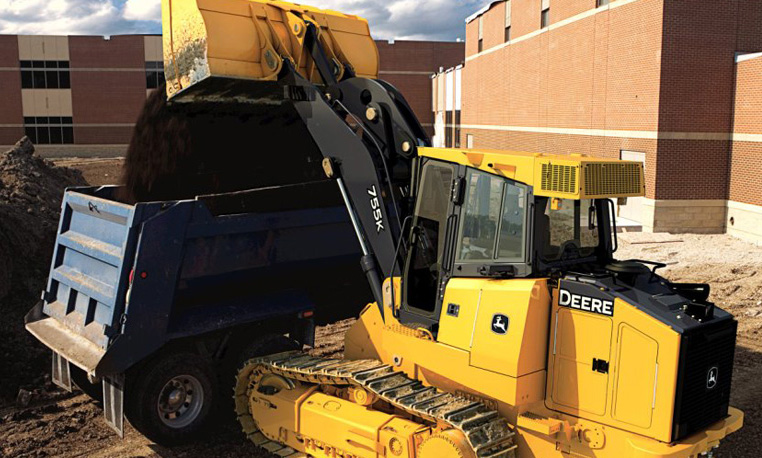 Premium visibility, spacious cabs, easy-to-operate controls, high-torque diesel engines, and full-featured hydrostatic drivetrains help improve the processes required to complete a variety of projects. Let's take a closer look at three K-Series John Deere Crawler Loader options.
The John Deere 605K Crawler Loader has a PowerTech PVX 4.5L Interim Tier 4 engine, as well as 110 horsepower. Its hydraulic-driven variable speed fan only runs when it's needed, which reduces fuel consumption and noise.
The machine's diesel particulate filter can be easily removed for maintenance, and on-screen displays keep users up-to-date on the filter's operation and status. Owners can also choose between a single-lever joystick or hydraulic controls for ease of use.
A 4-in-1 multipurpose bucket for loading, bulldozing and spreading material can be added to the 650K for more versatility.
The John Deere 655K Crawler Loader comes with a PowerTech PVX 6.8L Interim Tier 4 engine and 145 horsepower for efficiency out in the field. Similar to the 605K, it can also be customized to include a single-lever joystick or hydraulic controls for easy operation.
This machine has an operator station that tilts a full 53 degrees for wide open component access. Additionally, it includes large service doors and an under-hood light for quick, simple servicing.
A 4-in-1 multipurpose bucket can also be added to the 655K. This can make the John Deere Crawler Loader suitable for loading and spreading material.
The John Deere 755K Crawler Loader has the same PowerTech PWX 6.8L Interim Tier 4 engine as the 655K, and it has 190 horsepower for the utmost efficiency.
In addition, the machine also has an exclusive sealed-switch module that allows operators to engage features such as boom-height kick-out with their fingertips. Separate, sealed hydraulic and hydrostatic systems also eliminate the possibility of cross-contamination, reducing maintenance.
Quad-Cool technology in the 755K isolates coolers from engine heat, which increases efficiency and durability.
All three of the K-Series John Deere Crawler Loader models include JDLink Ultimate. This gives operators 24/7 computer access to their machine's location, utilization and tonnage totals. Additionally, users can monitor alerts and fuel consumption diagnostics from afar.
If you enjoyed this post or want to read others, feel free to connect with us on Facebook or Google+!
You might also like: