After collecting input from customers and taking their feedback into consideration, John Deere announced in April 2015 that it had refreshed its L-Series backhoes. The new John Deere backhoes are built off of the performance of its K-Series predecessors.
The updated lineup of John Deere L-Series backhoes consists of six new models — the 310L EP, 310L, 310SL, 310SL HL, 315SL and 410L. Each of these backhoes is constructed at the John Deere world-class facility in Dubuque, Ia. These machines can handle a wide variety of jobs, including pipe placement, trench digging and material movement.
"The L-Series gives them that advantage and more with added lift capability and PCLS hydraulics, as well as productivity boosting features and unmatched reliability and uptime," said Brian Hennings, product marketing manager of backhoes and tractor loaders at John Deere.
Here are some of the key features you can expect from each of the six models from the John Deere L-Series backhoe line.
Cab Comfort
The latest backhoes were designed with operator comfort in mind. These models have extra legroom and a more comfortable seat. In turn, it's easier for users to rotate between loader and backhoe operation. The pilot towers have also been redesigned to feature fingertip electrohydraulic controls, simplifying operation. A multifunction lever on the steering column enables users to easily use turn signals, wipers and lights.
Emission Regulation Standard Engines
The Final Tier 4/EU Stage IV PowerTech Plus diesel engines can be found in the 310L (93 hp), 310SL (99 hp), 310SL HL (110 hp), 315SL (99 hp) and 410L (113 hp). In the 310L EP (70 hp), owners have the IT4/Stage III B John Deere PowerTech engine for the utmost efficiency. All of these machines are designed to meet emission regulations, meaning operators can have peace of mind as they work.
Lift Capabilities
The 410L and 310SL HL have up to 25 percent more backhoe lift capacity under normal conditions compared to K-Series models. Additionally, the new Lift Mode feature can give L-Series backhoe users the option to boost their lift power by up to 15 percent. Pressure-compensated load-sensing hydraulics make it simple to operate these features.
Improved Uptime
The John Deere L-Series backhoes have extreme reliability and uptime, which ensures that operators are being productive as possible on the job. Same-side ground-level service points make daily checks a breeze. Quick-change filters and simple-to-read gauges increase uptime and lower operating costs. The Ultimate Uptime feature allows users to receive pre-delivery and follow-up inspections, and it comes with three years of JD Link telematics.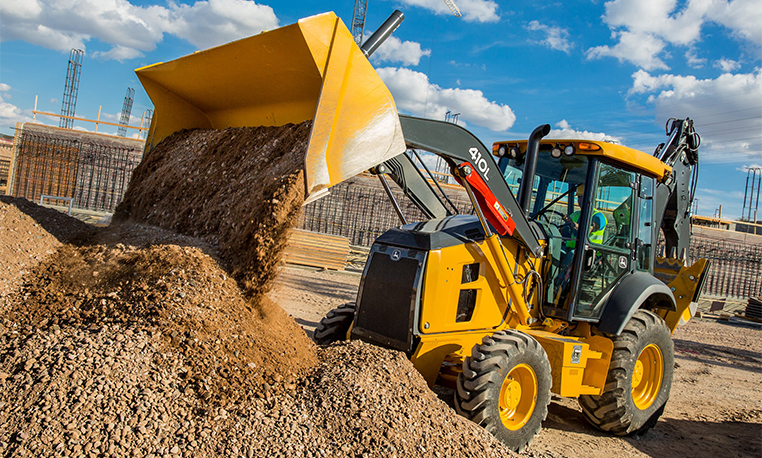 Whether you need a new backhoe or you want to improve your daily efficiency, one of the new John Deere backhoes may help you achieve your goal.
If you enjoyed this post or want to read others, feel free to connect with us on Facebook, Twitter or Google+!
You might also like: