Exciting news for John Deere fans – a new addition to the 9 Family Tractors will be available for model year 2016! The 2016 John Deere 9RX Series Tractors will include the 9470RX, 9520RX, 9570RX and 9620RX.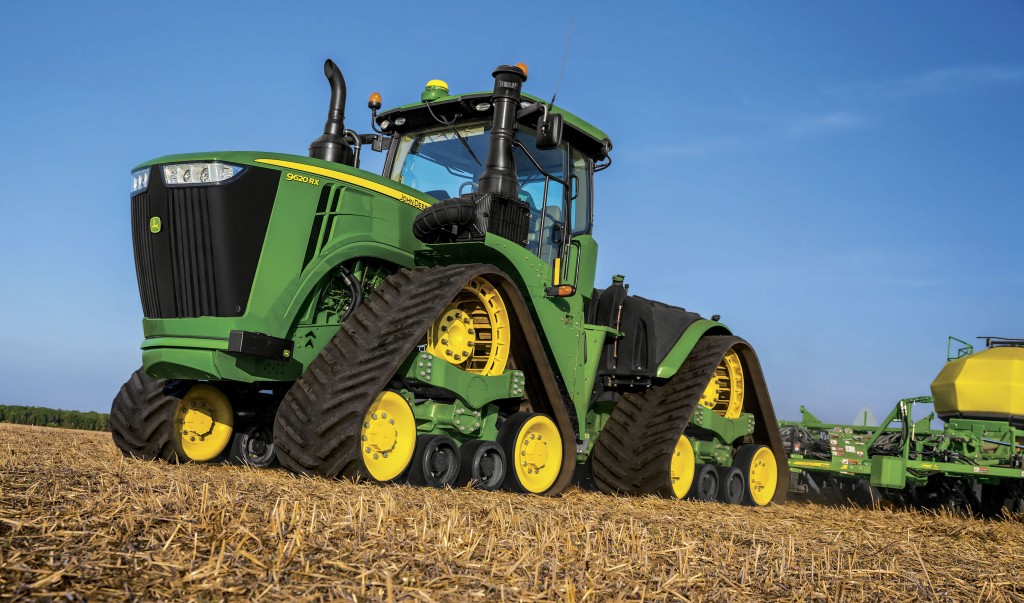 John Deere will have the broadest lineup of high-horsepower tractors in the industry with the addition of the John Deere 9RX Series 4-Track Tractors to the currently available 9R/9RT Wheel and 2-Track Tractors. With 20 years of experience in the rubber-tracked tractor business, John Deere continues to deliver proven reliability and unmatched power with the 9RX Series Tractors.
To get you more familiar with the new John Deere 9RX Series Tractors, we'll be providing a brief overview of key features and their benefits. Enjoy!
Horsepower
The 9RX Series will range from 470 hp to 620 hp, equipped with PowerTech PSS 13.5L and the Cummins QSX15 engines. These tractors provide the power and torque needed to maximize performance, even in the toughest conditions.
Undercarriage System
The John Deere 9RX Series is designed to deliver the finest traction and power when operating in challenging conditions, while providing track belt durability and consistency. Key features include a large diameter of 1004-mm (39.5-in.), drive sprocket, optimally placed idlers and mid rollers, and a field-tested track tensioning and alignment system.
Cab Suspension System
Looking to control cab movement and eliminate any vibration that could impact the operator? With industry leading vertical travel from center, this advanced cab suspension system features a parallel plane four-bar linkage to control cab movement and any potential impacts from vibration.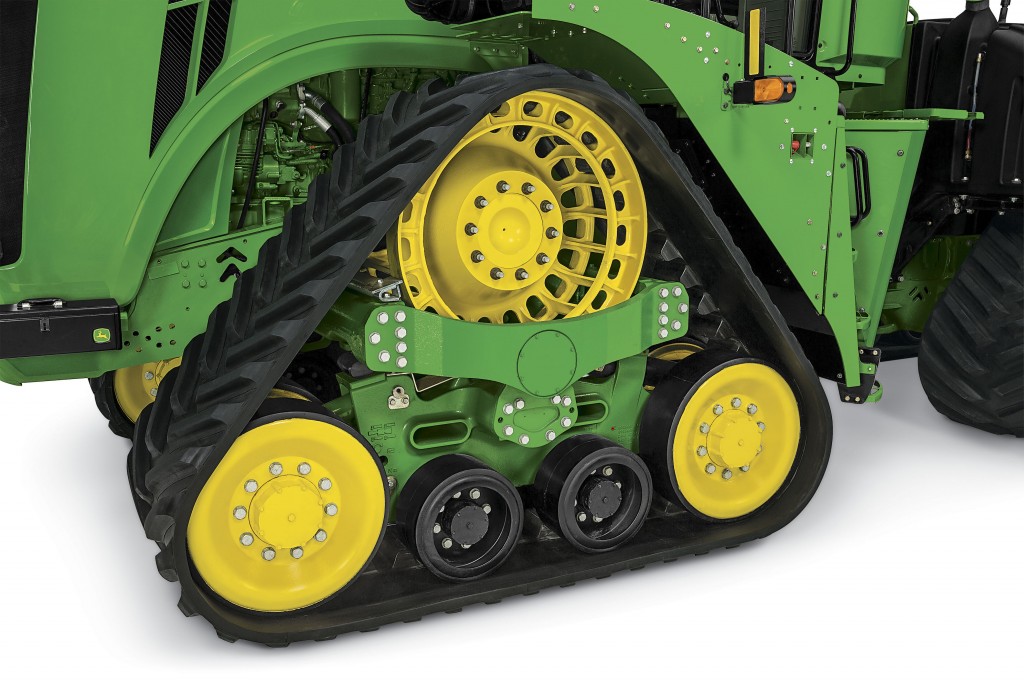 Camoplast Duradrive
What's the glue sticking the 9RX power to the ground? The Camoplast Duradrive 3500 and 6500 Series Tracks. These are used on the friction drive undercarriage of the tractors to successfully transfer the power through the tracks in high-horsepower, high-torque applications. With puncture resistance, solid load carrying ability, and the industry's largest drive lugs, operators can experience excellent performance.
Ballast
There's need for additional ballast to get the levels of performance you desire. The 9RX Series is optimally ballasted straight from the factory, which is why the ballast calculator for 2016 9R/9RT Series Tractors excludes ballast information for the 9RX Series. These tractors can handle a maximum weight of approximately 28,123 kg (62,000 lb).
Additional 9 Family Tractor Features
While the John Deere 9RX Series Tractors offer the many key features mentioned above, operators will also experience several features and benefits similar to the 9R Series and 9RT Series Tractors. These include:
John Deere's CommandView III cab
Generation 4 CommandCenter controls
Integrated Farm Sight technologies
e18 Transmission with Efficiency Manager
Optional ActiveCommand Steering (ACS)
The 9RX Series Tractor combines a durable undercarriage, best-in-class comfort and a wide variety of features that customers can depend on to achieve supreme performance on the field. Learn more about John Deere's 2016 product reveal for agriculture, turf, and farm equipment.
If you enjoyed this post or want to read others, feel free to connect with us on Facebook, Twitter or Google+!
You might also like: