John Deere has unveiled a new lineup of 2016 tractors, harvesting equipment and balers, including the John Deere 6E Series. Building upon the success and proven performance of the popular 6D Series Tractors, John Deere proudly introduces three new 6E Series models. The new models will include the 6105E, 6120E and 6135E.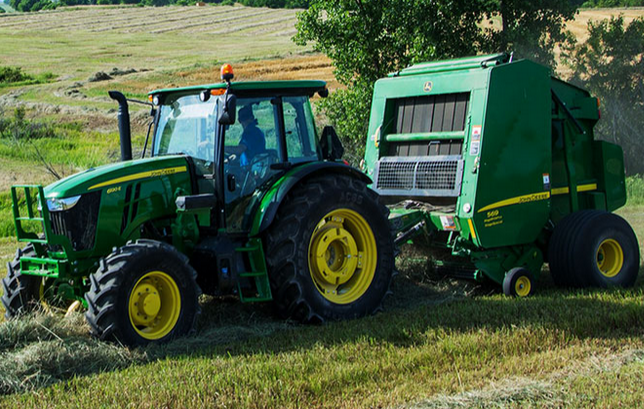 What exactly does the 2016 John Deere 6E Series bring to the table? We'll provide an overview of key features and benefits that set this tractor series apart from others.
PowrReverser Transmission
The 6E Series Tractors will offer the popular 24F/12R Hi/Lo PR transmission found in the 6D Series – only, this time, in a 40k version. Operators can experience the same versatility, speed selection and ease of operation with partially synchronized ranges. Now, operators will be able to reach a maximum speed of 40 km/h (25 mph). You know what that means – getting from one field to the next even quicker than before.
Electrohydraulic Mechanical Front-Wheel Drive
Easily engage electrohydraulic mechanical front-wheel drive (MFWD) when you need to take on challenging field conditions with the 2016 John Deere 6E Series. This new and improved engagement switch is located on the right-hand console for operator convenience. Switch on, off, and in auto mode to engage MFWD when you need it.
Features for Greater Visibility
What's the best match for a 6E Series when doing utility work? The John Deere H-Series Loader. With improved visibility and the optional loader roof, you can stack bales three high and see all the way to the top of a total mixed ration (TMR) mixer during the loading process. This key feature of a 6E makes completing chores easier for the operator, while increasing their productivity, performance and comfort.
Radial Tires
Radial front and rear tires are offered to improve the quality of your ride, reduce compaction and preserve tire life. These tires provide better traction and help convert power more efficiently to the ground. Overall, operators will be more productive on the field and be able to tackle tough terrains.
Enhanced features. Increased functionality. Improved versatility and more! The new 6E Series will help get the job done easier than before by providing operators with improved performance features and a comfortable environment.
If you enjoyed this post or want to read others, feel free to connect with us on Facebook, or Twitter!
You might also like: