In December 2015, John Deere unveiled its new 5G Series Tractors, which have narrow, maneuverable configurations to cater to vineyard and orchard producers' needs. Furthermore, the John Deere 5G Series Tractors meet Final Tier 4 emissions requirements, giving operators peace of mind.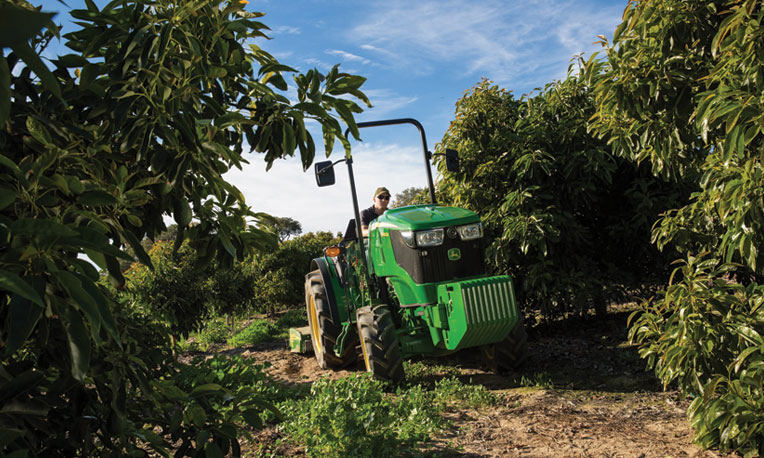 "The 5G Series Tractors build on the success of the 5EN Series to offer customers more choices for their specialty applications," said Christopher Lammie, product manager at John Deere Augusta.
Let's take a look at some of the key features of the 5G Series Tractors and how they can improve efficiency out in the field.
5075GV-5075GN Tractors
These models from the 5G line are ideal for narrower rows and producers who are looking to conserve water. It accommodates operators with working widths of 49.5 inches for the 5GN and 43 inches for the 5GV. Additionally, both models have 75 hp engines, with two available transmissions (12F/12R and 24F/12R). The models have improved hydraulic systems that use flat-face fittings and revised pipe routings for the utmost durability.
5090GV-5090GN Tractors
Operators who desire a tractor with a tight turning radius will find the John Deere 5090GV and 5090GN Tractors extremely helpful. These tractors, which have 90 hp engines, all showcase an improved turning radius, as seen throughout the John Deere 5G Series. Both the 5090GV and 5090GN have 17.6 GPM of hydraulic flow, meaning you'll have the power and force you need to get the job done out in the vineyard, orchard or farm without trouble. Additionally, the 5090GV has working widths down to 43 inches for maximum efficiency while the 5090GN brings added weight and width to improve stability.
5100GN Tractors
This John Deere 5G Series Tractor has a Final Tier 4 100 hp engine and an improved turning radius, which makes it a must-have for all producers that demand a little more power while working in narrow spaces. There are also two transmissions available, the 12F/12R and 24F/12R. Buyers can select from a cab or an open station to suit their comfort needs.
To accomplish more on the job, the John Deere 5100GN Tractor also has a heavy-duty 3-point hitch design to provide a standard maximum lift of 5,710 pounds. Owners also have the option of adding a lift cylinder, which increases the maximum lift capacity to 6,834 pounds.
For more information on the John Deere 5G Series Tractors, speak to your local John Deere dealer or visit www.Deere.com for more information.
If you enjoyed this post or want to read others, feel free to connect with us on Facebook, Twitter or Google+!
You might also like: