Automation has been adopted by nearly every industry in today's progressive business environment, and agriculture is no different.  In an effort to meet the rising demands of producing for the growing population and improve efficiency, technological advances have become a part of most farmers' lives.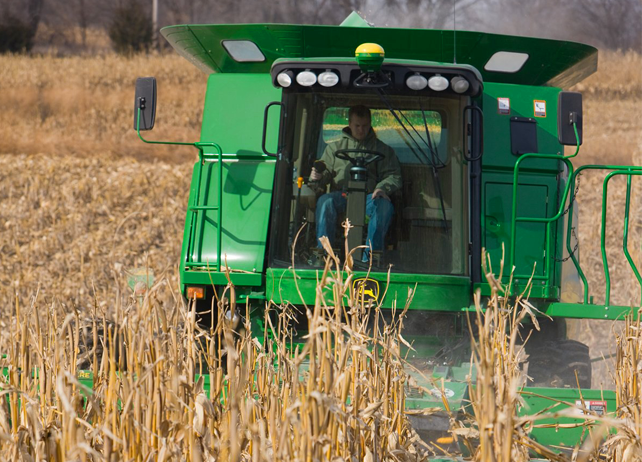 AutoTrac™ Universal (ATU) is one of the many solutions that John Deere has made available to its customers to ensure they are automating processes where possible. Of course, Deere's technology-infused products cannot be effective without a motivated farmer behind the wheel.
Let's take a look at some of the key features and benefits of AutoTrac Universal and why farm equipment operators should consider adding it to their fleet.
Equipment Compatibility
One of the most beneficial factors of ATU is its ability to be transferred from one machine to the next. What does this mean for producers? Well, it means the ATU 200 steering kit can be taken from the tractor used for planting in the spring and put on the sprayer used in the summer. Once that's done, the kit can be moved over to the combine and tillage tractor in the fall. All of this can typically be done in about an hour, making automatic equipment guidance a reality for 365 days a year.
The ATU 200 kit is approved on more than 450 different pieces of equipment, improving on-track line performance and speeding up line acquisition.
Elevates Profit and Minimizes Overlap  
As crop producers know, the farming process typical requires multiple passes. With AutoTrac Universal, operators have a guidance system to minimize overlap via consistent row spacing. By doing so, they will see reduced costs of seed, fertilizer and overall usage of their equipment. This process also allows operators to use the same traffic lanes year after year, minimizing the area of the field that's impacted by heavy equipment and creating a firm soil surface for efficient tractor operation. Reduced overlap means time to cover more ground and energy well spent.
Numerous Tracking Options
Not all fields are in the same shape, size, or condition. For this reason, ATU allows equipment operators to select from a wide range of guidance models, including straight track, AB curves, adaptive circles, circle track, and swap track.
Customized Accuracy
AutoTrac Universal users have the ability to select from SF1, SF2, and RTK accuracy levels, depending on their needs. SF1 offers accuracy of +/- 9 in. horizontally from pass-to-pass within 15 minutes, making it a valuable broad-acre option. SF1 is included with the purchase of StarFire 3000 Receivers. SF2 provides accuracy of +/- 2 in. horizontally and is a great option for row-crop producers. Finally, RTK offers accuracy of +/1 1 in. horizontally and +/- 2 in. vertically from pass-to-pass. This level of accuracy should be used for those that desire the highest level of accuracy and repeatability.
Reduces Operator Fatigue
The farming process requires an abundance of time and energy. With each of these things being so valuable, ATU assists the steering process to increase productivity and reduce fatigue. By doing so, operators are more alert and are able to focus on critical implement settings and varying field conditions.
Final Thoughts
John Deere's AutoTrac Universal can quickly become a farmer's best friend thanks to its ability to assist the machine guidance process and improve efficiency year-round. If you enjoyed this post or want to read others, feel free to connect with us on Facebook, Twitter or Google+!
You might also like: