Technology is changing the world we live in. It's taking what used to be manual processes and turning them into automated functions that are designed to improve productivity regardless of the task that's at hand. When it comes to farming, the same can be said thanks to the growing fleet of available precision agriculture technology solutions.
What is the John Deere 4640 Display?
The John Deere 4640 Display is a technological aid designed to improve data collection, increase functionality, and simplify the management of tractor-driven field operations. 
According to John Mishler, production and precision ag marketing manager for John Deere:
"Some enhancements built into the display include more on-screen help and diagnostic information to keep operators running and informed of their display capabilities; simplified Work Setup app with page-by-page navigation; and greater user customization of run pages."
Operators have the ability to use the John Deere 4640 Universal Display with some more common John Deere applications, like Section Control. It also can import new customer and product information without the need to overwrite existing data. The display improves your documentation when planting at high speeds and applying nutrients. Precision ag software for the 4640 display is available in a one- or five-year subscription plan. Customers can also choose from plans that only include AutoTrac, or AutoTrac along with Section Control (Precision Ag Core).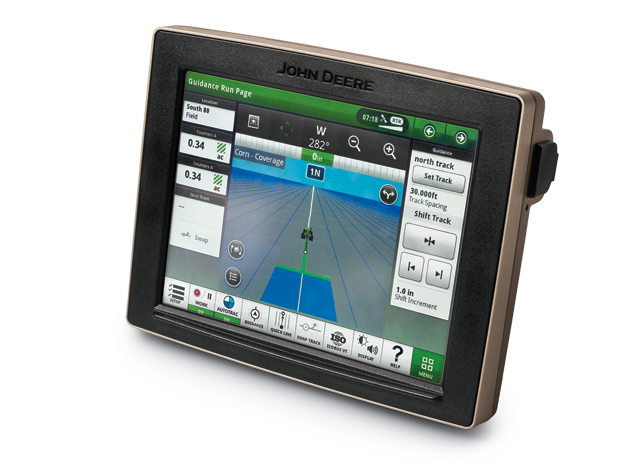 Part of the John Deere Generation 4 Operating System, the 4640 Display allows John Deere customers to use popular applications like AutoTrac™, documentation, and Section Control, all in a portable display.
John Mishler, production and precision ag marketing manager for John Deere, says, "The new 4640 Universal Display provides a transportable, easy-to-operate solution for customers with the John Deere Generation 4 operating system."
But, what are some of the other features and benefits? Let's take a closer look.
Improved Documentation for Crops
The John Deere 4640 Universal Display provides operators with improved documentation for the nutrient application and high-speed planting processes. The display is designed to allow operators to import the latest customer and product information without worrying about overwriting existing information. The wireless data transfer (WDT) and its "data sync" feature allow information to be automatically transmitted to the John Deere Operations Center. Lastly, the display works with the Gen 4 Extended Monitor, which increases the number of run pages that are visible to the operator. This gives them access to even more operation information.
Quick & Convenient Start-Up and Restart for the John Deere 4640
The John Deere 4640 Display has also been designed to be easy to set up and the startup time has been reduced. In addition, the overall navigation has been improved. Each of these features means more time for operators to be out working in the field and fewer mistakes throughout the day.
When a reboot or shutdown is needed, a power button on the back of the display lets operators do so without having to power down the entire tractor.
Reduced Cost of Operation for Farmers
AutoTrac, Section Control, and documentation help users work more effectively by reducing overlap and skips and maximizing inputs. Working with Gen 4 Section Control, users will be able to optimize field performance by leveraging distance and speed-based turning.
Final Thoughts
The John Deere 4640 Display is available for order now. It's compatible with John Deere 30-Series to 6R, 7R, 8R, and 9R Series tractors, as well as competitor tractors that have AutoTrac Universal and AutoTrac Controller.
If you enjoyed this post or want to read others, feel free to connect with us on Facebook, Pinterest, Twitter, or Instagram!
You might also like: