Agriculture conferences and trade shows have so much to offer farmers, enthusiasts and the industry as a whole. But, there are so many conferences and shows offered each year, that it can be challenging to decide which ones are the right fit for you.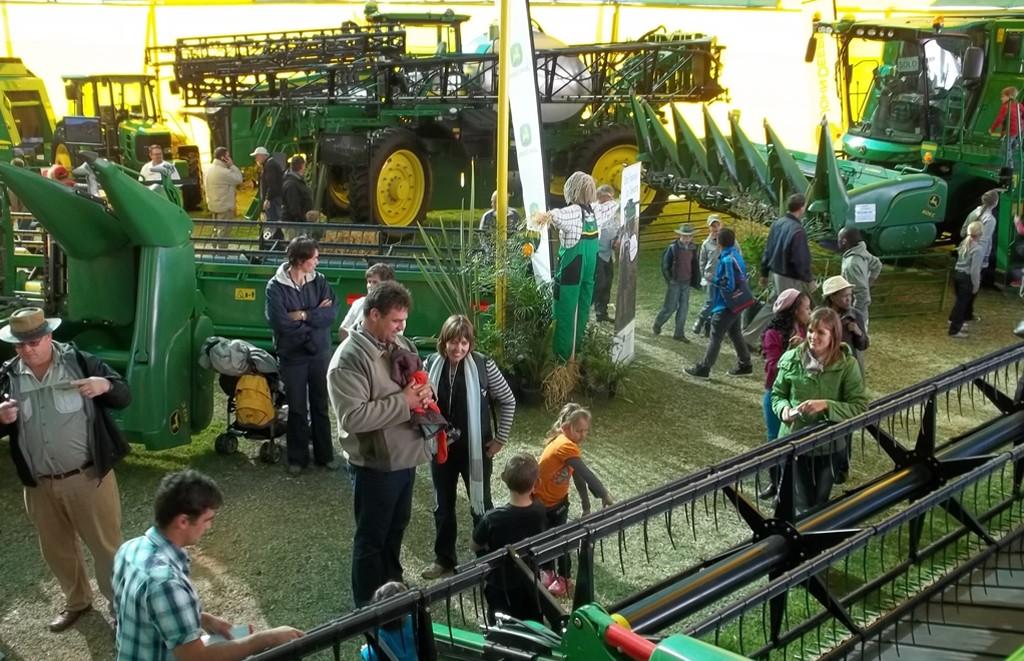 For this reason, we've put together a complete list of the must-attend agriculture conferences in 2016. Whether you want to be the first to see new John Deere farm equipment and agriculture technologies, or are looking for ways to boost productivity on the field, you will want to check out some of these upcoming events.
Date: February 27- March 1, 2016
Location: Austin Convention Center, Austin, Texas
Registration: Available online
GEAPS Exchange 2016 is the best place to make new connections in the grain handling industry. Attendees will be able to find new operations solutions, learn about innovative technologies and share best practices. Bringing together some of the most dedicated grain experts and farmers from around the country and world, the show will focus on a varieties of grains and which seeds will lead to more production.
Date: March 3-4, 2016
Location: Dordt College, Sioux Center, Iowa
Registration: Available online
The event anticipates more than 500 local, national, and global agricultural producers, processors, agribusiness leaders, development and mission leaders, educators, policy-makers, and students to attend. Attendees will have the opportunity to create valuable connections and build long-lasting relationships that will eventually lead to restoration and reconciliation in a world of hunger and poverty. Get connected, feel encouraged, explore a variety of workshops and hear excellent speakers!
Date: March 6-9, 2016
Location: Inn and Spa at Loretto, Santa Fe, New Mexico
Registration: Available online
The Pacific Seed Association Convention aims to promote the research, development and movement of quality seed to meet the world's demand for food, feed, fiber and fuel. As a "not for profit" organization, the association connects seed growers and dealers with business presence around the country.
Date: March 17- 19, 2016
Location: Owatonna, Minnesota
Registration: Free admission and parking
The North American Farm and Power show aims to provide farmers with the chance to see some of the latest and most innovative equipment shown by quality exhibitors. This year, attendees will have the opportunity to view the elaborate display of ranch and wind energy technologies!
Date: June 8-10, 2016
Location: State Fairgrounds, Des Moines, Iowa
Registration: Visit the website for details
20,000 pork producers and other professionals come together to make the world's largest trade show for the pork industry happen each year. The expo is sponsored by the National Pork Producers Council and offers many activities, including displays from hundreds of exhibitors and networking opportunities.
Date: August 2-4, 2016
Location: Gilfillan Estate, Redwood Falls, Minnesota
Registration: Available online
The 35th annual IDEAg Minnesota Farmfest connects some of the best farmers in the region with industry-leading manufacturers and suppliers. Last year, the event had nearly 600 exhibitors to provide the solutions that farmers need to run a successful operation. Enjoy educational sessions, political discussions, field demonstrations and more!
Date: August 30-September 1, 2016
Location: Boone, Iowa
Registration: Visit the website for details
The Farm Progress Show is the largest outdoor farm equipment show in the United States. Featuring hundreds of vendors, manufacturers and exhibitors in the agriculture industry, attendees will have many opportunities to network and see unique field demonstrations.
Date: September 10, 2016
Location: John Deere Pavilion, Moline, IL
Registration: Contact the John Deere Pavilion for details
The annual Heritage Tractor Parade and Show will feature the antique John Deere tractors and equipment that fans have been waiting for all year long. Collectors and agriculture enthusiasts will showcase their antique farm equipment at the tractor parade, after which attendees will be invited to return to the pavilion where they will all be on display.
Date: September 20-22, 2016
Location: Molly Caren Agricultural Center, London, Ohio
Registration: Visit the website for details
Looking to learn more about the future of agriculture? The 2016 Farm Science Review, hosted by Ohio State University, will offer hundreds of demonstrations. These demonstrations from Ohio State University colleges and departments will feature farm machinery, farm safety tips, home safety tips, health information and more.
Date: October 4-8, 2016
Location: Madison, Wisconsin
Registration: Gate admission is $10 daily, $30 for the season
2016 marks the World Dairy Expo's 50th anniversary. Attendees will gather to celebrate this huge milestone. The show will bring together dairy producers and industry partners to showcase top dairy cattle, the latest industry research and new technologies.
Date: October 18-20, 2016
Location: Moultrie, Georgia
Registration: Gate admission $10 daily
The Sunbelt Agriculture Expo is recognized as North America's Premier Farm Show® and the largest Farm Show in America. The show offers field demonstrations, brings together members of the rural lifestyle, and exposes the latest research and education to the agriculture industry. Enjoy some of the fun – truck, tractor, and ATV test drives!
Date: November 8-10, 2016
Location: Sam Fulco Pavilion, Park City, Kansas
Registration: Free admission
Learn about the newest in farm and ranch equipment, and have a chance to view some of the greatest industry technology. This show is highly recommended for livestock producers, as it focuses on livestock equipment and offers live demonstrations with fresh cattle daily, livestock handling demos, educational seminars and more!
We hope this list helped you plan what agriculture conferences you are going to attend in 2016!
If you enjoyed this post or want to read others, feel free to connect with us on Facebook, Twitter or Google+!
You might also like: