Don't let the size fool you, the John Deere 314G is as tough as they come. These machines incorporate many of the same powerful and reliability features found on larger construction machines.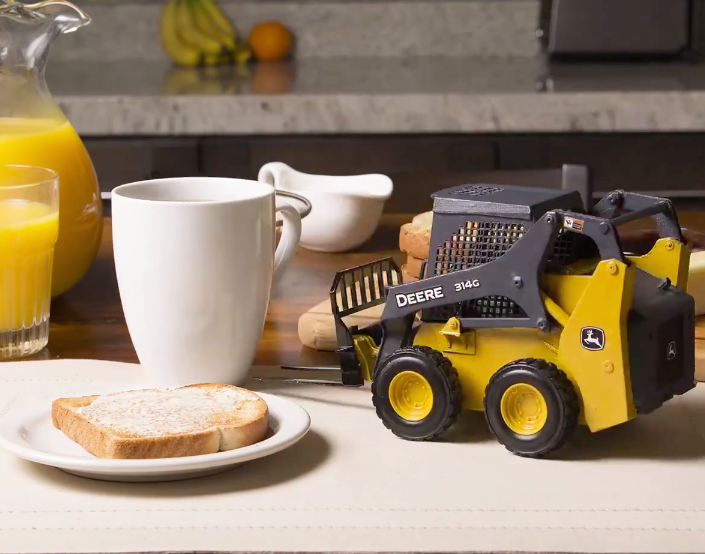 To introduce the durable G-Series Skid Steers, John Deere released a couple of lovable and catchy videos, which we shared with our Facebook fans. These videos highlighted the John Deere lifestyle as a whole, and how every fan wishes they could start their day. If you haven't already seen the videos, don't worry, we will share them with you in just a moment.
We received an overwhelming response to the John Deere 314G videos (excitement, humorous comments, shares), and thought it was worth sharing. In this post, we've highlighted some of the best fan responses.
Productive Days Start with the 314G Skid Steer
You know what they say – breakfast is the most important meal of the day. We shared this video on our Facebook page to remind our fans that both breakfast and the John Deere 314G can help you have a more productive day.
We knew that John Deere fans would love this video, but had no idea what a massive response we would get. When we shared this video on Facebook, it immediately took off and reached more than 1,200,000 fans. It was watched 240,000+ times, and received 13,500+ reactions, comments and shares.
Here's a peek at some of the top comments, or go check out the post for yourself.










Start your day off right with a bowl of cereal poured by the John Deere 314G! After seeing what a great response the video above received, we also shared this video with our Facebook fans.
This video proves that it's not the size of the machine in the work, it's the size of the work in the machine. Here's the post, if you want to check it out.
Final Thoughts
These videos really made for a great introduction to the John Deere G-Series Skid Steers, and we're glad that we could be a part of it! With bigger fuel capacity, serviceability and durability, the John Deere 314G is going to be a big hit.
You might also like: