Whether you want to upgrade your John Deere XUV825i or simply make it more versatile, there are a number of John Deere 825i accessories available to match your needs.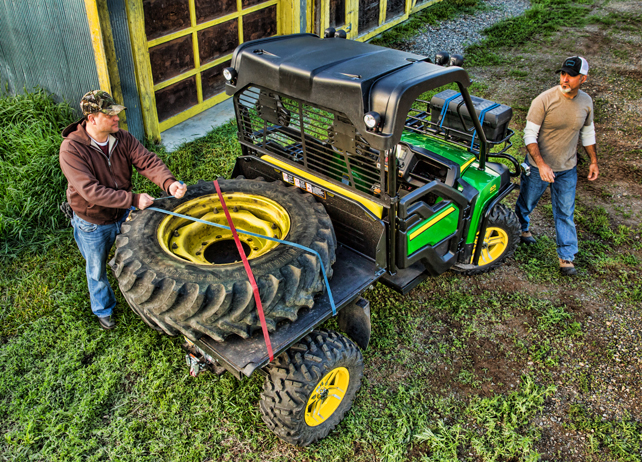 Let's take a look at some of the accessories you can use to make your John Deere XUV825i the go-to machine in your collection.
These fender guards are designed to give an aggressive, modern appearance to your John Deere XUV825i on the road. They can also protect your vehicle from brush while you're traveling through thick terrain.
You may want tail light protectors for your Gator if you're interested in preventing damage due to incidental contact. These protectors will keep your tail lights in optimal working condition.
This yellow seat cover is one of many must-have accessories for owners who want to keep their machine looking brand new.
To transform your John Deere XUV825i into a sprayer, consider this 25-gallon bed sprayer for all of your yard needs. Larger versions of the sprayer are available as well in 45-gallon and 90-gallon sizes.
If you're interested in adding pressure washing capabilities to your Gator, consider the GatorPal high pressure washer. This accessory comes in multiple sizes and it's specifically designed for industrial-type cleaning.
Out of all of the John Deere 825i accessories available, this 150-inch precision boom is exactly what you need for a thorough, extensive spray. It has TeeJet nozzle bodies and commercial grade diaphragm check valves.
The HP boomless nozzles are compatible with all John Deere HP sprayers. They can cover an ample amount of ground quickly with a 24-foot spray swath.
To reduce the amount of noise created by your engine, you'll want the air cleaner relocation kit. This kit is designed to move the remote engine air-intake filter inlet to the outside of the battery enclosure for less noise.
The electrical kit is one of the John Deere 825i accessories you'll need if you use electrical cab accessories. This kit is designed to power these accessories with a main cab harness, 30-amp fuse holder, and 30-amp fuse.
If you're interested in integrating a glass door into your John Deere XUV825i, you'll want this glass door kit. It comes with large, premium glass doors for more visibility, as well as key locks for guard against theft.
If you enjoyed this post or want to read others, feel free to connect with us on Facebook, Twitter or Google+!
You might also like: