John Deere Gator™ Crossover Vehicles (XUVs) are engineered to work as tough and play as hard as you do. With 50 hp at 6000 rpm and a top speed of 44 mph, the heavy-duty 825i John Deere Gator is designed to get things done—and fast.
Let's take a look at how: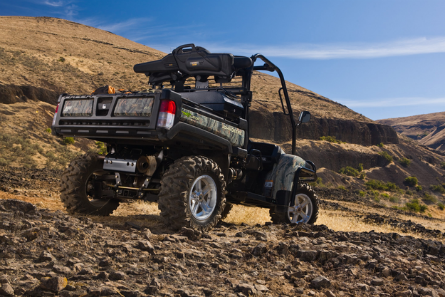 Advanced Engine System: The JD 825i is powered by a 812-cm3, three-cylinder, dual overhead cams, liquid-cooled, four-cycle gasoline engine. Not only does this powerful engine deliver superb starting, idling, and throttle response during operation, but it also offers key performance and reliability features, including (but not limited to): electronic ignition for optimum engine power and quick starts, overhead valve design for greater efficiency and fuel economy, and spin-on oil filter with drain bracket and oil drain valve to enable easy servicing.
Superior Terrain Capacity: With the 825i John Deere Gator, operators have access to a precision-engineered drivetrain system that optimizes acceleration, hauling, towing, and hill-climbing capabilities. The drive system includes (among other features) a variable speed drive, which boasts a new Continuously Variable Transmission (CVT™) intake system designed to reduce water ingestion, lower belt temperatures, and improve durability.
Smooth Ride Over Tough Terrain: The JD 825i offers dual A-arm front and rear suspension, resulting in a smooth ride over challenging terrain. Key dual A-arm front suspension features include ample compression and wheel extension, which keep all four wheels on the ground for traction and vehicle control, and a solid anti-roll bar with fully rubber isolated connecting links and pivots for minimal body roll and quiet operation. The dual A-arm independent rear suspension also boasts ample compression and wheel extension, in addition to (among other features) coil over shocks to absorb the most demanding terrain.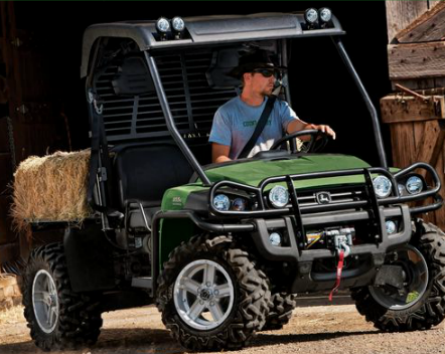 Whether you're climbing a steep hill, splashing through a mud hole, or hauling heavy cargo, the 825i John Deere Gator is one tough gator. Available in camo, green & yellow, or olive & black, the JD 825i two-seater comes with power steering and 3/4 of a ton towing capacity; the roomier 825i S4, Deere's fastest, most powerful four-seater, allows operators to bump up their passenger space for four. So hop in and get going!
You might also like: