The John Deere 324E is designed to outperform the competition with its compact design, improved visibility and overall productivity. Best of all, it comes at an affordable price, meaning customers won't have to break the bank to invest in a top-quality machine.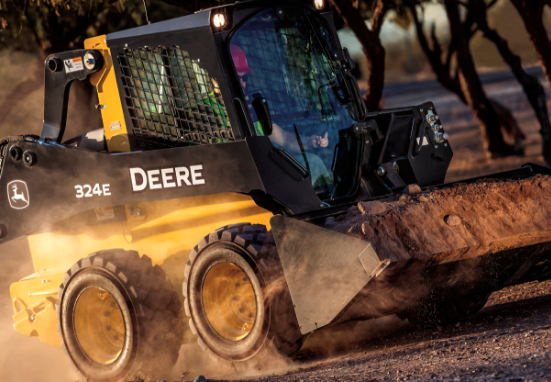 Let's take a look at some of the features of the John Deere 324E Skid Steer and how it delivers professional-grade performance.
Electrohydraulic Joystick Performance
The John Deere 324E comes with optional enhanced electrohydraulic joystick performance, which includes switchable control patterns and additional attachment controls. With this feature, operators can also shift into creep mode on-the-fly and adjust the settings of their boom and bucket.
Heavy Duty Boom
The 3.19m lift height of the John Deere 324E's boom makes for more efficient loading when using high sidewall dump trucks. The cross-section boom arms also ensure that operators have the strength and durability they need on the job.
Efficient Engine
All of the E-Series machines have EPA Final Tier 4 technology, which is designed to meet emissions standards while providing more fuel efficiency. Increased auxiliary flow also provides the John Deere 324E with the hydraulic horsepower it needs to use a wide range of power attachments.
Cold Weather Durability
The John Deere 324E was designed with cold weather in mind. Customers can implement a cold-start package that includes a 925-cca battery, a block-heater kit, and a hydraulic unloader. The electronic injection systems of the John Deere 324E also make it easier to start the machine, while allowing the engine to run at a lower rpm.
Effective Cooling
The John Deere 324E has its coolers separated in a V-shape configuration. This resists debris buildup and ensures that the radiator is easy to clean. Variable speed fans also run when needed to eliminate debris within the machine. A rear bumper prevents cooling components from damage.
Easy-to-Reach Checkpoints
All of the servicing checkpoints are easy to reach beneath the hinged hood of the machine. Removable side panels also allow accessibility to the coolers, battery and air filters.
Cab Comfort
Customers can choose either a cloth or vinyl air-suspension seat for their John Deere 324E. The cab also has an HVAC system with eight automotive-style louvers, a large entryway, and a storage box for convenience.
Detailed Monitor
The on-board monitor of the John Deere 324E allows operators to watch rpm, battery voltage, hour meter, and coolant and hydraulic oil temps from inside of the cab. It will also display onboard fault codes, if necessary.
If you enjoyed this post or want to read others, feel free to connect with us on Facebook, Twitter or Google+!
You might also like: