The John Deere 7930 is a tractor designed to handle a wide range of customer needs. Whether you're handling field work (seeding, planting, tillage) or transporting material, the John Deere 7930 has features that can help you get the job done. The tractor has a high-torque engine, a comfortable cab, and versatile features.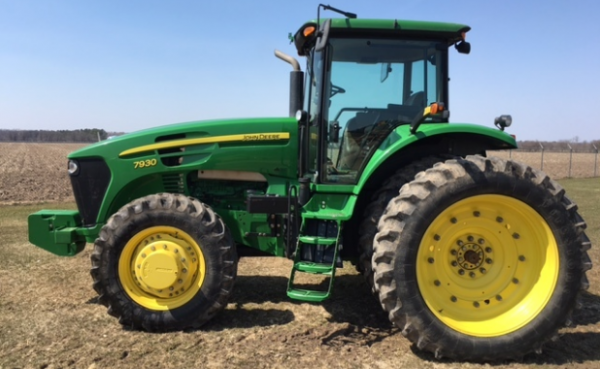 Let's take a look at some of the key features of the John Deere 7930.
PowerTech™ Plus Engine
The PowerTech Plus 6.8-liter engine of the John Deere 7930 provides consistent power, regardless of environmental conditions. It has a rated PTO horsepower of 180, and it can deliver torque 30 percent faster than other tractors. Additionally, the engine has a rated speed of 2100 rpm, and it operates with six cylinders and diesel fuel.
GreenStar™ AutoTrac™
With the GreenStar AutoTrac system, operators of the John Deere 7930 will have the guidance they need to increase their productivity. The display and mobile processor allows users to enable features of the John Deere 7930 without having to leave the cab. Monitoring the performance of the tractor is also simplified with the GreenStar AutoTrac system.
Rear Selective Control Valves
John Deere 7930 owners can use up to four rear selective control valves (SCVs). Manual and electrohydraulic controls can operate four SCVs without a joystick, but a single-lever electronic joystick is an option for those who prefer it on the job.
Triple-Link Suspension (TLS™) II
The John Deere 7930 has Triple-Link Suspension II, which provides front suspension using a hydro-pneumatic self-leveling system to make a smoother ride. Two double-acting-control cylinders can work independently or together to dampen shock loads. The tractor also has a MFWD axle for more stability on the go.
PowerQuad™ PLUS Transmission
The PowerQuad PLUS 16/16 transmission of the John Deere 7930 allows the tractor to move up to about 19 miles per hour. When the ground speed exceeds 4.3 miles per hour, the transmission automatically selects the best gear for the range shift.
Operator Comfort
The John Deere 7930 has an optional CommandView™ cab, which gives operators a wide view of their surroundings from inside of the cab. The John Deere ActiveSeat™ is also an option customers can take advantage of for more comfort throughout the day. The seat has adjustable armrests and a pull-down sunshade.
Hydraulics
High-capacity hydraulic oil flow allows operators to work more quickly with the John Deere 7930. The tractor's base equipment pump allows for the seamless flow of tractor applications. Items that may require more strength and power, such as planter and seeding equipment, can be easily engaged with the TouchSet™ electrohydraulic control system. Cab controls allow operators to make moves comfortably inside of the tractor.
For more information about the 7930, contact your local John Deere dealer today.
If you enjoyed this post or want to read others, feel free to connect with us on Facebook, Twitter or Google+!
You might also like: