When you're on the hunt for a utility tractor that can help with everything from hay baling to livestock feeding, you know you can turn to John Deere. The John Deere 6120M Utility Tractor has features that include a first-class cab, high-performance engine, and enhanced turning radius. Let's take a closer look.
What is a Utility Tractor?
Utility tractors typically offer more power than compact utility tractors and boast larger frame sizes. Newer models also allow operators to manage everything from gear shifting to hydraulics through integrated electronics.
What are the Features of the John Deere 6120M Utility Tractor?
The John Deere 6120M Utility Tractor has features including an FT4 PowerTech engine with up to 133 horsepower, various transmission options, and press-compensated hydraulics. Let's take a closer look at some of the features it has to offer.
133 Engine HP
The 6120M comes with a John Deere PowerTech 4.5 liter engine with a maximum output of 133 horsepower for tough jobs that require extra effort. This helps the 6120M live up to its name as a "utility tractor", helping you with not just specialized jobs, but almost any task you can dream up.
John Deere FT4 PowerTech™ engine
The FT4 PowerTech engine has a rated engine power of 122 horsepower and a rated speed of 2,100 rpm. Additionally, it has a PTO torque rise of 40 percent.
Four Available Transmission Options: PQT, AQT, CQT, or IVT
Customers can choose from a standard 24-speed PowrQuad Plus, 16-speed PowrQuad Plus, 24-speed AutoQuad Plus, 24-speed CommandQuad Plus, or AutoPowr/IVT transmission. This variety allows operators to choose a transmission to best suit their needs, whether it's hay baling or grass cutting.
Available in Multiple Cab Configurations
The cab of the John Deere 6120M Utility Tractor has been redesigned to improve visibility, and customers can opt for premium features, such as a compact CommandARM or Digital Corner Post Display. With available features like cab or open-station configuration and additional premium options for added comfort, you might enjoy your operator experience so much that you never want to leave!
Updated Hood Design and Enhanced Turning Radius
The hood design of the 6120M is sloped to give operators more visibility into their front loader, attachments, and mounted implements. The front view distance maxes out at 18 feet, and the tractor is perfect for working in small spaces, making even tight spaces easy to navigate.
Reduced Fuel Consumption with Easy-to-Use IVT™ Transmission
The IVT transmission uses hydrostatic and mechanical power to provide various speeds. With a single lever, operators can manage ground control speed with precision.
AutoTrac™ Guidance
With AutoTrac™ guidance on the corner-post displays, operators can focus more on quality and efficiency as the tractor makes straight passes. No additional display or activation is required for the straight track feature.
600R Loader Compatibility
The 600R Loader and its curved booms work with the sloped hood to provide more forward visibility. Together, they create a nine-inch reduction in machine and loader length for the ideal tractor-loader combination.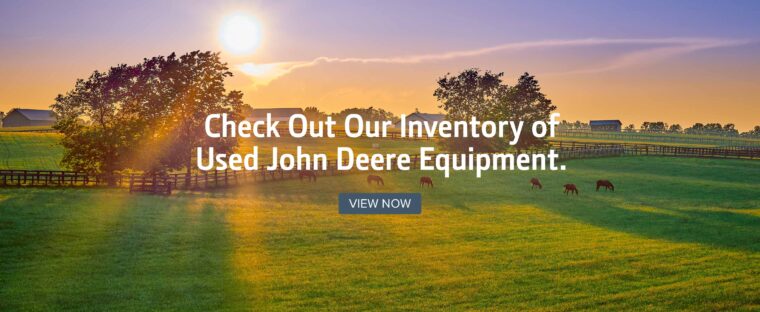 What are the Key Specs of the John Deere 6120M Utility Tractor?
The John Deere 6120M Utility Tractor has a PowerTech 4.5-liter engine with a maximum power rating of 144 horsepower. Additionally, it comes with a rated PTO power of 94 horsepower and a maximum PTO power of 118 horsepower. Customers have four transmission types to choose from, and the tractor also has a hydraulic pump-rated output of 21 GPM. Its rear hitch category is 2/3N, and the overall base weight of the machine clocks in at about 12,522 pounds.
What is the John Deere 6120M Utility Tractor Used For?
Many customers choose to go with the John Deere 6120M Utility Tractor because of its versatility. This piece of equipment can handle everything from farm chores to livestock tasks. Its small size and maneuverability make it optimal for working in tight spaces as well.
Improve Your Farm's Efficiency with John Deere
If you're looking to increase efficiency and reduce overall fatigue, the John Deere 6120M Utility Tractor is the perfect machine for you. With its powerful engine, various transmission options, and compact size, nothing is off-limits while working with this tractor.
If you have questions about the John Deere 6120M Utility Tractor, you can contact your local John Deere dealer.
If you enjoyed this post or want to read others, feel free to connect with us on Facebook, Pinterest, Twitter, or Instagram!!
You might also like: