When it comes to taking on heavy-duty jobs, you need a utility vehicle that you can rely on, regardless of terrain. The John Deere Gator™ XUV 620i is designed to ensure that you never have to worry about being able to tackle a job outdoors. This utility vehicle is designed for stability and productivity, and it will last for years to come.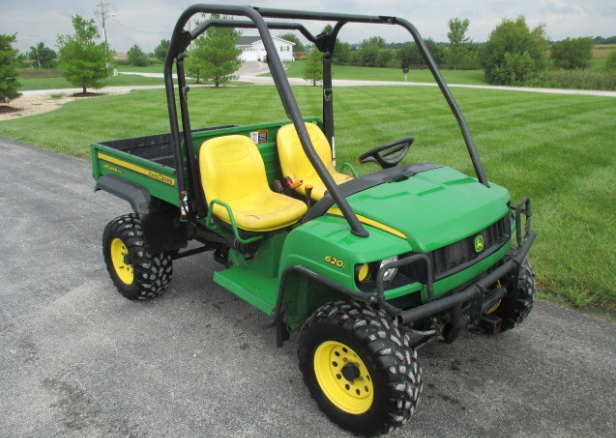 Let's take a look at some of the features of the John Deere Gator XUV 620i.
High-Powered Engine
The John Deere Gator XUV 620i comes with a 617-cm3 twin-cylinder engine from Kawasaki. The engine produces 32.9 lb-ft. of torque and runs at 2100 rpm. With its advanced electronic fuel injection, starting and idling are not a problem for the vehicle. It provides 23 horsepower without any issues, and it has a see-through coolant recovery tank for easy monitoring.
Premium Braking
This Gator comes with automotive-style four-wheel hydraulic disk brakes. The cast-iron rotors with wheel hubs are optimized for a long life. Operators will also notice the smoothness of braking with this system while driving.
Strong Frame
The John Deere Gator XUV 620i has a high-performance frame specifically designed for off-road tasks. Its thickness provides the strength necessary to handle demanding loads. The frame was also robotically welded for even more support.
Rack and Pinion Steering
Steel ball-bearings secure the steering shaft of the John Deere Gator XUV 620i for a smooth ride. The rack-and-pinion system is also completely sealed, and it has a tight turn radius of 12.4 feet. Shaft U-joints are phased for uninterrupted motion of the steering wheel.
Electronic Governor System
The electronic governor system of the John Deere Gator XUV 620i allows the electronic control unit to continuously monitor the throttle opening and engine speed. This means that operators can worry less about the engine, regardless of engine load, as they work.
Variable Speed Drive
The John Deere Gator XUV 620i has variable speed drive, which consists of a drive clutch (attached to the engine) and a driven clutch (attached to the transaxle). This gives users the opportunity to easily switch gears and accelerate when necessary, even while hauling and towing.
Operator Conveniences
The operator station of the John Deere Gator XUV 620i comes with side-by-side high-back seating and hip restraints. There are also three cup holders, and both seats tilt forward for ease of use or more storage during dry season.
If you enjoyed this post or want to read others, feel free to connect with us on Facebook, or Twitter!
You might also like: