Traditional John Deere Gators provide all of the functions and amenities you can expect in a utility vehicle. They are known for their easy to use, durability, and unmatched productivity. These Gators are built for residential yard work, landscaping tasks, golf course upkeep, as well as turf maintenance. And while they weren't originally meant for the heavy-duty lifting or hauling we see today, they can help ease tedious maintenance and upkeep tasks.
Access the top performing equipment on the market. Explore our inventory of John Deere machinery!
If you're looking for a John Deere machine that can make it easier to tackle jobs on rougher terrain, the John Deere Gator XUV 855D could be the answer. This piece of equipment is a part of the John Deere Gator line, which means it's designed with practicality and toughness in mind.
Let's take a look at some of the key features of the John Deere Gator XUV 855D.
The Engine of the John Deere Gator XUV 855D
The John Deere Gator XUV 855D has a three-cylinder, liquid-cooled, four-cycle diesel engine. It produces 5.1 kgm of torque at 2400 rpm. Additionally, the engine has a spin-on oil filter for easy servicing, and it's designed to start quickly in cold temperatures. This provides improved durability and performance.
Terrain Capability
If you have a John Deere Gator, you can be confident that you'll be able to tackle any terrain. The John Deere Gator XUV 855D has a precision-engineered drivetrain system that fully utilizes engine power. The machine also has variable-speed drive with two clutches for optimal control. They are designed to fully utilize engine power to optimize acceleration, hauling, and towing.
Storage Capabilities
Your Gator needs to be prepared to handle a heavy load, and John Deere had this in mind when designing the XUV 855D. This model has a deluxe cargo box made of 15 percent glass-filled polypropylene composite. The material is designed to resist rust and dents over time. The John Deere XUV 855D also has a tailgate that can be lowered to 150 degrees for the utmost convenience.
Suspension of the Gator Vehicle
This Gator comes with Dual A-arm front and rear suspension, meaning you'll have a smooth ride over challenging terrain. Furthermore, the John Deere XUV 855D has four-wheel independent suspension, meaning its frame is designed for high-performance when hauling material around the farm.
Braking System
The John Deere XUV 855D has automotive-style four-wheel hydraulic disk brakes for demanding terrain. Additionally, all Gator XUV Crossover Utility Vehicles have hand-lever-operated mechanical park brake systems for the utmost convenience of the user.
Tire Options
With the John Deere XUV 855D, you have three different tire options to consider. This machine can use the Terra Hawk AT tread tire, Ancia M-T tread tire, or alloy wheels with Maxxis BigHorn 2.0 radials. Each of these options is designed to provide the operator with a smoother, controlled ride.
Whether you want to replace your utility vehicle or you're interested in a new John Deere Gator, consider the XUV 855D. This piece of equipment is designed to take on even the most challenging acres of land and boost the efficiency of its operators on a regular basis.
If you have any questions about the John Deere XUV 855D, you can contact your local John Deere dealer.
If you enjoyed this post or want to read others, feel free to connect with us on Facebook, Pinterest, Twitter, or Instagram!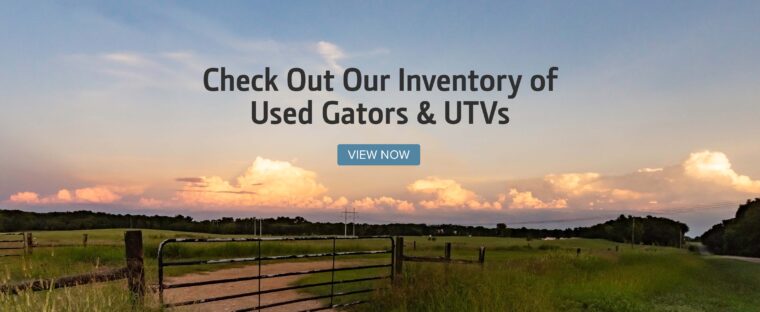 You might also like: