Everyone knows that hybrid machines burn less fuel, but the John Deere 944K Hybrid Wheel Loader can also help you maximize productivity and uptime at a lower daily operating cost.
This piece of construction equipment is highly-productive and delivers extremely responsive and smooth hydraulics, quick climbing and powerful pushing capabilities.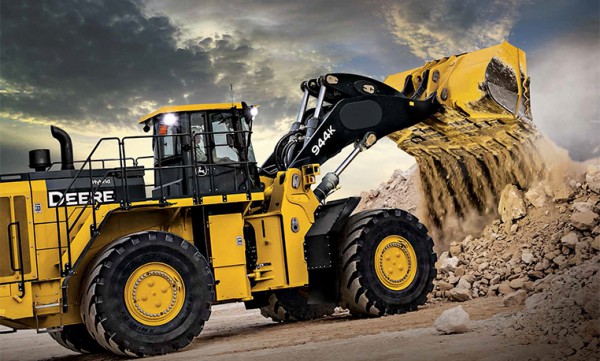 To help you learn more about the 944K Hybrid Loader, we've put together this video gallery. Here we will overview the key features that can help you boost efficiency, and lower costs. Enjoy!
This video will surely pump you up to reach new productivity levels. Before we get started with some of the key features incorporated in this machine, you'll have the chance to watch the 944K Wheel Loader at work and get a peek inside the cab.
Built with input from the Customer Advocate Group, this machine features dual slab boom and dual bucket cylinders to provide maximum visibility to the center of the bucket when dumping into trucks.
Other key productivity features include the hydraulic system, joystick pilot steering and electrohydraulic controls, and cab comfort.
Be sure to watch this walk around video for more details about each of the productivity features of John Deere's 944K Hybrid Wheel Loader.
Want to learn more about 944K features that contribute to the low daily operating costs? With input from customers just like you, John Deere is able to provide low daily operating costs to maximize your operations and profits.
This video goes over a variety of qualities including the Quad-Cool™ package, traction control, coast control, fuel efficiency and more. Tune into the video above to learn more about each.
To provide the uptime that you need for your operations, the 944K features a hybrid-electric drive system, rimpull control, an optional hydraulic reversing fan, and fast fuel and quick fluid service.
Watch this walk around video of the features that support the uptime of John Deere's 944K Hybrid Wheel Loader to see if it could benefit your jobsite.
We hope this video gallery gave you a better understanding of the key features that make the 944K one of the most productive construction machines on the market today. If you enjoyed this post or want to read others, feel free to connect with us on Facebook, Twitter or Google+!
For more information about the John Deere 944K Wheel Loader, visit your local John Deere dealer.
You might also like: