Professionals who are seeking more productivity and efficiency out of their excavator may want to consider the John Deere 470G LC. This machine is designed to help operators get more out of their workday with optimized hydraulics, a powerful Final Tier 4 diesel engine, and ample horsepower.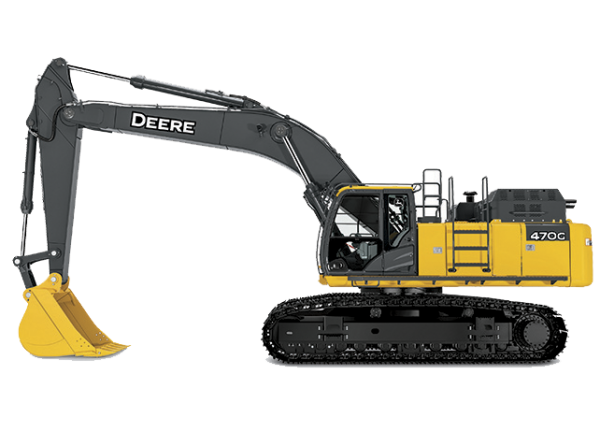 Let's take a look at some of the other highlights of the John Deere 470G LC.
Powerwise™ III
The John Deere 470G LC has the Powerwise III engine/hydraulic management system, which allows operators to balance engine performance with hydraulic flow on the job. "High Productivity" mode delivers faster hydraulic response and more power, while "Power" mode allows for a balance of power and speed during normal operation. "Economy" limits top speed to help operators save fuel.
Hood Design
The hood design on the John Deere 470G LC allows for more visibility on the sides and rear of the machine. A wide expanse of front and side glass, narrow front cab posts, large overhead glass, and several mirrors reduce obstructive views. This makes for safer operation when the machine is in use.
Maintenance
Maintaining the John Deere 470G LC is quick and easy. The machine alerts operators when the diesel particulate filter needs to be changed, and the excavator has large fuel tanks for less downtime. When they need to be refilled, fluid-sample ports make the job simple.
Efficient Engine
The excavator comes with an engine specifically designed to meet FT4/Stage IV standards, and it still delivers the same torque and power operators seek in their machines. Hydraulically driven cooling fans only run when needed – no unnecessary power use. With cooled exhaust gas recirculation, high-uptime exhaust filters, and selective catalytic reduction, it's designed to last.
Boom Durability
The John Deere 470G LC has three welded bulkheads within the boom to resist torsional stress. The boom itself is warranted for three years or 10,000 hours of use by John Deere.
Cab Comfort
The cab of the John Deere 470G LC is designed specifically to provide operators with the comfort they desire throughout the long workday. The high-back seat is heated and sculpted specifically for the utmost support. The pilot levers were also designed to be ergonomically correct. They allow for smooth, fingertip control with less movement and effort – no strenuous reaching for joysticks in the cab.
For more information about the John Deere 470G LC or any other construction equipment, contact your local John Deere dealer.
If you enjoyed this post or want to read others, feel free to connect with us on Facebook, Twitter or Google+!
You might also like: