When it comes time to purchase a new lawn tractor, John Deere Z300 Series zero-turn mowers could be the answer. The Z335M, Z345M, Z345R, Z355R, and Z375R models are each designed to mow with high efficiency at fast speeds, so landscapers can get more done in less time.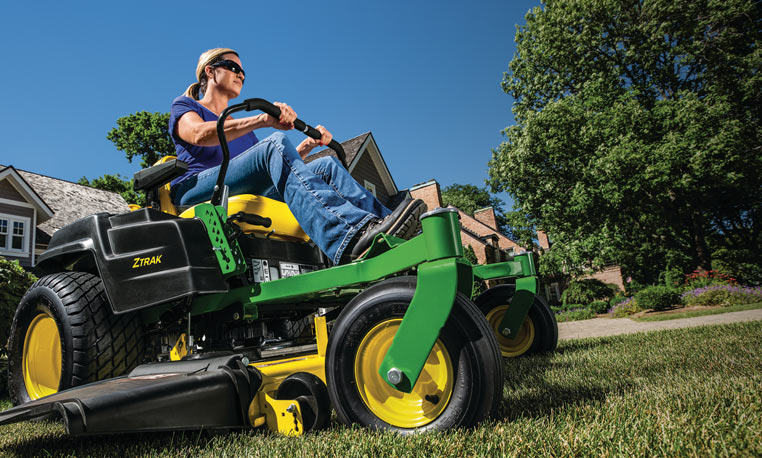 While each model is slightly different from the next, the series offers a number of shared features. Let's take a closer look.
Accel Deep™ Mower Deck
Included on all John Deere Z300 Series models, Accel Deep decks offer mower operators a cleaner cut with better grass dispersion at higher speeds – these decks are available in 42-, 48- and 54-inch cutting widths. Joined with a 7-mph mowing speed, the Z300 Series is ideal for those that need to get jobs done quickly without sacrificing quality.
Comfort and Convenience
Like many pieces of John Deere equipment, the Z300 Series mowers are designed to improve convenience and comfort for homeowners. Each model includes a medium back seat that can be adjusted without the use of tools – the seats also include armrests for added comfort. The control levers offer maximum functionality and standard floor mats absorb vibration and keep the equipment clean of debris. Wider tire options on some of the models provide a smoother ride, which can be extremely valuable for long days on the job.
Engine Performance
Engine horsepower on these mowers ranges from the Z335E's 20 hp all the way up to the 25-hp Z375R model. Those looking to purchase one of these models should identify how much power they will most commonly need to get the job done.
If you have questions about the John Deere Z300 Series models or any other ZTrak Mowers, reach out to your local John Deere dealer today.
If you enjoyed this post or want to read others, feel free to connect with us on Facebook, Pinterest, or Twitter!
You might also like: