Even in the height of winter, most homeowners and landscaping experts are thinking about what their first project is going to be once the snow melts and the ground thaws. And while many will plan to reuse the same equipment from the year prior, others are ready for an upgrade – this is where zero-turn mowers shine. These pieces of equipment are designed to make landscaping a breeze, whether it is on a small to medium size piece of land or a commercial job. For those that are not able to, or may not want to, purchase a brand new piece of equipment, there are plenty of used John Deere zero-turn models that are not only available but are also guaranteed to offer the level of quality that customers have come to expect.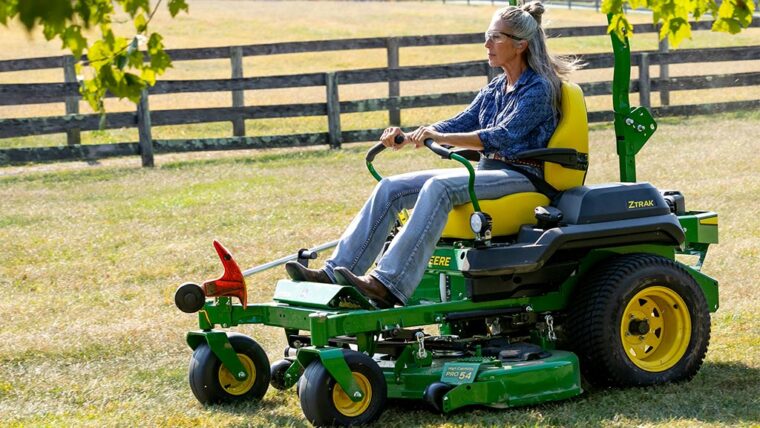 Considerations for Buying a Zero-Turn Mower
From residential tasks to commercial worksites, zero-turn mowers are designed to offer the maneuverability and performance needed to reduce the time one spends mowing. That said, there are several factors that should be considered when choosing the right model; this includes the following.
Size of the Mowing Area
The size of one's property will have a lot to do with the features they want and the horsepower they'll need. On one hand, mowers with larger cutting widths and more horsepower will help get the job done faster. On the other hand, smaller mowers will allow operators to work in areas featuring limited access that larger mowers cannot pass through.
Preferred Features
While comfortability may seem low down the list of priorities when it comes to choosing a mower, it can actually have more of an impact on productivity than one might think. If operators have a large job to tackle, the more comfortable they are, the less downtime they will face. For some, standard seat suspension may be all they need. For others, top-of-the-line fully mechanical suspension might be a necessity.
Top Ground Speed
The desired top ground speed of a mower will depend on a number of factors. One is the terrain. If operators plan to drive over hills and slopes, they may want to keep the speed at a minimum for safety reasons. Another factor is the size of the land. While mowing slowly is encouraged to ensure a clean cut, having a faster mower can prove beneficial for those working on a large piece of land that requires a lot of back and forth, even when they are not mowing.
4 Benefits of Using a Zero-Turn Mower
Landscaping is hard work and can take a physical toll on anyone. That said, John Deere zero-turn mowers help reduce these burdens thanks to a combination of factors. These include:
Design & Durability
These John Deere mowers feature durable steel frames that are heavy-duty welded and formed so that operators can get the most out of their equipment at all times. Further, the rear-drive tires are paired with front caster wheels to keep the equipment running smoothly. It also helps operators tackle sloping areas and improve traction on uneven ground.
Maneuverability
Uneven terrain can pose several challenges for operators when they are using their mower. Cutting it at all is difficult, but achieving a perfectly even cut can seem nearly impossible. But with the help of a zero-turn mower, operators can move around areas like trees and garden beds with ease thanks to the equipment's tight turning radius. This feature also helps reduce the chances of the mower bumping into something or accidentally cutting plants that shouldn't have been cut.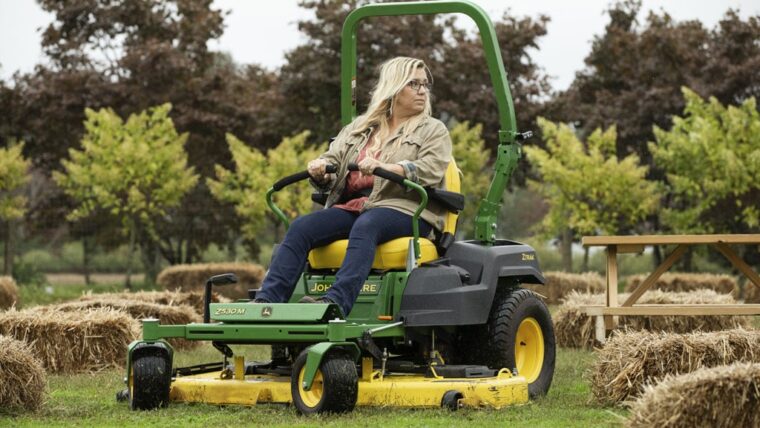 Mower Deck Layout
The interior layout of the mower deck helps keep debris out to limit the chances of the blade movement being obstructed. On the other side of the coin, the mower deck lip ensures that no debris escapes and hits somebody by mistake.
Longevity
Whether one purchases a new John Deere zero-turn mower or a used model, they can rest assured knowing that their equipment will produce quality work for a long time.
John Deere Zero-Turn Mower Models
As noted above, John Deere zero-turn mowers are designed to last and deliver a quality cut each time. Let's take a look at the variety of options available to customers.
Z300 Series
The John Deere Z300 Series makes yard work a breeze thanks to the inclusion of comfortable seats, easy access storage, and large rear-drive tires. This series also features the Accel Deep™ Mower Deck, optional MulchControl™ kits, and up to 7mph travel speed. Thanks to these details, home and landowners can work through their list of tasks quickly so they can get the most out of their lawn sooner. Models in this series include:
Z500 Series
For customers who want to maximize efficiency as must as possible, the John Deere Z500 Series of mowers might be the right fit. These models offer various features designed to meet their needs, including mower decks in three cutting widths, three distinctive seat options, and a 4.5-gallon fuel tank. Thanks to features like these, operators don't have to worry about unexpected – and unwanted – downtime. Models in this series include:
Z515E, 54-in. Deck
Z515E, 60-in. Deck
Z530M, 48-in. Deck
Z530M, 54-in. Deck
Z530M, 60-in. Deck
Z530R, 54-in. Deck
Z530R, 60-in. Deck
Z545R, 48-in. Deck
Z545R, 54-in. Deck
Z545R, 60-in. Deck
Z700 Series
John Deere Z700 Series mowers are designed to help operators perfect their lawn with what will feel like little to no effort required. With 23-25 horsepower and three different High-capacity PRO mower decks, these mowers ensure home and landowners spend less time working on their lawn, and more time enjoying its beauty. Models in this series include:
Z900 Series Commercial Mowers
John Deere ZTrak™ 900 Series zero-turn mowers were designed with commercial lawn mowing customers in mind. To meet the needs of these customers, Deere offers various types of Z900 Series Mowers in its E Series, M Series, and R Series.
Z900E Series Zero-Turn Mowers
The John Deere Z915E, which is a part of the E Series line of mowers, offers several essential features, including a heavy-duty frame, commercial-grade engine, and Michelin Tweel Turf rear tires, among others. This combination ensures that operators achieve a quality cut each time.
Z900M Series Zero-Turn Mowers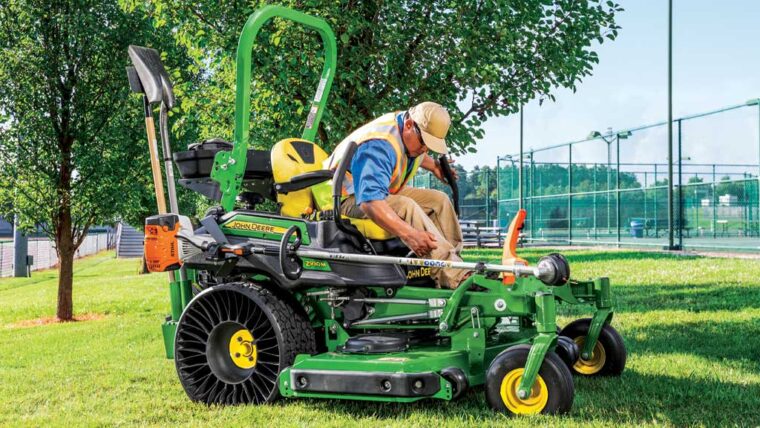 John Deere Z900M Series mowers are designed with performance and durability in mind. The Mulch On Demand™ option allows operators to switch from mulching to side-discharging instantly. Operators can also easily adjust the height-of-range cut. Further, customers also have the option of Electronic Fuel Injection models, which deliver the right amount of fuel at the right time. Models include:
Z900R Series Zero Turn Mowers
This series of John Deere zero-turn mowers is perfect for those who want top-of-the-line equipment. With the Comfort & Convenience Package with electronic controls, exclusive Hydraulic Cross-Porting System, Brake-N-Go System designed for easy starts, and a fully adjustable suspension seat featuring lumbar support, operators can rest assured knowing that they are working with the best of the best. Models in this series include:
John Deere Zero-Turn Mower Accessories
John Deere zero-turn riding lawn mowers are designed to offer maximum comfort and ease of use while delivering a precise cut every time. This level of quality is further enhanced by the use of various attachments that are versatile enough to help operators take on any landscaping task. Available zero-turn riding lawn mower accessories include:
15-Gallon Sprayer
Headlight Kit
Floor Mat
Premium Control Arms
6.5-Bushel Hopper and Chute Assembly
Boarding Step
6.5-Bushel Hopper and Chute Assembly with the Power Flow System
Grass Groomer – Lawn Striping Kit
Foot Rest Extensions
Attachment Bar/Bumper
Rear Hitch
Utility Cart, Poly
Foot Lift Kit
Attachment Bar and Hitch Kit
Ballast Bracket Kit
Seat Slide Kit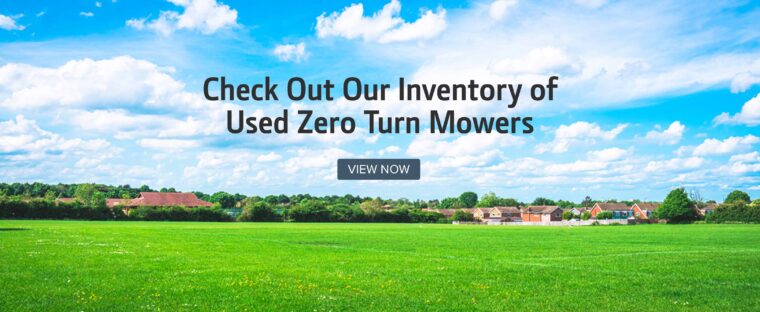 John Deere Zero-Turn Mowers Are Built to Last
Operators know that when they are working with a piece of John Deere equipment, they are working with the best. This rings especially true for the company's range of zero-turn mowers. Built with durability and performance in mind, these mowers help home and landowners achieve a quality cut each time to get them on their way to the pristine lawn of their dreams.
If you have any questions about John Deere used zero-turn mowers, you can contact your local John Deere dealer.

If you enjoyed this post or want to read others, feel free to connect with us on Facebook, Pinterest, Twitter, or Instagram!
You might also like: