Each year, the construction industry patiently awaits the arrival of CONEXPO-CON/AGG, which brings together businesses and professionals that focus on asphalt, aggregates, concrete, earthmoving, lifting, mining, utilities and more. CONEXPO-CON/AGG 2017 will be no different, as the industry will gather at the Las Vegas Convention Center from March 7-11.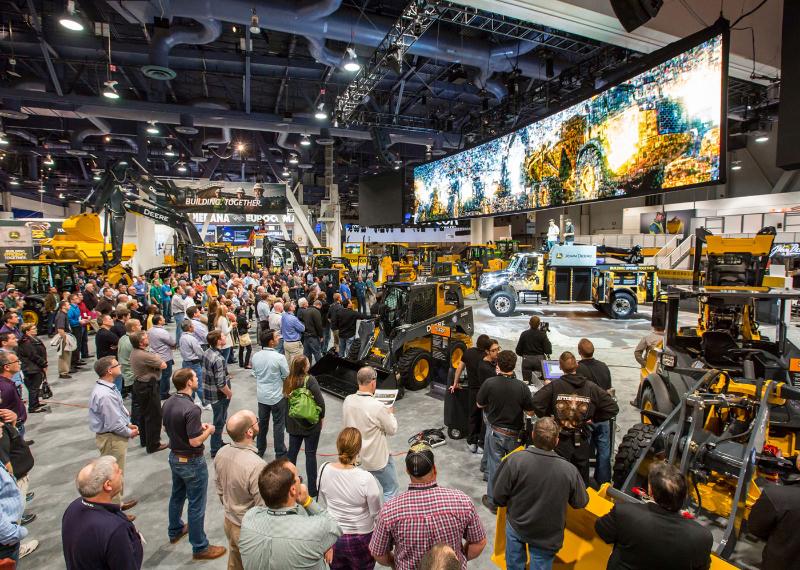 More than 2,500 exhibitors are expected to cover the 2.5 million square feet of space and John Deere will once again be amongst the many.
So, what can attendees expect from John Deere at CONEXPO-CON/AGG 2017? Let's take a closer look:
Overview
John Deere's exhibit will span across more than 38,000 square feet of space, which will be occupied by 38 machines, 11 John Deere simulators, the John Deere store, and an information counter. The counter and the floor space will be manned by more than 280 John Deere experts that will be on hand to answer questions and showcase the latest technology.
Equipment
The fleet of 38 machines that will be on hand at this year's event include articulated dump trucks (ADTs), backhoe loaders, crawler dozers, motor graders, excavators, compact track loaders (CTLs), scraper systems, tractor loaders, skid steers, wheel loaders, and a wide variety of compatible attachments.
Kiosks, Touch Wall, and Demo Stations
Along with the fleet of equipment, there will be customer support kiosks, a touch wall, and interactive demo stations scattered across the space. Attendees will be able to participate in virtual reality experiences and a concept machine both inside the booth and outside in the "Tech Experience" area.
Educational Sessions
Members of the John Deere team will conduct five different educational sessions during the show.
Tuesday, March 7, from 1:00 p.m. – 2:30 p.m. PT: Vern Hoppes, John Deere staff product safety and compliance engineer will lead a presentation on "Diesel Fuel Cleanliness & Tier 4 Requirements: Why Bulk Fuel Filtrations is Needed in Today's Diesel Engines."
Wednesday, March 8 from 11:00 a.m. – 12:30 p.m. and Friday, March 10 from 1:00 p.m. – 2:30 p.m. PT: William Bauman, instructor, John Deere WorkSight, will lead, "The Future is Now! Move More Dirt at a Lower Cost Using Machine Control."
Thursday, March 9 from 9:30 a.m. – 10:30 a.m. PT: Matthew Hendry, product consultant, hydraulic excavators, will participate in a roundtable discussion on the "Growing Role of Compact Equipment in Earthmoving."
Thursday, March 9 from 9:30 a.m. – 10:30 a.m. PT: Jena Holtberg-Benge, director, John Deere WorkSight will lead "Optimizing Your Jobsite: Overcoming Skill Labor Challenges with Machines Controls and Data Analytics."
Where to Find Deere
John Deere's Construction and Forestry booth will be located at N12525, which is near the main lobby entrance of the North Hall. The Power Systems and John Deere Electronic Solutions booth will be at booth S83816 in the South Hall.
Visit this page for more information about CONEXPO-CON/AGG 2017 or contact your local John Deere dealer to learn more about the latest construction equipment.
If you enjoyed this post or want to read others, feel free to connect with us on Facebook, Twitter or Google+!
You might also like: