If you're looking to get more done with less equipment, it might be time to consider the John Deere 333G Compact Track Loader. This machine helps achieve quicker and easier loading with the refined vertical-lift loader design for better reach. Not to mention, it also serves significantly greater boom and bucket breakouts.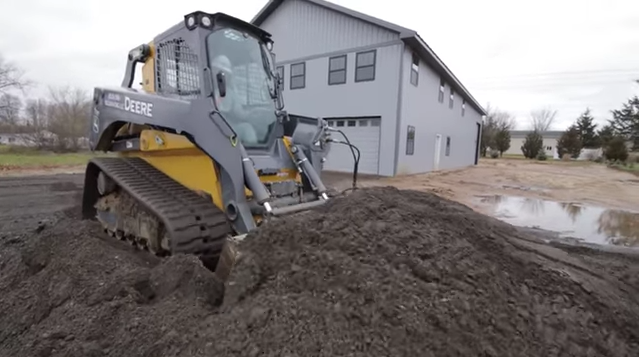 It's one thing to hear it from us, and another thing to hear it from customers who use the equipment every day. For this reason, we wanted to share this video, highlighting how the John Deere 333G helped David Holmes take his business from a small landscaping gig to a thriving excavating company.
Let's hear from David Holmes, owner of an excavating company called Blue Line Excavating, LLC. As Sheriff's Deputy and a beets farmer, he does anything from digging septic systems to recovering skeptics systems with the John Deere 33G Compact Track Loader.
When he first started Blue Line he was basically just doing some landscape work at a much smaller scale. As the bigger companies began noticing what he could do with all of his attachments, and how efficiently he can do it with one piece of machinery, the business has exploded. He jokes that he could now work 100 hours a week, if he wanted to. Why? Because of the all intricate features that make this machine easier to operate and get work done.
Key features of this machine include:
Final Tier 4/EU Stage IV engine
75-inch longer track frames
40 percent more breakout force
Tri-Cool™ System Design
Holmes explains that there are not many other people out there that can do what he can do with this machine and people see that – they see the efficiency, the uptime and the quality of work. He goes on to say that at times this machine is even better than a dozer because it's smaller, but has the power to push through anything like a dozer.
Final Thoughts
The reason why David Holmes continues to choose John Deere is because of the reliability, the quality and power of machines, and their service. These are all essential elements in building a successful business. What key elements have you found most important to your construction business? We'd enjoy reading your thoughts in the comments below.
For more information about the John Deere 333G, contact your local John Deere dealer.
If you enjoyed this post or want to read others, feel free to connect with us on Facebook, Twitter or Google+!
You might also like: