With the arrival of warm weather comes landscaping needs. The John Deere D105 is one mower that comes with a wide range of attachments to tackle everyday mowing tasks. Let's take a look at some of the John Deere D105 accessories and attachments that can enhance the versatility of the lawn tractor.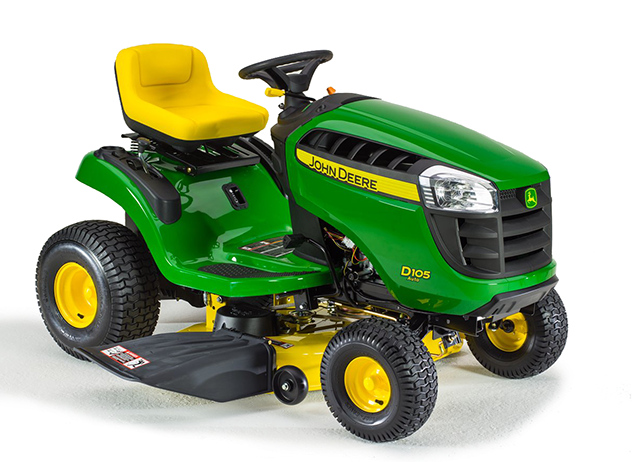 Lawn Striping Kit
The grass groomer lawn striping kit is compatible with the John Deere D105 model. It has a flexible, durable, non-weight-bearing design that makes it easy to use when necessary. With this attachment, operators will enjoy effortless pattern mowing.
Multi Tool
This all-in-one tool comes with a 40-inch weight tray that can hold up to 100 pounds. It also includes a core aerator and dethatcher for more versatility.
Cart Foot Pedal Kit
This kit is one of the John Deere D105 accessories and attachments designed for convenience. Operators can deploy the kit to lift the cart bed for more natural, efficient unloading.
Front Bumper
A front bumper can be attached to all D100 series lawn tractors for more front-end protection. It also gives the machine a more aggressive appearance.
Hopper and Chute
A 6.5-bushel hopper and chute is available for the John Deere D105, which can make cleanup a breeze. The attachment helps operators collect grass clippings and leaves once the mowing is done. The hopper also works with easy-to-empty bags.
MCS 6
Similar to other John Deere D105 accessories and attachments, the MCS 6 is designed to make waste removal more efficient. Its lever and smooth release system allows operators to eliminate yard waste without leaving the tractor seat. This can save time while tending to mowing duties.
Sun Canopy
This canopy is designed to provide operators with an ample amount of shade as they work in bright, warm conditions. It also provides protection from harsh rays during the heat of summer.
Utility Cart
The utility cart is one of the most beneficial John Deere D105 accessories and attachments. It is composed of a durable material designed to resist rust and dents. It comes in a 7, 8, 10 and 17-cubic-feet sizes to cater to a wide range of landscaping needs.
Single Bucket Holder
Every steel-constructed John Deere machine can carry up to 40 pounds of material. With the single bucket holder, operators can transport material with ease. The bucket can be quickly attached and removed as necessary.
For more information about the John Deere D105 and its attachments, contact your local John Deere dealer today.
If you enjoyed this post or want to read others, feel free to connect with us on Facebook, Twitter or Google+!
You might also like: