What is a One-Row Cultivator?
A one-row cultivator is an implement that attaches to the rear of a tractor, allowing the operator to drive over the top of a row in a garden while the tines cultivate the soil on either side of the row.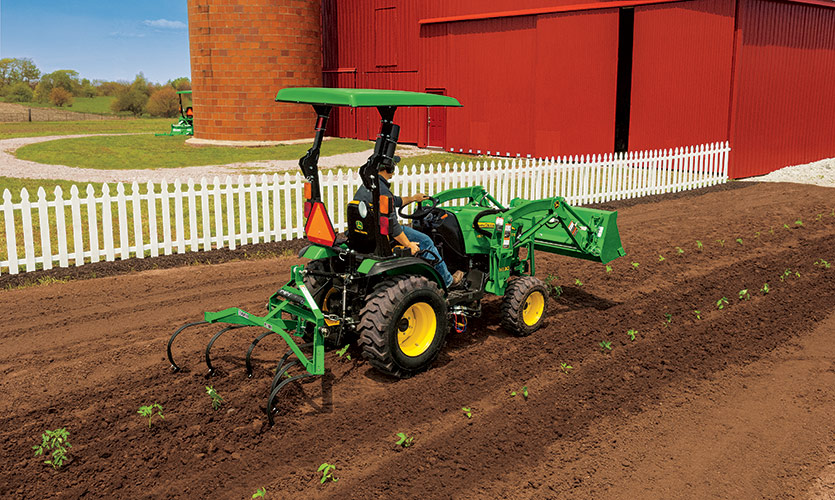 Frontier's one-row cultivator comes standard with six C-shaped tines that are attached to the frame of the implement with bolts that allow them to be adjusted horizontally. The Frontier one-row cultivator is best matched with tractors that have between 25 and 45 horsepower.
Now that we know a little more about the one-row cultivator, let's take a look at what it's used for.
What is a One-Row Cultivator Used For?
If you've ever weeded a large garden by hand, with a hoe, or rake, you understand how tedious a process it can be. By attaching a one-row cultivator to a compact utility tractor,  you will have the ability to quickly and easily till each side of the row in your garden. The cultivator is a great tool for removing unwanted weeds and grass while also breaking up the soil crust. This makes it easier for the garden to absorb nutrients and moisture.
As you're using the cultivator, be sure to monitor where the tines are making contact with the soil. If you need to adjust where you're getting the turn of the soil, simply adjust the spacing of the tines to where you want them.
Remember to always refer to the Operator's Manual before using a one-row cultivator or any other tractor implements.
Final Thoughts
The next time you have to weed a large garden, consider using a one-row cultivator to simplify the task. Contact your local John Deere dealer if you're looking for a one-row cultivator or other implements to help you with your next gardening project. Or, for more information about one-row cultivators, visit this page.
If you enjoyed this post or want to read others, feel free to connect with us on Facebook and Twitter !
You might also like: