When you have a large field to prep for planting, you know the importance of having the right agricultural equipment on hand to get the job done. John Deere has a wide array of field cultivators and chisel plows for your specific needs. However, it's critical to understand the differences between the two in order to ensure you're using exactly what you need for your field. By familiarizing yourself with all of the features of a field cultivator and chisel plow, you can position yourself for success.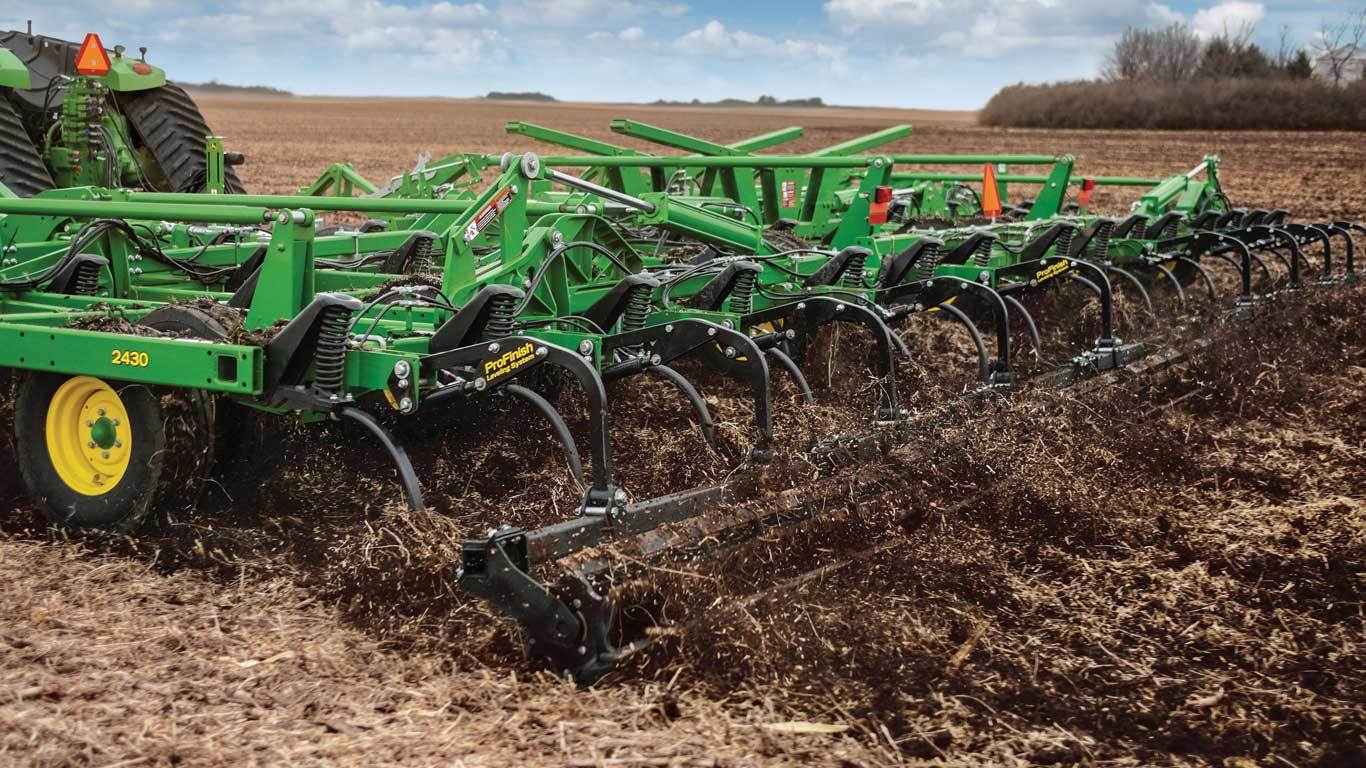 What is a Field Cultivator?
A field cultivator is commonly utilized with a tractor to help prep a field for planting. Agricultural producers use this attachment to dig deep into soil, turning it up and mixing the topsoil to bring nutrients to the surface. The John Deere 2230FH Field Cultivator is one example of a cultivator that helps agricultural professionals tend to their fields before planting season begins.
In addition to freeing up nutrients, a field cultivator can be used to remove clumps of soil, aerating it so roots have room to grow. It also eliminates weeds in the process, reducing the competition plants have to expand and thrive in the field. The cultivator itself is typically dragged behind the tractor, and its height can usually be adjusted accordingly for soil depth.
What is a Chisel Plow?
A chisel plow is similar to a field cultivator in the sense that it is used by agricultural producers to prepare the soil for planting. It consists of double-ended shovels, also known as chisel points, that are mounted on shanks. The points tear through soil and stir it without pulverizing it along the way. The John Deere 2430 Chisel Plow is one example of this tool that helps modern-day farmers.
Like the field cultivator, the chisel plow is pulled by a tractor across the field. It's this mechanical processing that helps bring nutrients to the surface, creating the ideal conditions for planting. Chisel plows are ideal for agricultural producers who are specifically interested in no-till or low-till farming to prevent erosion.
What's the Difference Between a Field Cultivator vs. a Chisel Plow?
Although field cultivators and chisel plows are similar in the sense that they both prep fields for planting, they have some key differences. In general, chisel plows have heavier frames and shanks than field cultivators. This is because they are used to dig deeper into soil without pulverizing it along the way.
A field cultivator, on the other hand, is specifically designed to dig into dirt to remove clumps and clots. This is primarily because it is meant to aerate soil along the way. However, both field cultivators and chisel plows are towed across the land with a heavy-duty tractor.
Which John Deere Field Cultivator or Chisel Plow is Right for You?
When you're on the hunt for agricultural equipment to help you properly prep your field, you can rest assured knowing that John Deere can provide you with what you need. The John Deere 2430 Chisel Plow is one option you may want to consider if you need to do some deep digging. It has a hydraulically adjustable knife-edge rolling basket with an internal scraper, and its depth can be altered on the fly. Its radial tires improve floatation and transport while minimizing compaction. The strong, durable construction of the frame provides a consistent operating depth as well.
The John Deere 2230FH Field Cultivator comes in working widths ranging from 25 feet 6 inches to 69 feet 6 inches. The floating hitch frame ensures that the cultivator remains level across varying terrain, and TruSet™ Tillage technology allows operators to adjust their sweep depth on the go. With hydraulic caster wheels, the field cultivator is incredibly easy to maneuver, and operators will benefit from maximum stability. Further, thanks to the 152-mm split-the-middle shank spacing, users are guaranteed to achieve consistent depth across their entire field.
Keep your field in peak condition with Chisel Plows and Field Cultivators from John Deere. Contact your local John Deere Dealer to learn more.
If you enjoyed this post or want to read others, feel free to connect with us on Facebook, Pinterest, Twitter, or Instagram!
You might also like: