Whether you're taking on a large portion of land all at once or planning out a week's worth of work, the 2430 Chisel Plow from John Deere can help you with the task at hand. The hydraulically adjusted knife-edge rolling baskets are specifically designed to shrug off rocks, break up clods, and leave a smooth field finish in one pass. The internal basket scrapers also reduce plugging and allow users to run the baskets 100 percent of the time for the utmost efficiency.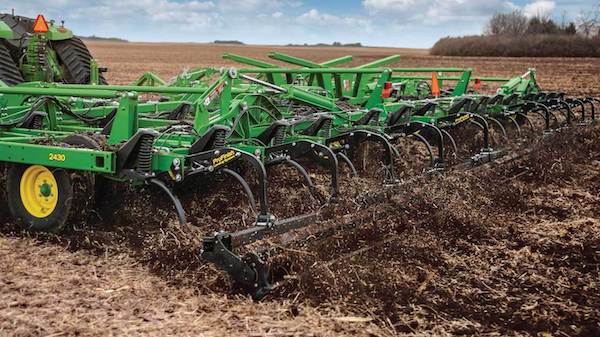 Let's take a look at some of the highlights of the 2430 Chisel Plow and how it can help you out in the field this season.
TruSet Tillage Technology
With TruSet Tillage Technology, precise depth control is not a problem for producers. Adjustments can be made on the move, increasing productivity and making the day go smoother for operators. TruSet provides accurate and precise depth control, and the depth is displayed to the nearest 2.5mm. With TruSet Side-to-Side, operators have the same level of individual section control that was initially available with AccuDepth hydraulics.
Radial Tires
Radial tires are specially designed to reduce compaction points while operating in the field. This minimizes downtime that can be caused by tire failures in both the field and during transportation. Radial tires also have a wider tire plate and lower inflation pressure. This means they have a larger contact area with the ground to help minimize compaction.
Walk-Over Wheels
The 2430 Chisel Plow has walk-over wheels, which provide a consistent working depth on uneven ground for level seedbeds and maximum weed control. The staggered design of the wheels provides extra room for residue flow and obstacles as well.
Knife-Edge Rolling Basket
The knife-edge rolling basket of the 2430 Chisel Plow is composed of hardened steel. This allows it to take on tough terrain, including rocks, without a problem. The internal basket scraper provides a uniform field finish in wet conditions as well.
Strong Frame
The 2430 Chisel Plow has a strong frame with joint welds for maximum durability. The overall construction of the frame provides consistent operating depth and restricts dip.
For more information on the 2430 Chisel Plow, watch the video below.
If you have any questions about the 610 Chisel Plow or 2410 Chisel Plow, you can contact your local John Deere dealer.
If you enjoyed this post or want to read others, feel free to connect with us on Facebook, Pinterest, or Twitter!
You might also like: