Agricultural specialists who want premium features in a compact utility tractor without the high price may want to consider the John Deere 4066R. This tractor has up to 66 engine horsepower, as well as perks such as Hitch Assist and LoadMatch™. Best of all, it's designed to stand the test of time.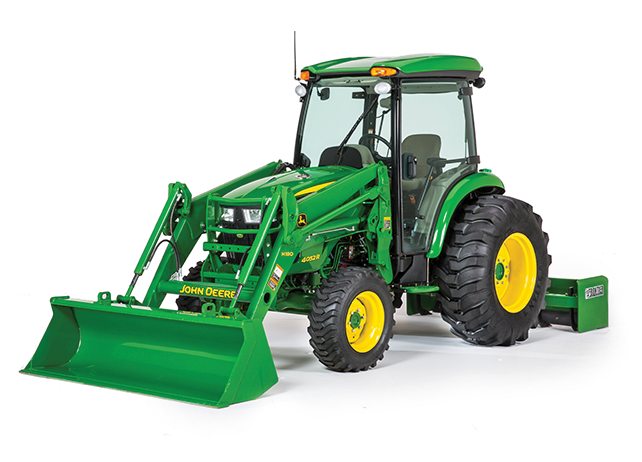 Let's take a look at the key features of the John Deere 4066R.
Four-Cylinder Engine
This four-cylinder engine is turbocharged with a gross engine horsepower of 65 and 2,600 rpm. Its electronic control unit is designed to provide operators with optimum fuel control as they work. The engine also has hydraulic lifters for quieter operation, a heavy-duty crankshaft, and direct fuel injection.
Optional 540/540 Power Takeoff (PTO)
The optional 540/540 PTO of the John Deere 4066R allows users to select the rpm they need for the task at hand. It can be engaged with a lever located behind the seat of the tractor. When the tractor is in economy mode, the engine operates at a lower speed, which prevents the accidental over-speeding of PTO components.
PowrReverser™ Transmission
This machine has a PowrReverser transmission, which allows operators to change direction without needing to rely on their clutch. There are 12 forward/12 reverse speeds with this transmission, and a fast shuttle shift ensures easier operation. With dual-cone synchronizers, gears are always shifted in-sync. The transmission also uses helical-cut gears for quieter operation. The dual wet-disk clutches are made to last.
Hitch Assist
The compact utility tractor comes with Hitch Assist, which allows operators to creep backward or forward as they look to attach accessories. The 3-point hitch control on the left-hand fender of the machine makes it simple to raise and lower the hitch as needed. With the iMatch Quick-Hitch feature, all Category 1 attachments designed to meet ASAE Category 1 Standard S278.6 requirements can be added on the fly.
Improved Design
The John Deere 4066R has an updated, fixed grille and side panel hood design. This ensures that the cooling compartment is efficiently sealed. The front grille can also be slid up for quick access to the battery, and the cowl can be removed easily for servicing as well. The hybrid exhaust is located in the base on the cab for more operator visibility and safety.
For more information about the John Deere 4066R or other tractor models, contact your local John Deere dealer.
If you enjoyed this post or want to read others, feel free to connect with us on Facebook, Twitter or Google+!
You might also like: