Homeowners who want to make sure that their lawn is always one of the best in the neighborhood may want to consider the John Deere S240. This mower is designed to provide a precise cut every time. It has two-pedal forward/reverse foot controls for ease of use, and it includes John Deere's 42-inch Edge™ Cutting System.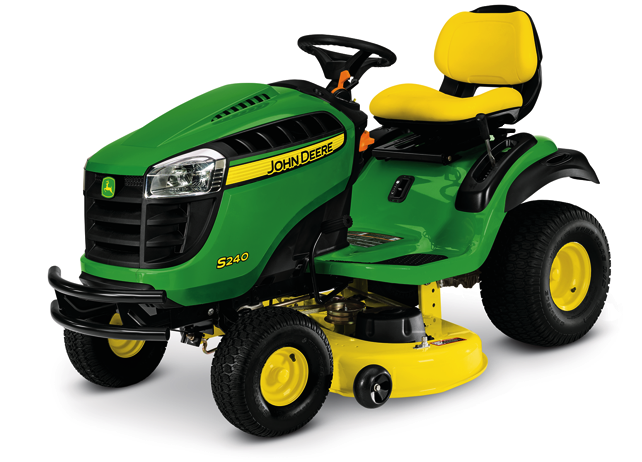 Let's take a look at the highlights of the John Deere S240.
Welded-Steel Frame
Those who want a mower that they know they can rely on for years to come will take comfort in knowing this mower has a welded-steel frame. This solid, one-piece frame is designed to stand up to wear and tear over time. It is constructed robotically and has high strength steel rails for additional life. The one-piece fender of the mower is bolted to the frame.
Enhanced Design
This mower has a unique hood top and close-out panels at the lower back of the hood. In addition to giving the machine more appeal, it reduces engine sound level. Top louvers improve engine cooling as well, and the mower's Turf Trac tire tread reduces lawn scuffing and steering effort.
Hydro/Automatic Foot Control Pedals
The pedals of the John Deere S240 have different shapes and motions for easy identification and enhanced safety during mower operation. The machine itself also has a Kanzaki® Tuff Torq® hydro/automatic transmission. This provides operators with an infinite number of speeds to choose from while mowing, and changing direction is a breeze.
Cruise Control
For even simpler operation, the mower has a cruise control feature. It can be activated with a lever, and it makes it easier to maintain the tractor's speed while mowing over large areas.
Edge Cutting System
The 42-inch Edge Cutting System of the mower ensures that operators always get a clean, even cut. The smooth underside of the mower prevents grass build-up and disperses clippings evenly. In addition, the dual-stage E-coat and powder paint coatings provide more protection on the machine from rust over time.
Operator Comfort
The operator station of the John Deere S240 is made to provide the maximum amount of comfort for the user. The large, 14-inch diameter steering wheel is convenient, and the ignition switch is located on the dashboard for even more ease of use. The controls and instruments are all color-coded and labeled for quick identification.
If you have any questions about the S240 or other mower models, contact your local John Deere dealer.
If you enjoyed this post or want to read others, feel free to connect with us on Facebook, Twitter or Google+!
You might also like: