In this blog, you will learn how John Deere's ExactApply™ Nozzle Control System results in a 25% increase of flow while also saving you up to 2-5% in pesticide usage. This technology is designed to enable you to have the most precise and effective coverage. This nozzle is not only consistent, but it will fit the crops it is introduced to while applying the correct rate and pressure to each.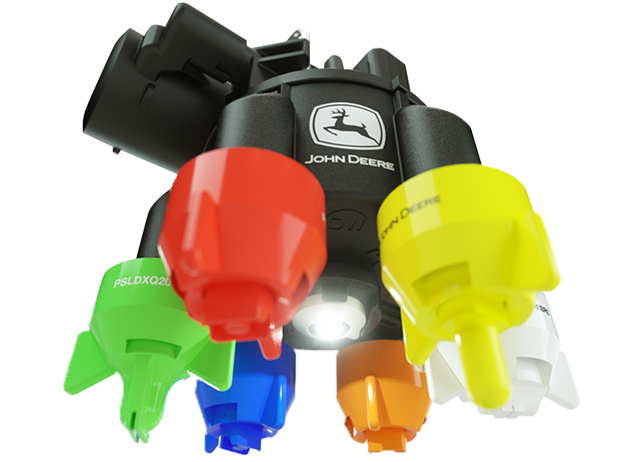 Searching for a spraying solution that can manage your weeds and take control of your pest control? With ExactApply, you can manage all potential drift and avoid overlaps or skips in critical areas.  While managing all of this, the ExactApply system is also controlling droplet size within the rest of the field for precise and effective control.
You can't get perfect precision and effective crop droplet sizes without setting up the nozzles. There's even a nozzle switching feature you can turn on, which enables two pre-positioned nozzles for on-the-go condition changes. Let's take a look at the video below and learn how to get started.
https://www.youtube.com/watch?v=aJEXEm4sUi0
While accessing the nozzle setup, you will find ExactApply in the menu. It is pivotal to set up tip location and size. On the advance nozzle settings page, you will be able to set the nozzle sized you have installed in each position. You will them give them a description, such as a specific crop and finally mark if they are air induction or not. If your sprayer is equipped, you will be able to setup end-row nozzles as well.
https://www.youtube.com/watch?v=DwPj7pmKWSw
Within the setup mode, there is an option for auto select, which is also known as nozzle switching. This mode works as a three gear transmission and allows you to have three different application speeds while keeping the desired range of your droplet size. Make sure your nozzles are in separated mode, and you have pulsing turned to the off position.
https://www.youtube.com/watch?v=gzu_jQiVlb8
When pulsing is turned on, you are ensuring a constant pressure as you vary your speed throughout the field, which allows for a consistent droplet size. Pulsing comes with three options: auto, fixed, or off, putting you in complete control.
If you are looking for a precise and effective sprayer that not only fits each crop nearly perfectly but maintains correct droplet sizes throughout the entire field, the ExactApply Nozzle Control System could be for you!
For more information about the ExactApply Sprayer Nozzle, contact your local John Deere dealer.
If you enjoyed this post or want to read others, feel free to connect with us on Facebook, or Twitter!
You might also like: