When you need a crossover utility vehicle, John Deere has a wide range of rides to choose from, starting with the John Deere XUV835R. This utility vehicle has a cab with comfort features such as heat and air conditioning, as well as long-lasting LED lights. The three-person cockpit is spacious, and power steering makes the vehicle easy to maneuver.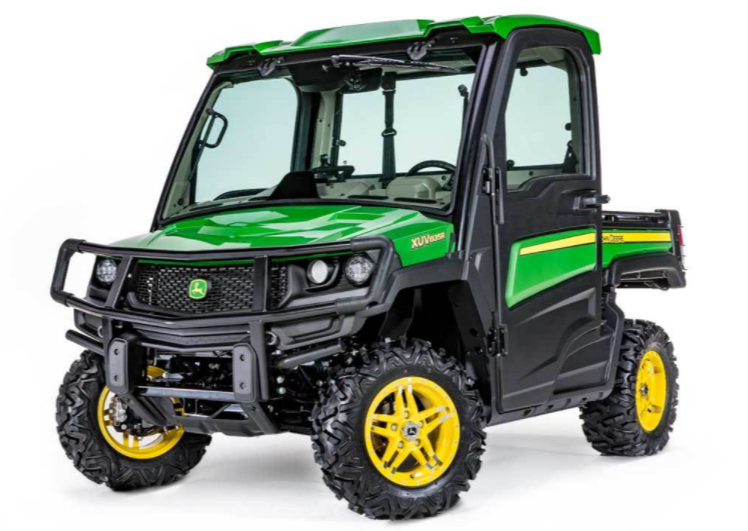 Let's take a look at some of the other features of the John Deere XUV835R.
Engine
The engine offers up to 54 horsepower at 6000 rpm and can reach top speeds of 45 miles per hour. Cold weather is no match for the engine, which has electronic fuel injection for superior performance, regardless of the temperature outdoors. An overhead valve design provides greater fuel efficiency, and a full-pressure lubrication system reduces wear and tear over time.
Durable Cargo Box
This crossover utility vehicle has an extremely durable deluxe cargo box, which is specifically designed to stand the test of time. It is composed of a 15 percent polypropylene composite material that is resistant to dents and rust. The tailgate can be removed for easier cleanout or the transport of long items.
Cab Comfort
The John Deere XUV835R has functioning cab door windows that roll up and down. The front window can be opened for ventilation, and the doors have automotive-style sealing. The cab itself can be equipped with an HVAC system for heating and air conditioning as necessary.
Electronic Power-Assist Steering (EPAS)
The John Deere XUV835R comes with EPAS, which has an anti-kickback feature to reduce the amount of steering unwinding that is necessary on difficult terrain. The system is also speed-sensing, meaning it adjusts the steering effort that is needed according to the speed of the vehicle.
Independent Suspension
The Dual A-arm independent front and rear suspension system is designed to keep all four wheels on the ground for superior traction at all times. Heavy-duty cast-iron knuckles support the shaft and wheel when the vehicle is in motion. Coil-over shocks absorb vibration from demanding terrain, making for a smooth ride.
Superior Terrain Capability
All of the Gators in the crossover series have a drivetrain system that is designed to fully utilize engine power to optimize acceleration, hauling, and towing. The John Deere XUV835R also has superior hill-climbing capabilities on even the most rugged terrain.
If you have any questions on John Deere XUV835R or any of its features, contact your local John Deere dealer.
If you enjoyed this post or want to read others, feel free to connect with us on Facebook, Twitter or Google+!
You might also like: